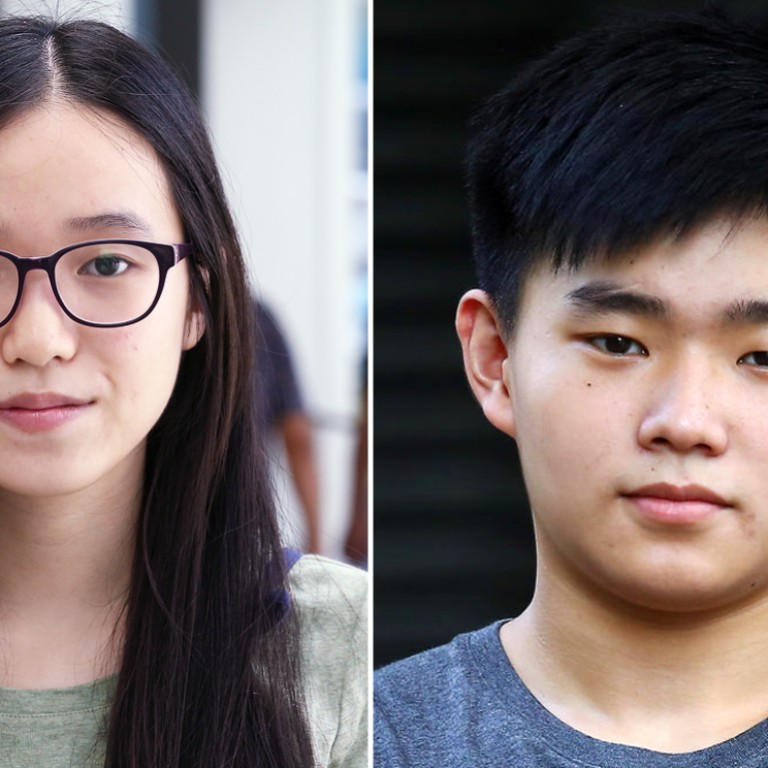 Born after the handover and soon able to vote, Hong Kong's '1997 kids' on their complicated politics
The 18th anniversary of the handover means those born around the same time will soon be able to vote, and their views run a complicated gamut
Eliza Au Tsz-ying was born eight days after Britain handed Hong Kong back to China on July 1, 1997. Eighteen years on, at the threshold of adulthood, an unprecedented number of her local peers have publicly expressed feelings of detachment from the mainland.
Au shares those thoughts.
"When we look at the central government's attitude, we can see more and more interference. It is uncertain whether democracy will be possible in Hong Kong," she says.
The number of post-handover babies like Au grows all the time. According to government figures, they now number about 1.09 million, accounting for 15 per cent of Hong Kong's population. The social and political views of these "1997 kids", who grew up under both the five-star flag of China and the regional flag of the special administrative region, will shape the city's future.
Thanks to Hong Kong's compulsory liberal studies curriculum, Au feels no uncertainty about her civic duty. When asked about how she would participate in society, she does not hesitate to reply: "First of all, of course, I will register as a voter when I turn 18."
Au, who aspires to be a nurse, remembers vividly the fierce political discussions that took place in her school last year, even though she did not take part in the "umbrella movement" for genuine universal suffrage.
"My Chinese history teacher, who studied politics in university … taught us what democracy was, among other things. Students chatted about politics, about social affairs, on social media and when we met up for meals," she says, depicting a generation that is much more politically engaged than many who came before it.
But not everyone Au's age approves of the political movement that shook the city and, arguably, the country.
Cheung Chun-man, who was born one day after her on July 10, says the protesters don't know enough about their country.
"Apart from freedom of speech, I do not see any inconvenience that mainlanders have. They just live a normal life as we do and some of the cities are as prosperous as Hong Kong," Cheung says.
Cheung's family moved from Meizhou , in Guangdong, five years before he was born. There was little talk of politics at home as his father, an electrical worker, and his mother, a convenience store manager, were both busy working.
Cheung says he has only a vague notion of "one country, two systems", the principle that distinguishes Hong Kong from the rest of the country and came into effect shortly before his birth.
Nevertheless, he does have strong views on politics, and he does not believe the recent protests, including the Occupy movement and the rallies against cross-border traders and mainland tourists, will achieve their stated goals.
"I think they are unnecessary. Expressing one's opinions is acceptable, but not in an extreme way," he says.
Cheung does not intend to march in today's pro-democracy rally. Nor does Au, who recently got a part-time job.
Au remains optimistic about the future of the city, which has been a Chinese territory all her life. As long as everyone in society monitors the government and maintains an interest in current affairs, she believes, Hong Kong will be all right.
As for her hopes for the city's next 18 years, Au says she wants it to rely less on the financial sector and instead develop some alternative industries, as well as build more housing.
"And politically, I hope Hong Kong will be more stable, with people showing support for a government that can win their hearts," she says.
"But that government should not be interfered with by other governments."
This article appeared in the South China Morning Post print edition as: '1997 kids': Born under two flags