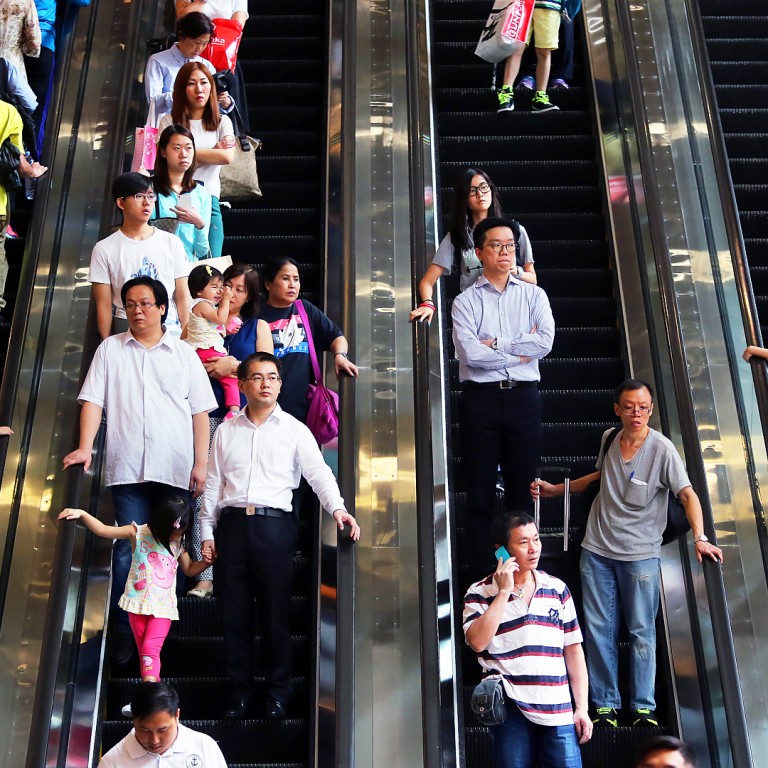 Stop walking on escalators: Hong Kong divided over MTR plea for people to stand still ... but what do you think?
On Hong Kong's escalators it's frequently a fight for survival as frantic commuters, tourists laden with shopping and parents with prams jostle to get where they're going.
And for decades one unspoken rule has governed civilised escalator behaviour, not only in Hong Kong but in many corners of the world. Stand on the right, walk on the left.
But this age-old principle is under threat as Hong Kong MTR chiefs now claim walking on escalators is a safety hazard. In fact, it's so dangerous, they are warning everyone to stand completely still and hold on to the hand rail. 
It's even launched a poster campaign, and has deployed 40 'Escalator Safety Ambassadors' dressed in red t-shirts to advise people on safety. The safety campaign started on August 17.
It follows a similar announcement by transport officials in Japan who recently issued advice calling on escalator users to stand still at all times and – controversially - use both sides of the steps.
"The number of accidents decreased during the campaign period but the practice of keeping one side open is strongly rooted," a public relations official at East Japan Railway Co explained.
It seems this is the case in Hong Kong too. So can "stand still and don't walk" really work in a city of seven million who are always on the move? And can Hongkongers even be persuaded to use both sides of the steps?
"If I'm in a hurry I would prefer to walk on the escalator. Sometimes you have situations when you are in a rush and you have to walk. If you keep people standing on the right and walking on the left there are no issues," said one young professional at the Central-Mid-Levels escalator – the longest, outdoor covered walk-way in the world.
When asked about the possibility of accidents when walking up, he replied, "I never been in a situation like that. It should be fine for people to walk if they want."
"We normally stand on the right… everyone knows that. Everyone stands on the right. If you suddenly change the rules, others may not know that," one young woman told the Post.
According to the MTR, in the first seven months of 2015, 382 escalator accidents were recorded – about 12 per cent fewer than in the same period last year. Some 51 per cent of the accidents involved seniors and children due to loss of balance, standing too close to the step edge, or carrying heavy luggage.
Francis Li, MTR's head of operating, said that even 20 years ago the mass transit company encouraged people to stand on the escalator and not move for safety reasons.
"Some people miss their step when they walk, or read mobile phones and they will lose their balance."
He also said there have been cases of people bringing prams on to the escalator and the rubber wheels getting caught in the escalator causing a jam.
Britain appears to have been the first nation to promote the idea of standing on the right, which was followed in Hong Kong.
Exactly why is unclear. It may have been because of the practice of driving on the left-hand side (a theory undermined by the Australia's drive-left, stand-left madness), but in 2009 the BBC posited another theory: In the early part of the 20th century, escalators in the London Underground had a diagonal step-off point "clearly meant for the right foot first so standing on the right made sense."
The idea has since spread around the world, including in the United States, Germany and Taiwan.
As part of the latest MTR safety campaign a safety video has been released, which Li said is supposed to remind people to take care on the escalator. It urges people not to play with their phones and says parents with prams and elderly people should take the lift.
Li insisted it was better to be safe than sorry, even though the Post explained many users seemed to prefer being able to walk.
"We understand some passengers are in hurry and get to their destination cutting every minute spent on the journey. But safety is most important. Standing on the escalator only takes one minute.
"Why not choose a better way and stand on the escalator? To change passengers' behaviour will take some time but we will try to urge passengers to stand still on the escalator. That is the safest way to travel on the escalator. We should place safety on top of convenience and efficiency issues."