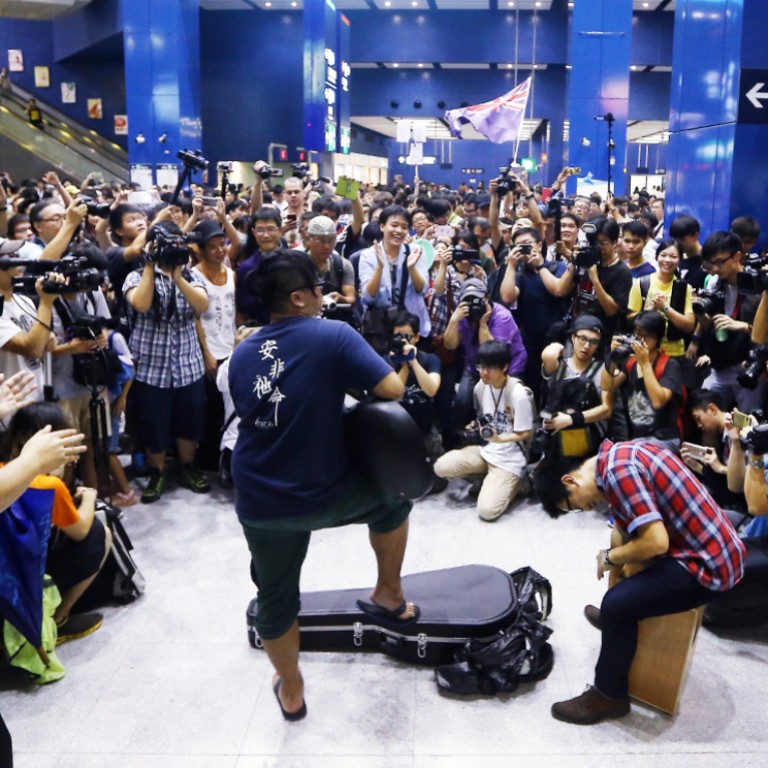 MTR scheme out of tune: Hong Kong rail operator's instrument registration plan not music to musicians' ears
Proposals to have larger instruments registered to be taken on trains seems unlikely to restore harmony as many musicians still feel excluded
A registration scheme that will allow musicians to carry larger instruments, such as a cello, on MTR trains is being fine-tuned ahead of its launch next month.
The announcement came on the last day of a public consultation to review the MTR's restrictions on carrying large objects in stations and on trains.
It follows a public outcry after reports emerged of staff stopping those carrying large musical instruments - despite photos showing parallel-goods traders wheeling even larger objects being allowed to board trains.
But the scheme has not struck the right note with everyone and some musicians are upset that it did not exempt all oversized instruments.
Dr Jacob Kam Chak-pui, the MTR's operations director, said yesterday that under the scheme, passengers could register instruments that slightly exceed existing size restrictions.
Under the current regulation, items with total dimensions exceeding 170 centimetres, or any side longer than 130cm, are banned from entering the carriages.
The scheme will run as a trial during non-peak hours for several months from November onwards. Kam said the company was still deliberating the definition of non-peak hours.
"We understand the needs of [music] students going to school," said Kam. "Before 8.15am should not be a problem and we are still studying other time slots. The fewer restrictions the better, but we also have to tend to millions of other passengers' needs."
There will still be an upper limit under the scheme and Kam said instruments such as the double bass, harp and guzheng, would be unlikely to be allowed.
The finer details of the scheme will be announced before the end of this month, following discussions with relevant government departments, including the Electrical and Mechanical Services Department.
But Calvin Ho, a Baptist University student ejected from the MTR for carrying a cello last month, felt there was a discord regarding musicians' work patterns.
"We have our peak hours too, such as after school at around 4pm to 5pm when we go to lessons or rehearsals," he said.
"Performances are mostly in the evening and it would be best if they could issue me a permit on proving my concert duties."
Charlie Wong, a student at the Hong Kong Academy for Performing Arts, said he was disappointed the measure did not exempt his 183cm double bass at any time.
"I've seen many [people with] cargo larger and heavier than my instrument … and I am not making a profit out of it," the year two student said.
"I think it's unfair to categorise my bass, which is portable, along with grand piano and harp," he added, saying a full-fare ticket for the instrument was the best solution.
But Kam said instruments could not be taken "as a person" because they cannot move independently.
He added that the MTR would like to extend the scheme to include sports equipment, though as the categories would be broader than musical instruments, a more detailed study would be needed.
The company had received 552 submitted opinions as of 5pm yesterday.
This article appeared in the South China Morning Post print edition as: MTR scheme unlikely to strike right note