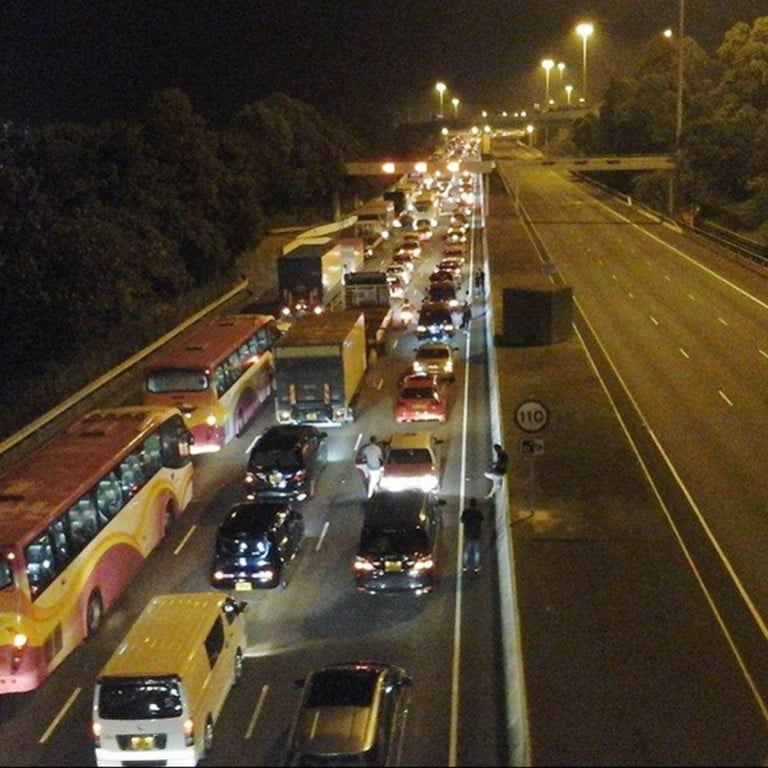 Alternative to Tsing Ma Bridge shot down years ago
Proposal was floated by Tung Chee-hwa government but ran up against naysayers including DAB and money-losing operator of sole road link
An alternative transport link to Hong Kong International Airport that would have swiftly eased the chaos caused by the closure of the Lantau Link on Friday were proposed in the past, but it fell foul of political and money concerns.
About 13 years ago, the administration of Hong Kong's first chief executive, Tung Chee-hwa, proposed "Route 10" - a project that would have given the city a second vehicular link to Lantau and the airport.
However, the key pro-establishment party, the Democratic Alliance for the Betterment and Progress of Hong Kong - led at the time by current Secretary for Home Affairs Lau Kong-wah - voted down the idea.
Now, after a barge crashed into the Lantau Link's Kap Shui Mun Bridge, effectively cutting off what is regarded as one of the world's best airports, questions are being asked about what could have been done and how long it might take to complete projects in the pipeline to establish a second link.
In 2002, votes from the DAB and others - only the Democratic Party backed the Tung administration - effectively killed the Route 10 proposal, which would have connected North Lantau with the New Territories.
Lau said at that time: "We should first consider using the existing resources [Route 3] before committing so much money to building a new road."
The operator of that link, Route 3 (CPS) Company, also opposed Route 10, which would have run almost parallel to its own tollway - already operating on losses of HK$800 million at the time.
"We are now paying for the mistake of the DAB for voting down Route 10," pan-democratic lawmaker Albert Chan Wai-yip said yesterday. "Lau needs to take responsibility."
The need for a second land access to the airport was highlighted by the government in the early 2000s, and was a major reason behind the idea of a Route 10.
Lantau Island is home to not only the airport, but also the city's biggest exhibition venue - AsiaWorld-Expo - Hong Kong Disneyland and satellite town Tung Chung, and clearly requires the necessary infrastructure.
An alternative route linking Tuen Mun and Chek Lap Kok is now under way and slated for completion in three years, according to Chief Executive Leung Chun-ying yesterday.
Chan said this link was a "much delayed reaction" to a problem first raised in the mid-1990s and again during discussions on Route 10.
Allen Ha Wing-on, chief executive of the Asia-World Expo, located next to the airport, and a member of the Lantau planning advisory committee, said it was "crucial" to complete the Tuen Mun-Chek Lap Kok link on time.
Ha said a big event at the exhibition centre that drew more than 30,000 visitors had ended just days before the accident.
"If the road closure had happened a few days earlier, it would have been very detrimental … especially for the businessmen," he said.
"The [Tuen Mun tunnel] will make a good alternative, but it's important to see what can be done between now and 2018."
A Hong Kong Disneyland spokeswoman said they had not received any guest complaints regarding Friday's incident. The management made an announcement during the two hours when the bridge was closed.
Traffic volumes on the Lantau Link had increased eightfold since its opening in May 1997.
An average of 83,992 vehicles crossed the link daily in July this year, compared with 9,227 vehicles in 1997, according to statistics from the Transport Department.
TIMELINE
Hong Kong governor Sir David Wilson announces plan to build new airport at Chek Lap Kok.
: China and Britain sign memorandum of understanding, capping expenditure for new airport at HK$98 billion.
Land reclamation on airport site reaches Lam Chau island.
Ties between Beijing and British-ruled Hong Kong deteriorate as China refuses to take on post-handover debt, questioning why colonial government has not used its surplus to fund project.
Sino-British Land Commission reaches agreement on granting land required for new airport.
Tung Chung MTR station and franchised bus routes to Chek Lap Kok start service.
President Jiang Zemin opens HK$156 billion Hong Kong International Airport.
Airport opens to public. But it is then plagued by a series of teething problems as baggage goes astray, toilets fail to flush, Airport Express trains break down and cargo operations are forced to move back to Kai Tak.
Airport sets record for number of passengers in one day, with more than 100,000 people using the hub.
China Airlines flight from Bangkok crashes on landing during typhoon, killing two people.
Government planners introduce Hong Kong 2030 Study to legislature, calling for the first time for construction of third runway.
Typhoon Prapiroon inflicts three days of severe disruption, with tens of thousands of travellers stranded.
In-town airline check-in system breaks down, causing baggage glitch at Hong Kong and Kowloon stations of Airport Express and delaying 47 flights.
Severe landslide blocks North Lantau Highway for 10 hours, disrupting road transport. Airport Express railway services are unaffected.
Eight people injured as Cathay Pacific's Airbus jet lands at a high speed because of engine failure.
Air bridge collapses, injuring one worker.
Hundreds of flights cancelled or delayed amid torrential rain. Chaos triggers questions over airport's planning.
Transport to airport is paralysed after vessel hits Kap Shui Mun Bridge, leading to authorities closing both that bridge and Tsing Ma Bridge for two hours for inspection.
This article appeared in the South China Morning Post print edition as: Alternative to Tsing Ma Bridge shot down years ago