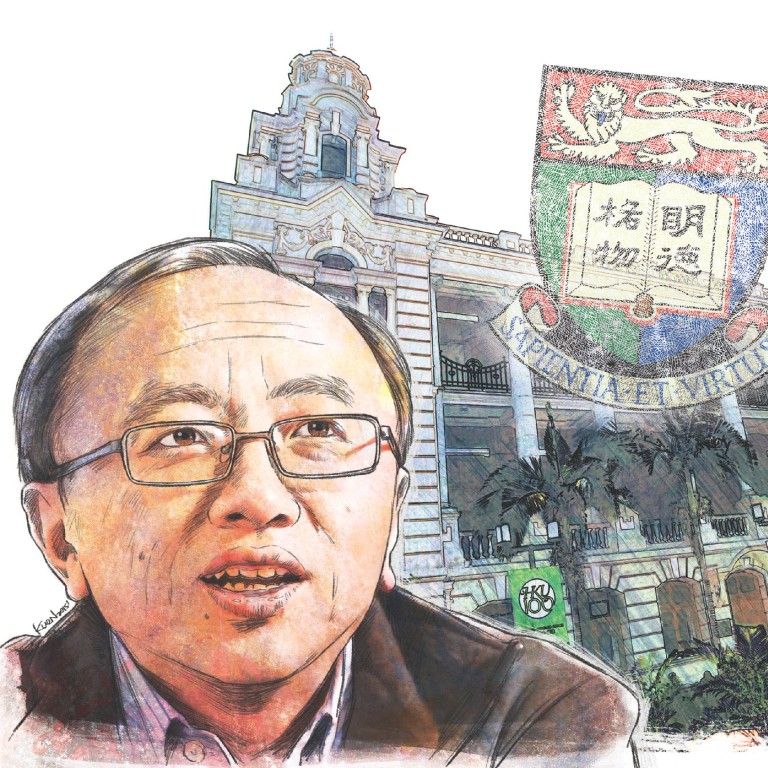 University of Hong Kong lawyer and academic likes to take on cases involving possible injustice
HKU academic Eric Cheung has shifted from civil law to the criminal side with a particular focus on cases involving miscarriage of justice
As soon as University of Hong Kong principal law lecturer Eric Cheung Tat-ming got the files of Law Yat-ting earlier this year, he could sense something was wrong: how could Law be jailed for a month and a half simply for closing the door of a stranger's car?
"When we talk about tampering with a vehicle [of which Law was convicted] it usually refers to malicious acts like using a screwdriver to try to open a door or damaging the tyres," Cheung said.
Initiating a case in the Court of Final Appeal is not easy - let alone winning it. After being found guilty by both a magistrate and the High Court, Law sought help from a lawyer who eventually transferred the case to Cheung, the director of clinical legal education at HKU's faculty of law.
The top court eventually acquitted Law on the basis that his act did not amount to tampering, but Cheung questioned whether it would have been interested in Law's case at all if the Department of Justice had not been willing to accept the mistake in the first place.
Cheung lamented that the top court had set the bar too high for accepting criminal cases, and it all too easily turned down applications without even a hearing.
"For applicants who have a legal representative, the court should give them a final chance to deliberate before the judges to try to convince them that it's worth an appeal," Cheung said. "Lawyers after all uphold professional standards and do not allow themselves to engage in a case if it is not arguable."
Cheung is currently teaching full time at HKU's law school, his alma mater where he graduated in 1986 among a batch comprising students who would later become big names such as Secretary for Justice Rimsky Yuen Kwok-keung, Director of Public Prosecutions Keith Yeung Kar-hung, Occupy Central co-founder and HKU legal scholar Benny Tai Yiu-ting and former chief editor Kevin Lau Chun-to.
Before getting into academia, Cheung was a legal practitioner with Hong Kong's biggest law firm, Johnson Stokes & Master (now known as Mayor Brown JSM), for over a decade from 1987. He ultimately became a partner.
Throughout his career, Cheung specialised in civil law. His conversion to the world of criminal litigation was as sudden as a call from God.
"One day in 2001, a pastor told me that a boy he visited in a detention centre was showing suicidal tendencies," Cheung recalled. "He insisted the charge of possession of drugs had been fabricated."
Cheung followed up the case. He initially got the boy a lawyer through the Legal Aid Department. But three days before the case was due to go to court, the department said the lawyer had withdrawn because he thought the case was too weak.
"I had no choice but to take up the case myself because I believed he was innocent," Cheung said. "I finished the submission in a hurry and delivered it to the court at 4pm the day before the appeal."
The amateur criminal lawyer faced a "snobbish Australian prosecution counsel" who told him the appeal stood little chance of success.
"But as soon as the judge appeared, she agreed with my first written argument that the trial magistrate was wrong. Then she asked the prosecution to reply and after the prosecution agreed to concede, she ruled in favour of the boy.
"I didn't say a single word to win the appeal."
Since then he started to take a greater interest in cases that involved miscarriage of justice, a phenomenon that shamefully exists despite Hong Kong's enviable rule of law.
Not all his attempts to clear the names of those whose convictions were less than solid were successful. Cheung helped a 50-year-old man convicted of sexual harassment three years ago. The man was blind in one eye, but a plainclothes policeman patrolling on the MTR insisted he touched a private part of a woman when he was about to leave the train, even though the woman said it could be a mistake.
The top court saw no need to hear the man's appeal.
Over the years he insisted on taking up a duty lawyer job once in a while, believing it was important to "get a sense of how society is going on and what crimes are most often seen in the daily courtroom".
An original expertise in civil law gradually transformed into knowledge of criminal law. He was a member of the police watchdog, the Independent Police Complaints Council, for six years. Last year, Cheung was granted higher rights of audience, meaning he could represent clients in the High Court or above - but only in criminal cases.
"I haven't practised civil cases in court for a while," he said.
Still, his expertise in the area is recognised by HKU, which appointed him coordinator of civil procedures for postgraduate courses.
But teaching at the law school is not a relaxing job, especially after fierce pro-Beijing media criticism of its ex-dean Professor Johannes Chan Man-mun before HKU's governing council decided against appointing him to a key managerial position - a decision that was unpopular among staff, students and alumni.
Cheung believes this decision set a bad precedent for Hong Kong's tradition of academic freedom.
"Hong Kong's biggest contribution to the mainland is no longer economic. It is our core values and systems," Cheung said. "If the decision makers merely follow the mainland, how can Hong Kong continue to set itself apart from the rest of the country?"
ERIC CHEUNG
52
Bachelor of Laws, University of Hong Kong
Principal lecturer, Faculty of Law, University of Hong Kong
Member, Law Reform Commission 1994-2000
Chairman, Buildings Appeal Tribunal 2000-2006
Member, Independent Police Complaints Council 2009-2014
This article appeared in the South China Morning Post print edition as: A lawyer with an eye on injustice