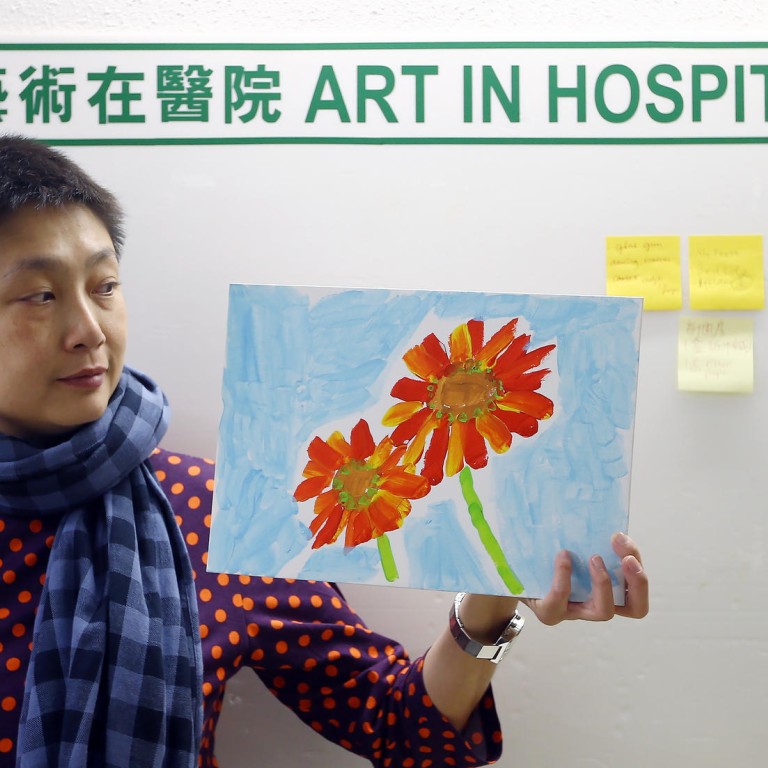 Operation Santa Claus: Healing powers of art can transform lives of bedridden hospital patients
In the 'Shine Our Lives' programme, recovering mental health patients will act as ambassadors and bring art therapy to convalescents
Recovering mental health patients will transform themselves as medical ambassadors and create colourful paintings with bedridden convalescents in hospital rooms, thanks to the latest project organised by non-profit organisation Art In Hospital.
Sponsored by Operation Santa Claus, a fundraising drive jointly organised by the and the RTHK, the charity - which has been serving hospital patients through therapeutic art creations since 1994 - launches the "Shine Our Lives" programme in March next year.
In a pilot scheme around 20 recovering mental health patients will become ambassadors and visit hospital patients, connecting with them through art.
The ambassadors will first undergo a round of 16 training lessons led by professional artists, medical staff, and social workers to become equipped with the artistic knowledge and communication skills needed for the visits.
When ready, they will then make at least eight trips to hospital wards, giving simple watercolour or acrylic painting workshops to patients who are too weak or too reliant on medical equipment to leave their beds.
"This is the first time we have created 'bedside art'," says Grace Cheng Sim-yee, director of Art in Hospital. "In the past our workshops were not in hospital rooms so they were only available to patients healthy enough to leave their beds - this time we can reach those who couldn't."
Cheng, who studied fine arts and design at university and worked as a curator at the Hong Kong Arts Centre before taking up her current post, believes the pilot project will bring huge benefits to both groups of patients.
"I believe art has healing powers and it can help [different types of patients]. We want to show that art creation is a happy process and anyone can be an artist," says Cheng.
"This isn't just a series of training workshops for the recovering mental health patients. They will also learn how to build up their social network [through art], especially when many of them feel that they cannot fully integrate into society."
After the series of visits, the completed artworks will be exhibited in the lobbies of hospitals involved. A catalogue of the works will also be published, along with input from ambassadors, and be distributed back to participants.
According to Cheng, the idea for "Shine Our Lives" came from the mental health patients themselves, who took part in workshops organised by Art In Hospital three years ago and wanted to share what they had learned with others in need.
Chan Sai-lok, a freelance artist who teaches painting and writing at local universities, will be giving Chinese painting classes in the "Shine Our Lives" workshops.
Having collaborated with Art In Hospital since 2007 to give painting classes to recovering mental health patients and elderly people, Chan hopes that the process of art creation can bring happiness to participants.
"I also hope they could know more about art, learn how to express themselves, and share their thoughts and feelings with others," he adds.
This article appeared in the South China Morning Post print edition as: A creative way to help bedridden in hospital