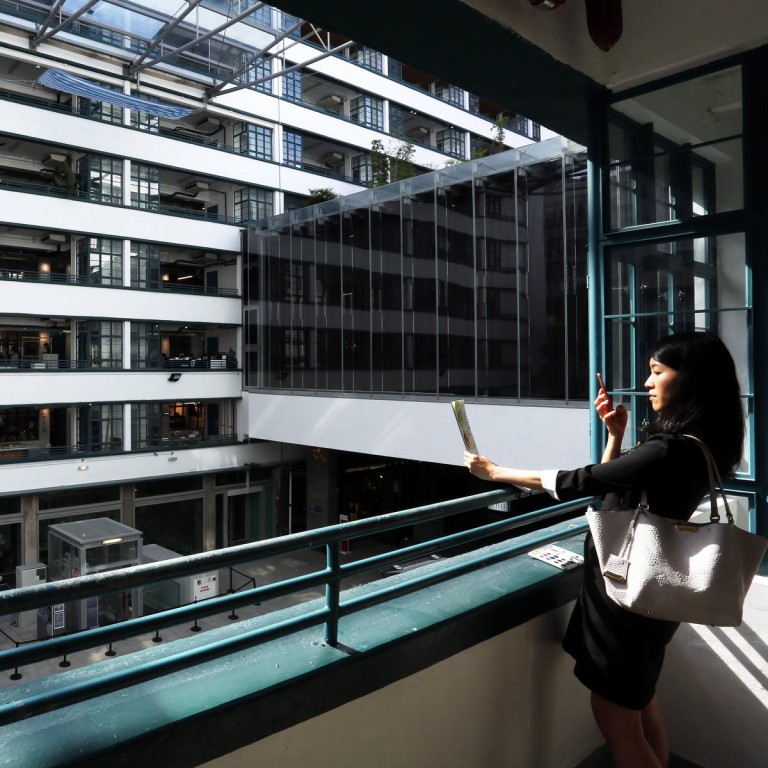 'Simply rude and disrespectful...': Tenants of PMQ in Hong Kong Central angry at management, considering mass exodus
Studio operators criticise management of the former police married quarters, saying the wrong people are being lured to the creative hub
Tenants' complaints about poor management of a heritage site turned creative cluster in Central went unheeded, leading to discontent that could spark an exodus.
Some tenants told the that the management of PMQ, which opened in April last year under the government's heritage revitalisation scheme, failed to bring the right crowd to the building, leading to low traffic and poor business. At least 10 tenants have left and others are planning to do the same.
They said they repeatedly asked for meetings with PMQ management but received no response. "This is simply rude and disrespectful," said Mathias Woo of Zuni Icosahedron, which runs the TTXS Concept Store.
Simon Lee Siu-po, assistant dean of undergraduate studies at Chinese University's business school, said PMQ was a "failure" because of its inappropriate tenant mix and strategies, compared to Taiwan's Songshan Cultural and Creative Park in Taipei.
Lee said compared to Songshan, PMQ lacked a flagship culture store such as a big bookstore that could retain culture lovers. "They need books, not brands," Lee said.
But PMQ chiefs denied the allegations, arguing that they had staged numerous events and the site had drawn five million visitors since its inauguration last year. A PMQ spokesman said they maintained strong communications with tenants and vacant studio spaces were filled up quickly.
Popular Hong Kong design brand Chocolate Rain recently left its studio in PMQ. Founder Prudence Mak told the that she had been a tenant since PMQ opened but she gave up before the end of her second year and moved to a new space in Kwai Chung.
She said management did not listen to tenants' opinions and ran the site like a shopping mall instead of a cultural cluster like the Taipei example, she said.
Mak said she had to pay the landlord an "expensive" HK$300,000 per month, including rent, publicity and management fees. She said she made a profit in the first year but business declined in the second year.
"[Management] staged many luxury brand events. These events were glamorous but those who buy Hermes handbags aren't interested in local brands," Mak said.
"It's become a high-society gathering spot," Woo said, adding that Zuni had yet to decide whether to stay after its lease expires in May next year.
Mak said events and dining outlets selling alcohol did better. The Night Market events in March and May were crowded. Isono Eatery & Bar and Cafe Life, for example, said business from Friday to Sunday was better, but it was very quiet during the week.
Mak's shop also had a cafe, but business wasn't so good. She said PMQ's management offered her a solution: sell alcohol. "We are a family brand. We don't sell alcohol. They even told us not to sell 'artistic' items … We are not compromising our integrity."
"The Night Market events simply put Lan Kwai Fong in Soho," Woo said.
Woo said the ground-floor level was dominated by big brands such as Vivienne Tam and Goods of Desire (G.O.D.). "Why isn't there a bookstore selling art and design books?" Woo asked.
G.O.D. said PMQ was a "necessary" project for Hong Kong and hoped it would continue to grow, even though "traffic and sales at PMQ have been unpredictable."
Lee said PMQ gave people an impression of being too commercial, and there were not enough events to draw culture lovers, he said. "You must get the theme right at the beginning," he added.
A message group involving around 50 shop owners has been complaining about these issues. Of around a dozen tenants contacted by the , most wanted to leave or had not committed to a lease renewal.
PMQ said of around 70 studios with fixed-term leases, 10 had left before their leases expired, and they were taken up by new tenants waiting in line. The other 20 studios, which are on short-term leases, are already fully booked for next month.
Textile and garment sector legislator Felix Chung Kwok-pan, an adviser to PMQ, said not all tenants were doing badly. He said some designers had set their prices high, but they had no choice as they could not mass produce.
A joint initiative between the Development Bureau and the Commerce and Economic Development Bureau, PMQ is a creative cluster developed from the former Police Married Quarters built in 1951. Celebrity residents included Chief Executive Leung Chun-ying and his predecessor, Donald Tsang Yam-kuen.
In 2010, the Musketeers Education and Culture Charitable Foundation was chosen to operate the site. The operator agreed to donate HK$110 million as seed money, and the government earmarked HK$420 million to renovate the building.
PMQ said detailed account information for its first year of operation would be submitted to the Companies Registry by the end of the year.
This article appeared in the South China Morning Post print edition as: P.M.Q. tenants unhappyamid exodus worries Unhappiness among PMQ tenants