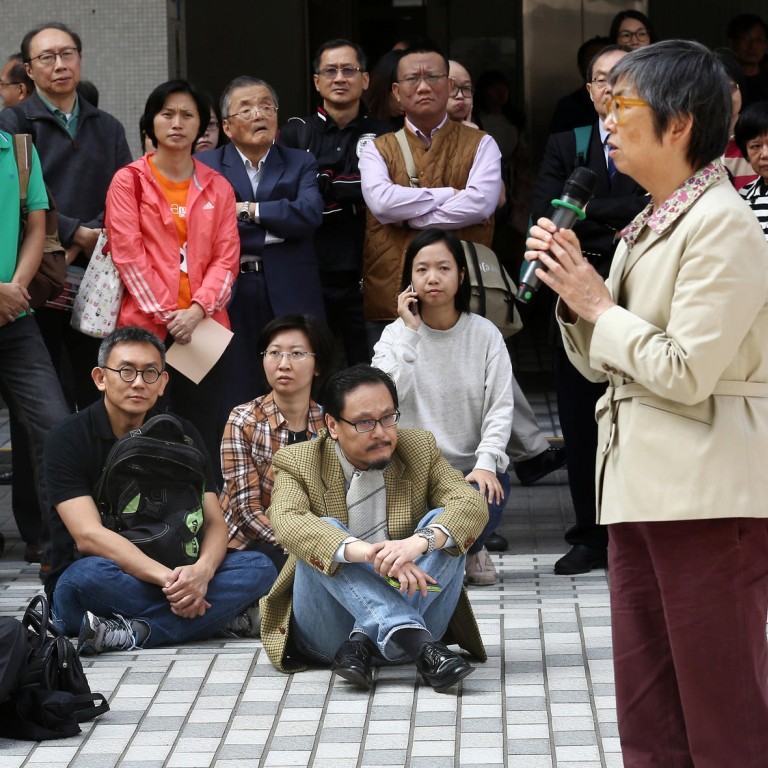 'Anyone but Arthur Li Kwok-cheung': HKU alumni vote again on Hong Kong University council chairman
Extraordinary meeting offers motions meant to influence governing body
"Anyone but Arthur Li Kwok-cheung" was the refrain of many University of Hong Kong alumni as thousands returned to campus yesterday to vote overwhelmingly against the Beijing loyalist's possible chairmanship of the institution's top governing body.
It was the second extraordinary general meeting held by the HKU Convocation - a statutory body comprising 162,000 graduates and staff - in three months to vote on motions surrounding the delayed and now-denied appointment of liberal scholar Professor Johannes Chan Man-mun as a pro-vice-chancellor.
In September, around 84 per cent of some 9,000 alumni voted to urge the university council to appoint Chan to the senior post in 30 days and to offer legitimate explanation if it did not. But the motions failed to persuade the council, which officially voted Chan down a month later. He had been the search committee's sole candidate for the job.
Yesterday about 4,400 people voted on five non-binding motions, which included calls to criticise the council's decision on the appointment and to oppose council member Li, an executive councillor reportedly being considered to succeed Dr Leung Che-hung as council chairman.
High-profile alumni, including Democratic Party founding chairman Martin Lee Chu-ming, former chief secretary Anson Chan Fang On-sang, and Commercial Radio chief adviser Stephen Chan Chi-wan, all argued Li was not suitable to take the helm.
"Some council members had found Johannes Chan controversial," Anson Chan said yesterday. "But when it comes to contentiousness, I believe no one could be more controversial than Li."
Nicknamed "King Arthur" for his hardline approach, Li drew attention again last week after a leaked audio clip suggested he had proposed taking legal action against students who stormed a council meeting in July.
Chan, the city's former No 2 official, said it would be irresponsible for Chief Executive Leung Chun-ying, the school chancellor, to appoint Li as it could provoke further campus unrest and not mend the serious damage that she said had been done to the council's image.
Some 2,500 people joined a long queue yesterday to vote in person. At the special meeting, only one of the 20 graduates who spoke said Chan, lacking a PhD, should have been rejected.
Ip Kin-yuen, education sector lawmaker and convenor of the HKU Alumni Concern Group, said it was hard for the meeting's turnout yesterday to exceed September's, but he believed alumni could still make a difference.
"The government would have already announced the new chairmanship of the council had the alumni and staff not previously expressed their strong views," he said.
This article appeared in the South China Morning Post print edition as: HKU alumni vote, reiterate council criticism