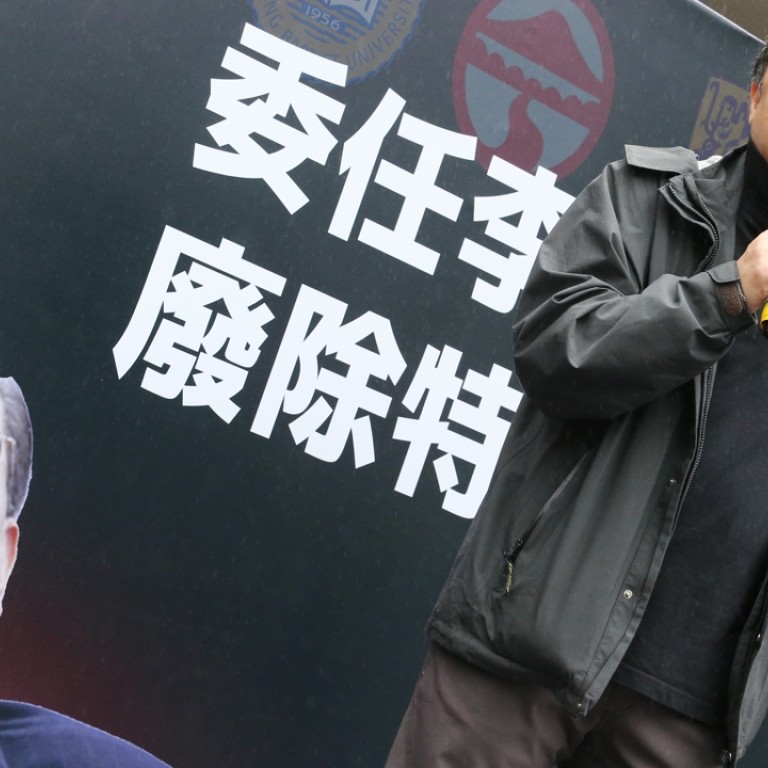 More than 3,000 march against Arthur Li's appointment as chairman of HKU governing council
Police say turnout was '830 at its peak', while small group of pro-Beijing protesters showed up to defend the appointment
Thousands took to the streets hand in hand, organisers said, as the first Sunday of 2016 saw a large-scale protest against the appointment of former education minister Arthur Li Kwok-cheung to helm the governing body of the University of Hong Kong.
Unlike previous protests, attended mostly by staff, students and alumni of HKU, the march was led by 20 organisations from various universities and concern groups, as they claimed it was a crisis that affected the whole city.
The show of solidarity came after Chief Executive Leung Chun-ying named Professor Li as chairman of HKU's governing council.
"[The protest] is not something about an individual or who is appointed to what post at the particular moment. It is about much more long-term important structural questions around HKU," said Professor Timothy O'Leary, head of the university's school of humanities and co-founder of concern group HKU Vigilance.
"We are here to make sure the universities can go on being places in which people are free to think and ask questions ... that some people do not want them to think about and to discuss."
The organisers said more than 3,000 people marched from Chater Garden in Central to Government House, where they were greeted by a small group of pro-Beijing protesters defending Li's appointment. Police said the turnout was 830 at its peak.
A government spokesman urged everyone to "show respect for the ordinances" which specified the chief executive, default chancellor of the city's universities, enjoyed the right to make such appointments.
"We respect the right of the individuals to express their views, but the views should be based on facts," the spokesman said.
Moon Cheng, who studied at HKU, marched with her children.
"Li holds a very different set of values than the staff and students of HKU ... and never respects the opinions of different stakeholders," said Cheng, who feared the appointment would marginalise the university's liberal vice-chancellor, Professor Peter Mathieson.
"I hope my children will understand the injustice in the city by joining the rally."
Occupy Central co-founder Benny Tai Yiu-ting, an HKU law scholar whom many believed would face disciplinary action with Li taking the helm, blasted the government for not only "ignoring its people's voices but also stirring up conflicts in society".
Education sector lawmaker Ip Kin-yuen said an alliance comprising representatives from different universities would soon be formed to push for changes to prevent the chief executive from exerting political pressure on universities by appointing his allies to their governing bodies.