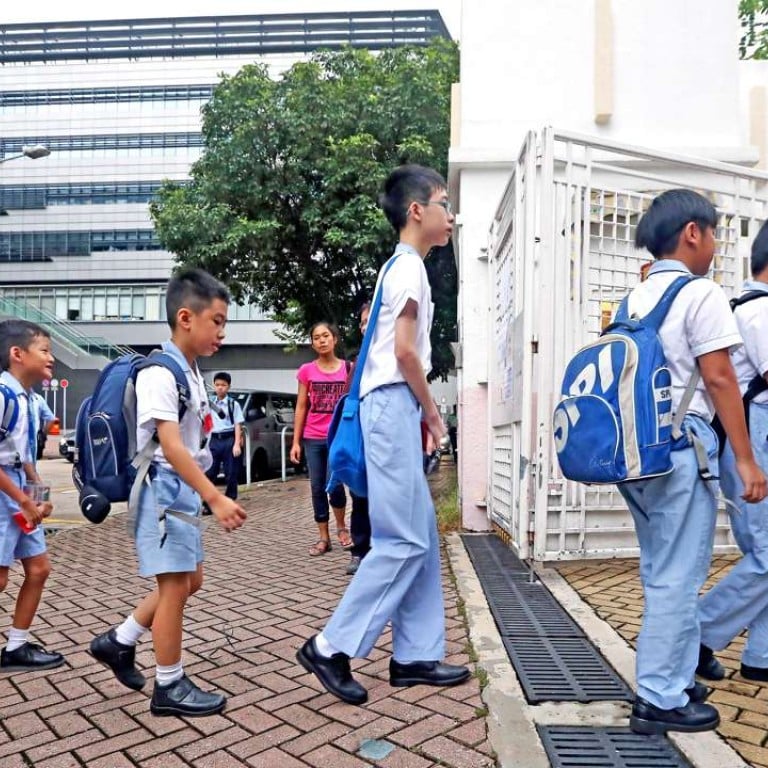 Hong Kong prisoners get more exercise time outside than our schoolchildren, research reveals
Researchers push for more emphasis on mental and physical health of students before problems arise
Prison inmates in Hong Kong get more outdoor exercise time than primary and secondary school students, according to a University of Hong Kong researcher.
Although research consistently shows sports and physical activity as key to mental well-being, there prioritised enough in schools, said Dr Robin Mellecker of the HKU's Institute of Human Performance.
"Prison inmates get more outdoor time than school kids," she said, explaining that exercise releases "happy hormones" that contribute to students' mental wellness and facilitate their learning.
Mental health among students has been a hotly discussed topic in the city after a recent spike in suicides, the youngest victim being 11 years old.
In March, four students took their own lives in five days. At latest count, a total of 22 students have died of suicide since the start of the academic year in September last year.
Hong Kong's 'one-size-fits-all' schooling and standardised testing came under heavy criticism, but Dr Frances Law from HKU's
Centre for Suicide Research and Prevention
said blaming one factor such as study stress or education "oversimplifies a complicated issue."
"[We] have been advocating a public health approach with one key component to introduce mental health wellness programs," Law said.
"More sports, activities and playtime for children are necessary and crucial to learn how to compete, gain satisfaction and be recognised in different way other than academic performance."
A spokesperson for the Education Bureau says physical education counts for five to eight per cent of the total curriculum, at around 80 to 120 minutes a week for primary and junior secondary students. Physical education counts for at least five per cent of senior secondary students with around 80 minutes a week.
They said the curriculum it meant to balance the learning needs of all key learning areas to "help students engage more in physical activities, enhance their interests and develop a habit of active participation in sports."
Primary three local school teacher Annie Chan said her school in Po Leung Kuk offered two sessions of physical education a week. Schools across Hong Kong vary, but her school's gym class lasted 35 minutes.
Together with 20 minutes of recess and 25 minutes of playtime after lunch, her schoolchildren have a chance to do 295 minutes of exercise and activity in a 5 day school week.
Laura Chan of
Correctional Services
said prison inmates in Hong Kong get 60 minutes every day to exercise outdoors. In five days, they get 300 minutes of outdoor time.
The difference is not significant, but Dr Mellecker said the comparison highlighted how much the focus for students is on academics and seated classes.
She added that research has demonstrated that "participation in sports increases self-esteem and coping mechanisms". The emotional resilience fostered through sports helped to develop an ability to deal with stressful situations.
"If children are having problems because they can't bear the pressure, complaining about the stress doesn't help," Tsang wrote. "You should teach children how to face the pressure."
Local schools bring students to a sports ground just once a year for track and field activities, given that most cannot afford space for playing fields or paved courts.
Rose Lam, a mother of two daughters – one studying in Hong Kong and one studying in the US – said Hong Kong as a society did not value sports.
"Some special sports schools will obviously have the space and focus, but at local schools … they don't have the resources," Lam said.
Lam cited a report in Apple Daily last month that 13 primary two student in Tuen Mun were sent to hospital after running for three minutes.
The paediatrician in charge at the time said the schoolchildren vomited and felt dizzy because they were not used to that level of exercise.
The physical health test they were performing actually called for six minutes of running, but the teacher lowered the time given the students' ability, the report said.
Lam said many local parents thought exercise and sports were a poor investment of time and energy.
She said Hong Kong parents believed that "I don't want my children to pursue sports because there's no career path".
The main opportunities for careers in Hong Kong were believed to exist in the realms of finance, banking, and law, so parents pushed these pursuits.
"You really cannot survive in Hong Kong as a sportsman," said Lam. "I can't event think of any well known athletes, except Alex Fong Lik-sun," referring to the 2008 Olympian swimmer who no longer competes.
Labelling Hong Kong's rote learning methods as "dead book" – a Cantonese term describing students brain-dead studying – Lam said local residents' obsession with grades was not a good way to measure success.
"When you don't fit the grade-focused learning style, you're labelled a loser."
She said she observed that schools had limited budgets and resources so they prioritised grades and academics because those areas could be measured by results.
Ms Chu, a primary four teacher at an International Baccalaureate school in Ho Man Tin said her students were given 45 minutes twice a week for physical education.
On top of that, they get 15 minutes for recess and a 30-minute lunch break each day and a chance to join sports clubs.
They currently had only enough staff to lead sports and active clubs for about 10 per cent of students, while many others are wait-listed, she said.
According to Mellecker's research, children aged five were spending an average of four hours studying and in tutorials after school.
"Parents tend to think sports distracts from studying academics," said the researcher, echoing Lam's sentiments, noted "the brain releases serotonin and dopamine during exercise that boost learning."
She suggested that with a bit of creativity, even classrooms could facilitate exercise.
"The introduction of standing desks and 'active classrooms' [in the US] produced promising results in on-task behaviour and academic success," Mellecker said.
Some classrooms in the US used large exercise balls as desk chairs, which were well accepted by both students and teachers, she said.
The addition of physical activities would be a significant change to the system, Mellecker said.
"Adding activity in the classroom in most schools comes with some resistance from educators," she said. "But a change to help children is much needed to ensure the children of Hong Kong grow up physically and mentally healthy."