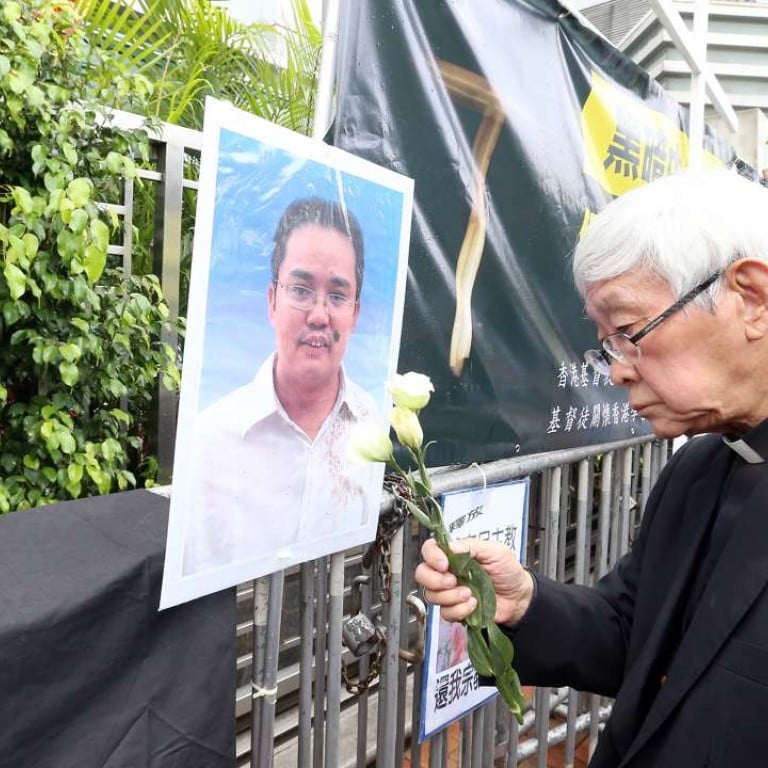 Hong Kong Christians march on mainland liaison office to protest religious oppression
Cardinal Zen: 'If we don't speak out, we are the accomplices'
More than 50 Christians braved the Hong Kong rain yesterday to protest outside Beijing's liaison office, urging mainland Chinese authorities to respect religious freedom.
According to the organisers of the assembly, attended by Cardinal Joseph Zen Ze-kiun, authorities have forcibly removed holy crosses from over 2,000 churches in Zhejiang Province since 2014.
In the first quarter of this year alone, 50 places of worship had their crosses removed, they said.
Delivering a sermon to the protestors during the rally, Cardinal Zen, the former bishop of Hong Kong, said persecuted Christians living across the border could not be forgotten.
"Our brothers and sisters are suffering," said Zen. "Some people say China and the Vatican should establish diplomatic ties soon.
"But, we see worrying events [happening] ... oppressers of Christians are still using the way of thugs.
"We can't just watch on the side. If we don't speak out, we are the accomplices. We want the country's leadership to seriously look into the barbaric actions used to breach religious freedom and to guarantee the rights of citizens to personal safety and to give back respect to worshippers."
After praying and singing hymns, the protestors laid flowers on top of the fences erected outside the liaison office in Sai Wan and tied red paper crosses on the fences.
The paper crosses were printed with a paragraph from the book of Amos, which read: "But let justice roll on like a river, righteousness like a never-failing stream."
Chinese news outlet Xinhua on Saturday reported President Xi Jinping saying religious groups must "merge religious doctrines with Chinese culture, abide by Chinese laws and regulations, and devote themselves to China's reform and opening-up drive and socialist modernisation in order to contribute to the realisation of the Chinese dream of national rejuvenation".