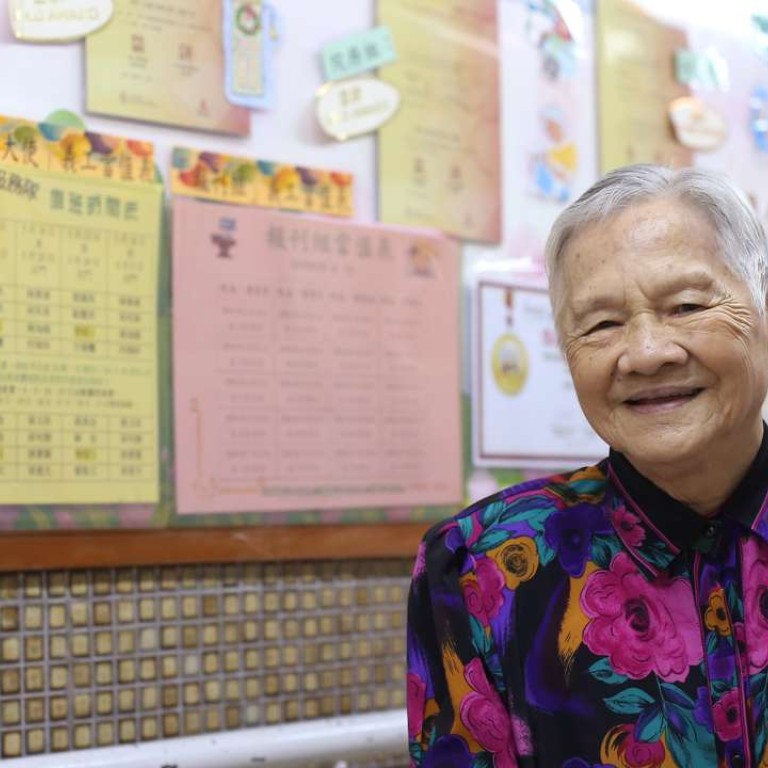 A lifetime of caring: at 92, So Kam's positive energy still works magic on those around her
After decades of volunteering her services, she's been nominated in the SCMP's Spirit of Hong Kong Awards
At 92, So Kam has lived through the dark days of war and still remembers how she would often stumble over bodies walking through pitch-black streets at night.
"There was a lot of bombing, back then," she recalls. "Life was difficult."
But unlike many who might be hardened by experiencing the brutal side of humanity, So lives by a philosophy of helping anyone she can. After raising her three children, who have now branched out the family tree with six grandchildren and nine great-grandchildren, she has spent the past few decades volunteering her services to others.
In earlier days she often played the role of "clinic buddy", going with older folk on their hospital and clinic visits. So remembers cabbing to and from hospital with an elderly man who had cancer. "He would lean back, feeling ill from the chemotherapy, on the taxi rides; I had to keep calling his name from time to time to make sure he was still alive. I was really afraid he would die then. It was so scary."
Walking has since become difficult for her, but So's energy can still be felt as she totters around, pushing her wheeled walker. She now serves as a friendly ambassador at her elderly home, and she continues to go out regularly, chatting with senior citizens looking lonely on park benches.
On her face, gently crisscrossed with lines of time, is a smile that glows. Social worker Simon Chung, who has worked with So for years, attests to her positivity: "Many older people get to a certain stage in life and they're ready to give up. But not So Kam."
When she's not busy helping others, she's learning hand massage or how to use digital gadgets. It takes effort to keep up this level of activity, though. Her ageing joints require her to warm them up every morning before she goes about her day's business, and she complies with diligence, working through each body part, head to toe.
It's hard to say whether it's her sense of proactivity that keeps life cheery, or if her optimism is what makes her so dynamic. All that is clear, is even when she's not actively offering a helping hand, So's positive energy is still working magic on the people around her.
So Kam has been nominated for a Compassion Ambassador Award by Tung Wah Group in the South China Morning Post's Spirit of Hong Kong Awards.
The easy-going nonagenarian is also famously considerate. There's a legendary story among staff at the elderly home that she checked herself in when she decided it was time. She simply didn't want to bother or worry her family about it.
She's meant to have surgery at some point for a new battery in her pacemaker, and she has no intention of telling them either. "I'm not worried, and I don't want to scare them." she says.
Chung chuckles about her overeagerness to be considerate. "She once even told me not to tell her family when she dies, because she doesn't know if they know how to handle it."
So cracks up laughing, saying the social worker then warned he would stop talking to her if she kept on like that. It's no wonder her nickname at the home is "pistachio", which in Cantonese means "happy fruit".