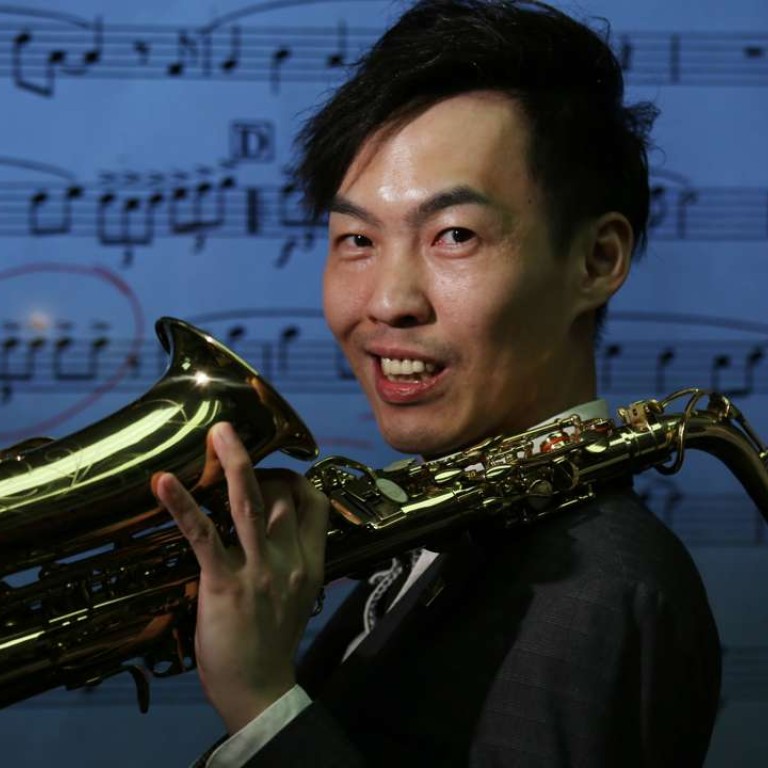 Saved by the saxophone, now Jacky's passion is changing lives
Music Zone volunteers play in the community and offer free lessons for children on welfare
At the lowest point in his life, Jacky Ko Chung-kit went up to the roof of his building, ready to jump off and end it all. Business was bad, he was up to his neck in gambling debts, and his wife had just left him a note saying she was leaving him, with their child.
It was at that moment he heard the stirring sound of a saxophone, which resonated through his whole being. "It made me stop and think. Suddenly, my life flashed before my eyes."
He thought of his poor mother, who had worked so hard as a single parent to raise him and his little brother.
"I thought, if I jumped, all my mother's efforts would have been in vain. And I realised I had all my life blamed my circumstances, but actually it just comes down to me."
The song that saved his life was the sax version of Leslie Cheung's For Your Heart Only, a Canto-pop classic. It awoke him and set his mind on curbing his gambling problem. He worked during the day and took classes at night. To distract himself from the desire to play games of chance, he learned to play the instrument.
Back then, it was difficult to find a saxophone teacher. When he finally did, they hit it off and partnered up to start a business, wanting to spread their love of the sax to Hong Kong, while realising there was gap in the market.
Ko, 37, has been called a visionary in the way he's used the internet to promote his musical passion.
Long before the days of Facebook, Ko had created a web library of scanned music scores for his students to access and set up an online forum where they could ask questions and leave comments.
When mobile apps came into existence, Ko developed the "Saxophone All-in-one App" to help with scales and fingering, with a metronome to keep users in beat.
"It's easy to forget what you learned in class, then you can't practice at home. So we made this app to give everyone anytime tutoring," he explains.
Ko and his business partner also share a desire to spread goodwill, so their company, Music Zone, makes an effort to hire people with disabilities and offer youth internships.
They set up a volunteer sax team, comprising students and teachers, performing regularly in the community to bring pleasure to the underprivileged. "Music changes lives. If you're in a bad mood, it can breathe peace into you. That's why I'm so keen on bringing music to people – it also brings positivity."
In 2011 Music Zone began a programme teaching kids on welfare for free. Ko, who's been nominated by Hong Kong Rehabilitation Power for a Community Contribution Award in the
South China Morning Post
's
Spirit of Hong Kong Awards
, hopes to find other volunteer teachers to offer lessons on different instruments, including singing.
"I want all children to have equal access to music education," he says firmly.
Ko only needs about four hours of sleep a night nowadays. He believes he knows why.
"I used to do bad things – to myself, to others – so even though I slept for much longer, I never slept well, because my conscience was weighing on me. Now, that weight is lifted and, trust me, it takes just 30 seconds for me to plunge right into deep, restful sleep."