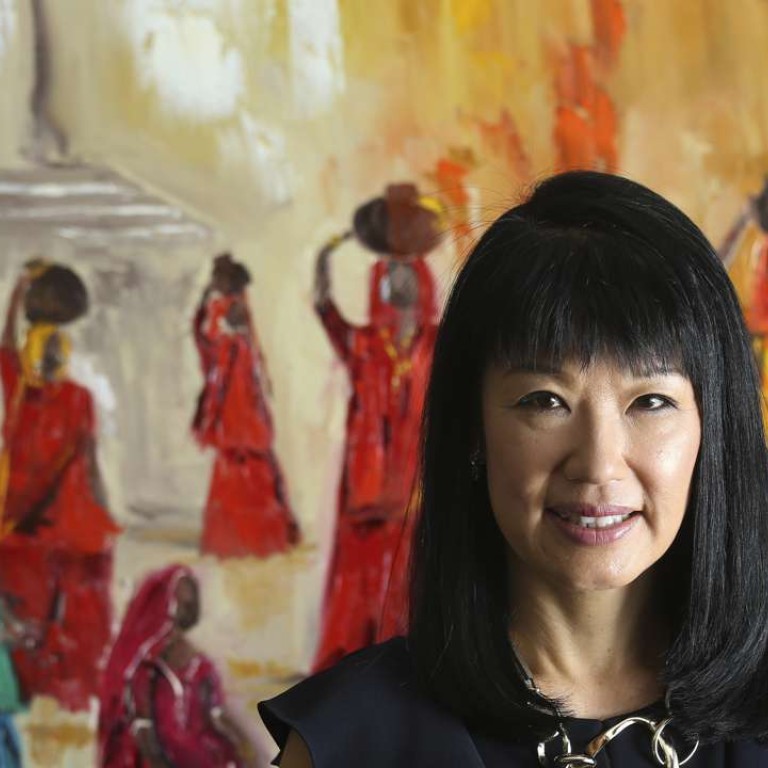 Q&A: Su-Mei Thompson on her fight for gender equality
Hotshot corporate lawyer turned women's equality advocate and head of The Women's Foundation Su-Mei Thompson tells the South China Morning Post why she believes there is much work still to be done to close the gender gap
Before joining The Women's Foundation as its chief executive, Su-Mei Thompson was a corporate lawyer for some of the biggest companies in the world.
But the Cambridge and Oxford University law graduate said she experienced a shift in how she was being treated professionally after she became a mother. She began noticing that women who try to get back on the career ladder after taking a break, face a multitude of hurdles.
It's these types of stereotypes and challenges Thompson wanted to combat through her role with the foundation.
Her latest initiative in the fight for gender equality is the foundation's campaign, She Objects. It focuses on how women are portrayed in the media and ­advertising in Hong Kong, and the ­impacts of that.
Of particular concern is the negative impact of unrealistic images of women in advertising and how these can lead to eating disorders, self-esteem ­problems and sexual harassment. A centrepiece of the campaign is the She Objects documentary. The film's trailer was previewed at the Cannes Film Festival, where Thompson took part in a panel discussion.
Thompson is confident the work of the ­foundation and the She Objects campaign will help bring about greater gender equality.
Q: What's the current situation like for working women in Hong Kong?
If you look at women in Hong Kong just in a vacuum, it's not necessarily that meaningful. If we look at how women are doing globally; according to the World Economic Forum's latest gender gap report, we are 118 years away from gender equality, in terms of ­labour market opportunity, education, health and political clout. That's quite sobering. If current trends continue the way they do, we are getting nowhere close to parity. If you talk about Asia, and women in business … sadly we are projected to have the lowest representation of women executives in 2025 versus all other regions of the world.
Q: So Asia has a lot of catching up to do?
Basically. Employers in Asia – and Hong Kong – are much less focused on the drivers of gender diversity, such as engagement of male middle management, pay equity, making it more transparent, looking at performance ratings, and [seeing through] a gender-lens. There are some companies that are doing that, but in the very large majority, this is not happening. It's funny, we have this extraordinary situation in Hong Kong where we are this international financial centre, so you've got your Goldmans, your Barclays, and JP Morgans of this world, and this stuff is ­ingrained from elsewhere. But then you have the ­traditional … the business landscape here in Hong Kong: family-owned, conglomerates, the ­octogenarian ­patriarch, is still very much at the helm. We have this spectrum of organisations here, but the ones that we talk to, even the more ­progressive multinational companies, aren't ­looking at why women aren't ­staying, or why women aren't being promoted, and I think there is a ­problem that actually both types of companies tend to be still quite ­traditional.
Q: Is it because they think that it's something that has worked for them in the past and they don't want to change?
We all carry a kind of baked-in cultural DNA; our own unconscious biases about men, women, each ones' competencies, and roles. A lot of male leaders still think that actually it should be a woman's choice, without seeing that it's not necessarily a level playing field. There are institutional barriers.
Q: What were your experiences going through the corporate world? Did you face a lot of hurdles?
I was never a feminist, and I was never as aware about glass ceilings. I think I was very lucky. I had very good mentors. It wasn't until I decided to step off the ­corporate ladder to take a sabbatical that [I had] my 'eureka' moment. I thought 'now I'm starting to feel really disoriented. I don't have my business car, I don't have my assistant,' and people treat you ­differently. And that was a bit of a shock. I also ­realised how quickly women could lose confidence. I ­remember when I was in my senior corporate roles and hiring women who had taken a break, most of them had not interviewed very well, because they spent so much of their time apologising for the time that they had taken off and they always sounded so defensive. They were always worried that it was going to disadvantage them, and quite rightly worried ­because it does. Managers think it's risky to take in someone who's had a bit of a break.
Q: Did you experience the same thing when you were getting back to work?
I didn't try to come back to a corporate job. People still ask me now: 'When are you going back to a real job?' I'm like: 'For God's sake, this is a real job.' The other thing that happened to me was I joined the founding board of Save the Children in Hong Kong. It really opened my eyes to inequality. The message there is: You can take a career break, you can come back. But you don't have to think that coming back has to be to what you were doing before.
Q: There are women who want to be housewives or homemakers, but some feminists have applied a stigma towards them, saying they are holding the movement back, what do you think of that?
Our take on it is that women should have the choice, but you've got to try and make it easier to facilitate them coming back [to work]. That's where we need to concentrate our energies. Build the bridges for them. There should be choice and there should be support.
Q: Do your daughters understand what you do at TWF?
When you ask my older girl: 'What do you want to do when you grow up?' she says, 'I want to work for The Women's Foundation.' I think she knows enough about it now [laughs]. I actually told her though: 'If I do my job correctly you won't need to work for The Women's Foundation.'
Q: Since joining TWF as CEO, what's been the most surprising revelation for you?
A couple of things. One of the things is you hear these horror stories of women who don't want to help ­other women. But actually our experience at TWF is so much the opposite. The other revelation which is much more concerning, and really took us ­somewhat by surprise, is that boys are much more entrenched in their stereotypical beliefs and biases than girls. Our programmes have a much more ­sustainable affect on girls and their aspirations and their self-esteem, but for boys, for a little while it looks like they're shifting in their attitudes, but they fall back very quickly.
Q: Recently you were in Cannes to promote She ­Objects, how was the film received?
It was incredible. I was so humbled and privileged that our little film somehow got plucked out of ­obscurity from a lane in Sheung Wan and [received] that kind of reception in Cannes; to be on a panel with three other incredible women, who are activists as well as filmmakers … I'm not sure we deserved a seat there, but we're incredibly grateful to have had that seat. It was really thrilling. We had a wonderful reaction from the audience. We had a slight inkling that we made a special film. We took a risk, but we couldn't afford more experienced talent, so we hired a very young female director. I think Nicola Fan had never made more than a 10 minute short before. This is her first full-length documentary. We hired a young local female musician to do the score and write the theme song. We hired them on their potential, not on their track record. But they repaid us in spades.
Q: What are some examples of gender biases in Hong Kong media?
Everywhere you go you have slimming ads, you have ads that basically promotes the thinness ideal – that there's one standard of beauty. Five per cent of ­women match up to those idealised standards you see. And yet over 70 per cent of teen girls say that they are strongly influenced by magazine images. It's a huge mismatch. The other thing that concerns us is the sexualisation of women in the media; the ­depiction of women as sex objects.
Q: You know the old adage 'sex sells', does that mean you want all sexually suggestive advertising to be banned?
We're not trying to be prudish … there are times when it's okay to celebrate sexuality or have fun with stuff. But, at the back of our minds there's always a concern. People can read this and think that it's okay to behave a certain way towards other women. It has to be looked at in that context.
Q: What do you hope the film will accomplish?
When we made it, we were quite contained in our ambitions. We didn't know that it would be a hit the way it has been. We thought we would make a film and we would use the film to drive critical thinking and media literacy workshops in schools and ­universities. We'd like to see a new generation come through who are thinking about the media and ­consuming. We don't kid ourselves that the media industry is going to change overnight, so we need to equip consumers with the right filters to be able to process what they're looking at.
■ She Objects premieres on June 14, at 6pm at the HSBC Headquarters, 1 Queen's Road, Central.
South China Morning Post is a media partner of She Objects