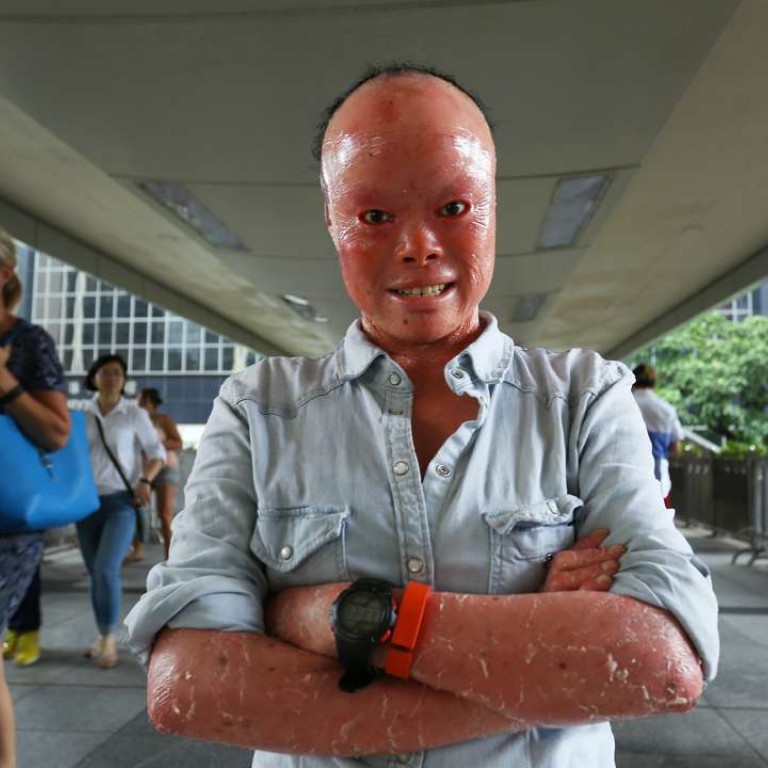 'Girl behind the face' tackles cyber bullies
Hong Kong woman abused online because of her rare skin condition fights back in the classroom and on the rugby pitch
The world is grappling with the pervasive issue of cyberbullying, where victims, from schoolchildren to working adults, may be targeted anytime, anywhere.
"The worst part is these bullies hide behind the anonymity of the internet," says Mui Thomas, a cyberbullying survivor and fighter.
Born with the very rare skin condition, Harlequin Ichthyosis, Thomas grows as much skin overnight as an average person does in two weeks and looks different from most others.
This gave bullies an excuse to unleash their ignorance onto her when she was about 13, both at school and, worse, online.
"I can't describe how horrible it is when messages like, 'you're better off dead' creep into your home to attack you," says Thomas, who still has the trauma hanging over her a decade on.
She was pushed to the brink of ending her own life, but luckily brought back by love and support of her incredible parents.
Rog and Tina Thomas adopted her when she was a toddler, despite doctors warning she wouldn't live long. They worked hard on giving their daughter – who, at 23, is believed to be the fourth oldest surviving person with her condition – a normal life with an average family.
Growing up, Thomas yearned to not be stared at and just live life like any of her peers, except with a special health regimen that includes keeping her skin scrubbed, constantly moisturised, and out of direct sun, among other things.
But having seen how critical it is to show support to those cornered by cyberbullying, the Thomas family decided to stop trying to fit in, and embraced the chance to stand out.
They set up a Facebook page, "The Girl Behind the Face", and wrote a book of the same name that's yet to be published, to let others suffering the crippling internet disease know they're not alone. "The internet is a double-edged sword. I experienced so much hate through it, but the support I've received from strangers across the world is amazingly empowering."
Her eagerness to raise awareness has pushed Thomas to face her fear of the public gaze. She's been giving talks at schools and events, and did a TEDx talk last year to an audience of 700.
Designing Hong Kong has nominated Thomas for an Overcoming Personal Challenge Award in the South China Morning Post's Spirit of Hong Kong Awards.
Against all odds – she also has brittle bones, arthritis and cannot sweat – Thomas has qualified as the world's first rugby referee with Harlequin Ichthyosis.
She especially thanks her doctor, Lauren Bramley, whose pro bono services have quite literally kept her alive, and Hugh Watkins of the Hong Kong Rugby Union, who welcomed Thomas into the sport with open arms.
While she trains hard to reach her dream of becoming an international ref, Thomas works as a special needs teacher at the Rock Foundation.
Straight out of school, the idea of the big scary world petrified her at first. "And I really didn't like the idea of standing in front of a class."
But it has helped the bubbly young woman come back out of her shell, as she continues to fight discrimination against herself and others with visible differences, and has given her newfound respect for the profession.
"I love it. I just love it. Kudos to all teachers out there. I can tell you, rugby doesn't compare with how tough teaching is!"