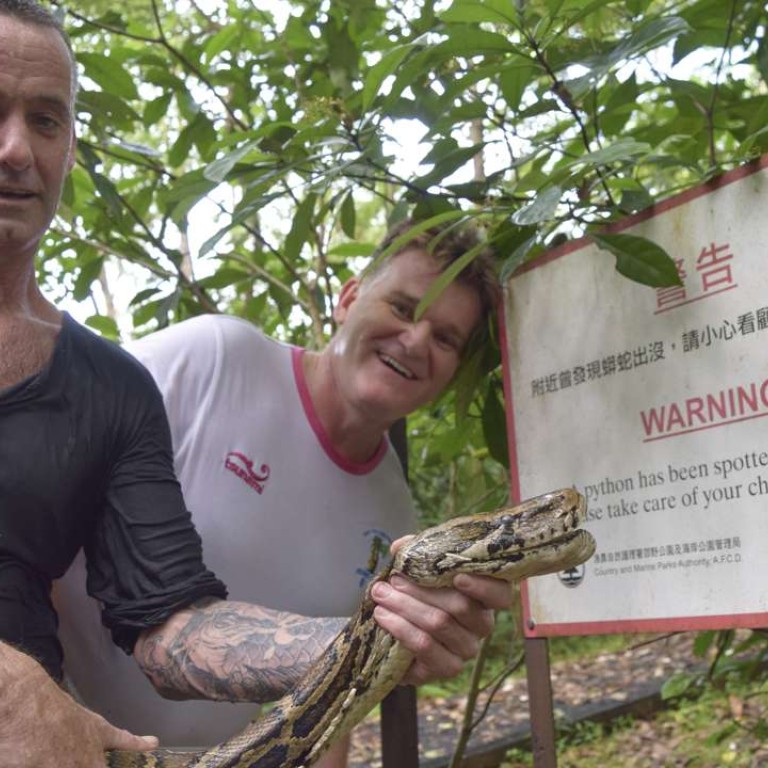 Snake catchers of Hong Kong: meet the fearless reptile handlers who are saving snakes from a grisly end in a soup dinner
The professional catchers work with the police to relocate snakes to Kadoorie Farm and Botanic Garden before they are released in the countryside
Hong Kong's snake catchers are becoming increasingly important for protecting the city's residents as urban expansion means more snakes are discovered around the region's homes and businesses.
Today, there are between one and three snake catchers registered with each of Hong Kong's 23 police districts and they are paid about HK$800 per call out.
Traditionally the practice was carried out by local residents free-of-charge on an ad hoc basic. These original snake catchers (known in Cantonese as 'Shea Wong', which roughly translates to 'Snake King') still exist, but they no longer kill their prey to be sold to snake shops for soup.
Now they tend to ensure they do minimum harm to their captured snakes. They are often self-taught, but they use a range of equipment to securely trap the animal. A smaller proportion of snake catchers are conservationists, who also work with the police, and have specifically learned their craft to support the snake population.
As awareness of the importance of animal conservation has grown in Hong Kong, there has been a move towards relocating captured snakes. Since 1999, Kadoorie Farm and Botanic Garden (KFBG) has provided a temporary home for about 9,000 snakes captured by snake catchers.
The Wild Animal Rescue Centre at KFBG estimates it took in about 75 snakes from May to October between 2004 and 2014, before releasing them into the countryside. It says this redistribution from the urban to rural environment helps to maintain the balance of the ecosystem, while protecting Hong Kong residents.
The role of snake catchers was highlighted this week after Sai Kung resident Karl Davies was attacked by a python on a country park trail. Snake catcher David Willott, with Davies' aid, was able to catch the snake to be taken to KFBG.
Willott, 50, who lives in Sai Kung with his wife and two teenage children, has been catching snakes in the area for about 17 years.
Originally from the UK, he initially offered his services for free, often keeping the snakes as pets. But now he works with the police to capture snakes. He is often called to peoples' homes, where he is sometimes forced to unscrew a washing machine or demolish a cupboard to track down a snake.
"I came to Hong Kong as a small boy," he said. "I have always had an interest in reptiles. I have always loved snakes; I think they are maligned and misunderstood.
"The difficult rescues are the ones when it involves a dangerous snake like a King Cobra. That is the only snake that I am quite scared of, although they are not generally aggressive.
"I recently came very close to being bitten by one on a job in Ho Chung — that made me realise I need to be more careful.
"I've sometimes been called to snakes trapped in holes and drains. If you tend to be calm, then they are more relaxed."
Willott believed the numbers of snake catchers is increasing, partly due to young people taking more interest in the environment.
"I think people are brought up not to like snakes and they hear that they are dangerous," he said.
"When I was a kid doing this, I was the only one. But nowadays you hear about it all the time.
"I think young people are more interested in the environment. It is not just about showing off."
William Sargent is another of Hong Kong's professional snake catchers. Operating on Lantau Island for 25 years, he accompanies local police officers on rescue missions, being careful to capture rather than kill the snakes.
The 40-year-old businessman, who lives with his wife Karen and their two dogs in Pui O, has a low-key snake-catching kit; puncture proof gloves, a stick, a torch and some bags. Sometimes he simply uses his bare hands.
He described his most difficult rescue at Tong Fuk prison last summer, when a python, which had eaten a cat inside the prison grounds, became trapped in a drain.
"I had to get out in the beating sun and after 45 minutes I was drenched in sweat," he said.
He believed the longest snake he had ever rescued was a 4.2 metre python — just 30cm shorter than the longest snake sighting recorded in Hong Kong.
"I enjoy it," he said. "I feel compelled to do it because I have animals' interests at heart — I am a conservationist. I am not just some crazy snake person. If you understand the behaviour of snakes then you know what the true risks are, so I am not generally scared. I get more nervous in front of the police just because there's an audience. You can get very excited and there is a lot of adrenaline.
"It is so straightforward if you know what you're doing."
For Sargent, the importance of conservation is an absolute.
"It is just a reasonable approach to maintaining the environment that we are lacking in Hong Kong," he said.
"In Hong Kong, the approach has been to just kill them. It is backwards when it comes to sustainability and conservation. Some people are immature when it comes to the environment."
Incredibly, it appears there are even some part-time snake catchers who choose to help people out for free.
Takamaru Ota, 45, an investment advisor, has been catching snakes on Lamma Island since he moved there from Tokyo in 2004. He estimates he has caught about 20 in that time.
A recent video of him catching a snake with his bare hands at a local business was shared on an island Facebook group, attracting thousands of views.
He said he focuses on grabbing his targets by the neck, and sometimes sits on them to gain control.
He enjoys taking the animals home to show his three children, before releasing them back into the wild.
"I find it fun and interesting," he said. "My wife sometimes says it's stupid but she enjoys it really. I am not scared — you just grab the snakes by the neck. I think people are becoming more understanding about snakes."