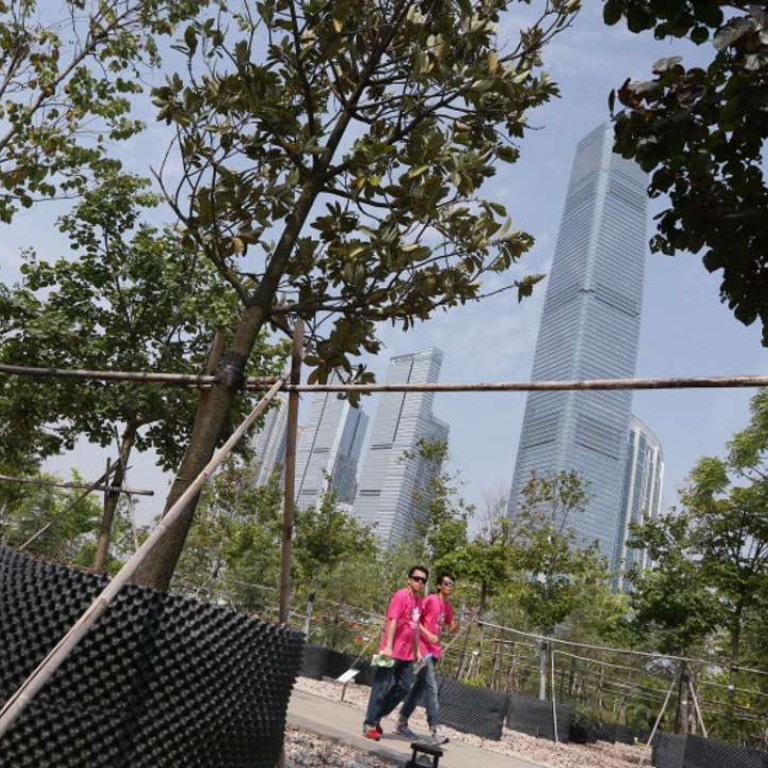 Mega performance venue scrapped at long-delayed Hong Kong arts hub
Chief Secretary Carrie Lam announces scale-back while confirming new director of M+ museum at the 40-hectare West Kowloon Cultural District
The West Kowloon Cultural District has scrapped plans for a mega performance venue in the northwestern corner of the 40-hectare development and may use the land solely for exhibitions and conventions, reducing the capacity for the prime waterfront site to hold large-scale popular music and entertainment events.
The U-turn was announced by Chief Secretary Carrie Lam Cheng Yuet-ngor on Wednesday at a press conference to confirm the appointment of Suhanya Raffel as the next director of M+, the museum of visual culture that is opening in West Kowloon in late 2019.
Raffel was previously deputy director of the Art Gallery of New South Wales in Sydney. She replaces Lars Nittve, who stepped down in January citing frustrations with construction delays that have pushed back the opening date to two years later than originally planned. Both he and Michael Lynch, the previous chief executive of the district, have complained of frustration in dealing with bureaucracy and politics.
Lam said the Kai Tak Multi-purpose Sports Complex, for which funding was approved by lawmakers last year, could double as a performance venue.
"We will consider the fact that Hong Kong has to continue to develop its exhibition industry and so we must review how best to use this part of the West Kowloon Cultural District as an exhibition space," she said.
The original plan was to turn what is now a green space called the Nursery Park into a "mega performance venue and exhibition centre". The funding for it had never been secured since the HK$21.6 billion budget approved for the district was not supposed to cover that particular building.
"The venue was going to require participation by the private sector or to seek alternative funding," Lam said.
She expressed hope that the government and the authority chaired by her that runs the district would reach a new financial agreement in the coming year on how to fund the third phase of the long-delayed mega project that is also not covered by the current budget. That would include theatres and concert venues slated for completion after 2020.
Lam would not say how big the expected shortfall was and whether it could be partly offset by profits from a full-time exhibition and convention centre.
She said the government was still considering whether to hand over development rights of surrounding land slated for commercial development to the authority to subsidise non-profit cultural activities. The government had abandoned such a model earlier because of public objections to the involvement of developers in a cultural project.
"Any plans on how to replace the mega performance venue and exhibition centre would be decided by the WKCDA and its committees," she said.
This article appeared in the South China Morning Post print edition as: Mega venue scrapped at delayed arts hub