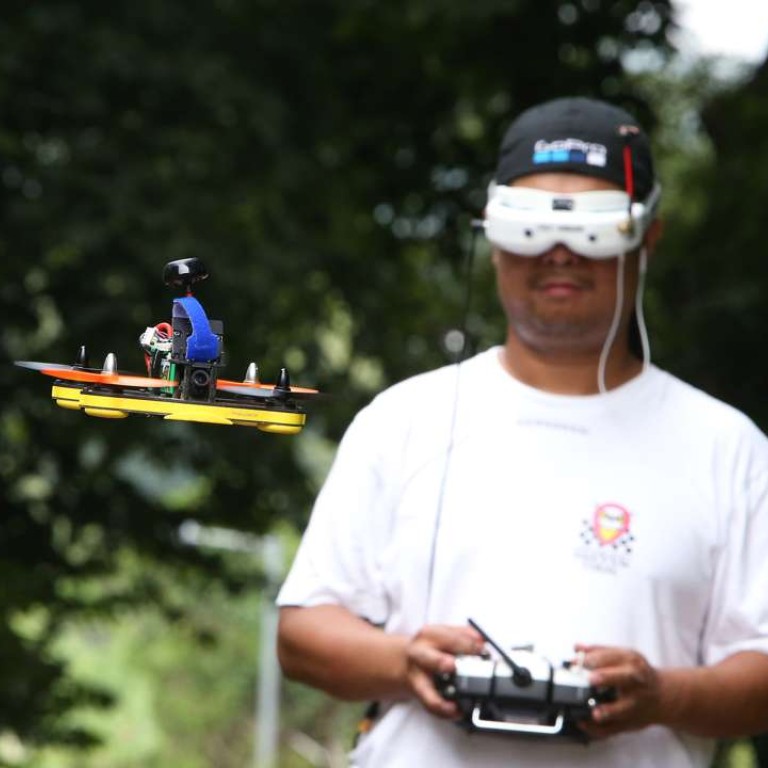 Is drone racing the coolest new sport in Hong Kong?
The hobby has grown at a rapid pace spurring international events, and offering lucrative television contracts and big prize money
It's not a bird, a plane, or Ant-Man riding Antony. It is the latest incarnation of radio-controlled sports known as First Person View (FPV) drone racing.
FPV drone racing takes radio-controlled flight enthusiasts to the next level by allowing pilots to see the perspective of the drones that they are flying, through special goggles.
A truly 21st century sport, the Hong Kong FPV Racers club has grown from a handful of members in 2015 to nearly 70 today.
Club founder Bernard Yiu Kwun-hong got into FPV drone racing after being "amazed" by a video he saw on YouTube demonstrating the sport.
"I found that no one was racing and no one was organising races in Hong Kong. I started with some [from] my peer group and [said] 'okay let's race' and we formed our organisation," Yiu says.
Basic equipment for racers comprise a racing drone, remote control and FPV goggles. Prices for drone racing kits range from HK$1,000 to HK$10,000, depending on model and upgrades. Typical racing drones have four propellers and sizes range from 15cm to 25cm.
At Hong Kong FPV Racers' most recent event, 24 drone pilots pitted their skills against each other, competing for prizes donated by sponsors.
Racing drones can hit speeds of up to 100km/h, with pilots seated in a safe zone where drones are not allowed to fly.
A video camera is attached to the drone and transmits video to a pilot's goggles using an on board video transmitter, giving the player a sense of being in the drone. An analogue video transmitter is preferred to a digital one as it provides images faster.
An audience can watch a simultaneous broadcast of the drone footage on a video screen.
Before jumping into racing, Yiu recommends novices practise flying on a computer simulation.
"If you are keen on the computer simulation, then you can shift to the real thing," he says.
The learning curve differs from person-to-person, according to Yiu. Players with experience in radio-controlled vehicles may find it easier than others, and can "master the basic skills in three to six months".
Like many FPV drone pilots, Roland Bernal – racing name Mushroom Pie – was a flight and radio-controlled vehicle enthusiast prior to trying the sport. The first-person view added another level of dimension that he found to be "amazing".
"It's like you're flying, it's like Superman. The feeling is like you're lifting up your soul," he says.
All pilots who tried FPV drone flying for the first time have a common experience – disorientation when looking through the goggles and "a lot of crashing".
"My first flight [lasted] three seconds and I crashed because of the dizziness," Bernal says.
For 16-year-old Daniel Kraebel – pilot name KraebsFPV – his adventure in the sport began by watching YouTube videos of various FPV drone racing and freestyle events.
"It looked really cool. Before I flew [RC] helicopters, and then I got into this," he says.
"Just watching what [the drones] could do, being able to be free, being able to do flips in the air, it's almost like being a bird. You get to have an out-of-body experience."
Kevin Kraebel, the father of Daniel, is happy to see his son – the youngest pilot at the event – choose FPV drone racing as his passion.
"He could be doing any number of other things, I'm glad he's found something he loves. It keeps him busy and [out of] trouble," the retired engineer says.
Daniel says he hopes to one day turn his hobby into a career as a professional racer. He is one step closer to his dream as he was already able to secure a sponsor to help him cover the costs of his hobby.
FPV drone racing has grown as a sport exponentially in just a few short years. Racing events are held all around the world, including an international championship. This year, the 2016 World Drone Racing Championships will be held in October in Hawaii. Pilots from more than 30 countries will compete for US$100,000 in cash, prizes and trophies.
Corporations have taken notice of FPV drone racing's rapid ascension and are putting their money in the sport through sponsorships. Notable sponsors are GoPro, AIG, Vizio, and Ernst & Young.
Other indicators of the sport's popularity are broadcasts of races on national television, such as ESPN in the US.
Bernal attended the second drone nationals event in New York to try and qualify for the championships in Hawaii. He admits that he would consider quitting his day job to compete full-time if he had the backing of a big sponsor and a team.
The evolution of drones has come a long way since the first "unmanned aerial vehicle" was introduced in an 1849 conflict when Austria launched 200 bomb-filled balloons against Venice.
The most well-known type of drones in the modern era has been "predator" drones used in Afghanistan and Iraq by the US military.
Commercial drones were introduced into the market in the mid-2000s. Now drones are widely used all over the world, especially to capture video of sites and areas previously only accessible by a camera aboard a helicopter.
Potential pilots can contact the club via the Hong Kong FPV Racers Facebook page and join their WhatsApp group for those who have questions about FPV drone racing.