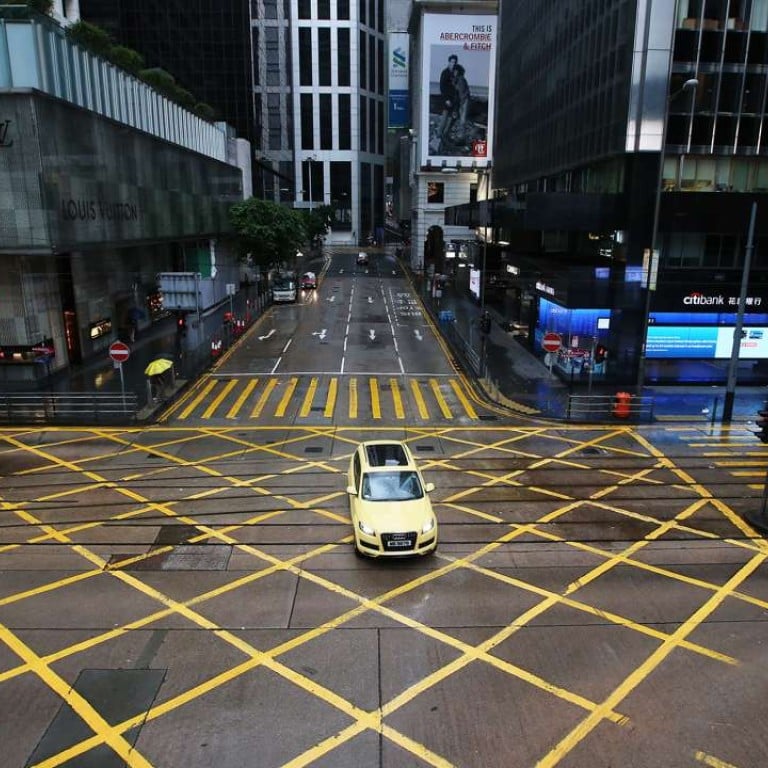 Empty streets in Central commercial area during morning peak hour in Hong Kong. Photo: David Wong
Hong Kong shuts down as Typhoon Haima's approach disrupts transport and public services
Schools, immigration offices and judiciary all closed; Signal No 8 raised over city
Topic |  
Hong Kong weather
Empty streets in Central commercial area during morning peak hour in Hong Kong. Photo: David Wong
Typhoon Signal No 8 is expected to remain in force for most of Friday, the Hong Kong Observatory said, as the city will be in the crosshairs of Typhoon Haima.
The Signal No 8 storm warning was issued at 6.10am, ahead of the morning rush-hour commute.
Disruption is expected across the city. Schools are shut for the day, government services including immigration and the judiciary are suspended, and public transport has been affected.
Morning trading on Hong Kong's stock and futures market was suspended, and the Airport Authority said 689 flights had been cancelled or delayed as of 6.30am.
Airport Authority chairman Jack So Chak-kwong said the airport was expected to be packed on Friday night and Saturday, when flights are expected to return to normal.
"We advise all passengers to check their flight status with the flight companies before coming to the airport," So said.
Executive director of airport operations Ng Chi-kee said the new flight schedule for Saturday 6am and onwards would be out by about 6pm on Friday, after they finished dealing with the airlines.
Ng said the number of support staff in the airport, ranging from those in the repair department to those customer service, would be increased in order to prepare for the weekend flights.
"We are expecting flights to gradually resume to take off by 6am tomorrow morning, and that will be the peak [for airport operations]," Ng said.
The Observatory said local winds were mainly from the north. Owing to the effect of the terrain, Hongkongers may feel the winds have not substantially strengthened, however, they are expected to do so rapidly, with frequent squalls and heavy rain through the morning.
"According to the present forecast track, Haima will be closest to Hong Kong around noon, skirting about 100km to the east. The No 8 Gale or Storm Signal is expected to remain in force most of the time during the day," senior scientific officer Sandy Song said.
Hongkongers have been urged to remain alert and to stay away from the shoreline and not engage in water sports.
At 8am, Typhoon Haima was centred about 190km east-southeast of Hong Kong. The storm was estimated to be moving at 25km/h, and was forecast to move northwest or north-northwest to the eastern vicinity of the Pearl River Delta Estuary.
The Education Bureau announced the suspension of classes in all day schools on Friday. Government services including the Judiciary and Immigration Department said they would suspend services at their headquarters and branch offices.
The Home Affairs Department has so far opened 20 temporary shelters in various districts, with a total of 59 people seeking refuge.
There have been 23 reports of fallen trees.
The Drainage Services Department has not received any reports of flooding or landslides.
The last No 8 storm signal issued in the month of October was for Typhoon Sibyl in 1995.
A video posted by davidkneebone (@davidkneebone) on Oct 20, 2016 at 4:57pm PDT
At 8.30am, a dozen people were strolling along the Tsim Sha Tsui waterfront. Most were taking selfies against the backdrop of Victoria Harbour, while some were just standing there to feel the strength of the wind.
Indonesian tourist Heru Sunarto, 58, who is in the city for the first time for a three-day trip with his family, said he found out about the typhoon only when he could not get a ferry to Macau.
"It is so quiet here now, very different from what we thought Hong Kong would be like," Sunarto said.
"We wanted to go do sightseeing and shopping after not being able to board the ferry, but it seems like there is nothing to do except going back to the hotel."
Reacky Choi Yeung-Ming, 50, a driver, was excited about the wind.
"I love seeing special natural scenes so I am always out whenever there is a typhoon [signal] No 8," Choi said. "I will drive up to the Peak later. I think the scenery there will be more spectacular."
Samson Liong Chik Chuen, who lives in Kennedy Town, said he was glad that it was not raining, although the wind was stronger than usual.
"This definitely feels like a stronger typhoon than the ones we had earlier this year," he said.
"I'm just here to walk my dog before it starts raining,," he said.
A photo posted by James (@james_r82) on Oct 20, 2016 at 6:11pm PDT
Bryan Chan, also from Kennedy Town, brought his daughter with him to watch the waves.
"Compared to the other typhoon, which brushed past us, this one is hitting the city right in its face, so we are experiencing it at its full effect," he said.
"The waves are slapping the shores," Chan added. "It is not a rare occurrence, but today the waves are acting a bit crazier than usual."
Avery Mok Kai-leong travelled from Kowloon to Kennedy Town just to experience the typhoon and watch the waves.
"So far it is not too terrible because it is just drizzling," he said. "I heard the typhoon will land at around noon. And if the wind is coupled with torrential rain, it will be much worse."
Lam Wai Ho, who lives in the area, also came out with his family to watch the waves.
He too expected the winds to be much stronger in the afternoon.
"At its worst, the water could even splatter the far side of the promenade," he said
Transport
The MTR Corporation said rail and MTR bus services remained normal as of 9.30am, but deteriorating conditions could affect services later. Rail staff have been deployed to check overhead lines and track conditions and to repair damaged overhead wires and clear obstructions on the track.
The following rail lines are operating at 10-minute intervals: Kwun Tong line, Tsuen Wan line, West Rail line, Disneyland Resort line, Tung Chung line, Airport Express, Ma On Shan line, Island line, East Rail line between Hung Hom and Lo Wu stations, and Tseung Kwan O line between North Point and Po Lam stations.
Trains between Tiu Keng Leng and LOHAS Park stations are running at 15-minute intervals.
The East Rail line between Hung Hom and Lok Ma Chau stations is operating at 20-minute intervals.
Light Rail services are operating at 5 to 18-minute intervals, and the MTR Bus is operating at 10 to 12 minutes between departures.
KMB and LWB said most daytime bus services were suspended until further notice, though KMB Routes B1, K12, K17, K18 and LWB Routes S1 and S64 will provide limited services.
On Citybus and Firstbus, except for Route S1 and B3M providing limited service, all daytime routes have been suspended.
Ferries to and from the outlying islands were suspended with routes ending last ferry services at 7am.
There are no more ferries on: Central to Yung Shue Wan, Yung Shue Wan to Central, Central to Peng Cha, Peng Chau to Central, Sok Kwu Wan to Central, Central to Sok Kwu Wan, Peng Chau to Hei Ling Chau, and from Hei Ling Chau to Peng Chau.
There is no official confirmation that Discovery Bay ferries are suspended, but this is likely to be the case with other ferries halting services for now.
Ferries to and from Macau have been suspended. The Marine Department said the Hong Kong-Macau Ferry Terminal in Sheung Wan was temporarily closed.
The Airport Authority said flights in and out of Hong Kong International Airport would face disruption from 11am, as the typhoon is expected to be closest to the city at about that time, until 10pm.
Across-the-board cancellations and delays affected regional and long-haul flights. Of the 689 flights disrupted, 261 departing flights and 239 arriving flights were cancelled, almost 40 per cent of the daily flying schedule, and 189 flights to and from Hong Kong was delayed.
A trickle of flights could be seen departing and arriving on Friday morning from Taipei, Cebu and Angeles City, and a number of flights took off from Kaohsiung, Xiamen and Shanghai to Hong Kong well after the No 8 storm signal had been raised.
Thirteen intercity through trains between Hong Kong and the mainland were suspended on Friday due to the typhoon.
Popular activities
As the No 8 storm warning remains in force, Ocean Park will be closed.
Ocean Park said it may delay opening for a minimum of two hours even after the signal is lowered, with limited operations and Halloween attractions. If the signal is lowered after 5pm, the Park will remain closed for the remainder of the day.
Disneyland Hong Kong resort said it would delay opening until two hours after the No 8 is lowered, if at all, on Friday.