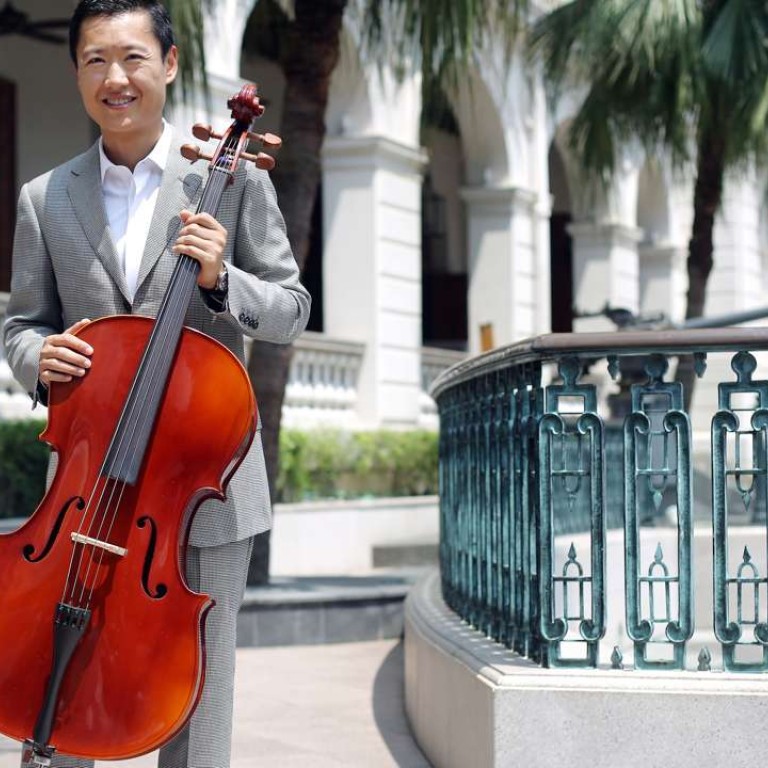 Hong Kong-born cellist brings cultural diversity to classical music festival
Trey Lee Chui-yee launches fourth edition of Musicus Festival, with an array of local, international artists, and which comes with a Finnish twist this year
"Culturally undefinable" were the words that a friend of Trey Lee Chui-yee recently used to describe the internationally renowned Hong Kong-born cellist, who founded the city's annual classical Musicus Festival now entering its fourth year.
Lee, who moved to the United States at the age of eight, and toured all around the world as an adult, says that he increasingly feels as though his cultural identity was becoming blurred.
"I would say my lifestyle is European, my sense of humour is American but my cultural reactions are Asian," he says. "If I am introduced to elders I don't know in Hong Kong, for example, I still know how to address them."
Lee is a former pupil of New York's Juilliard School, a prestigious performing arts conservatory which counts singer Alicia Keys and late actor Robin Williams among its famous alumni. He attended music lessons on Saturdays, which he says were "a welcome break" from the intensive academic courses he took during the week at Stuyvesant High School, a specialist fee-paying science and maths institution.
"It was a very enriching experience," he says. "I had the time of my life".
Lee speaks both Mandarin and Cantonese because his mother, an accomplished pianist, thought the former would be useful for her children as they travelled for their careers.
He founded the Musicus festival with his sister Lee Chui-Inn, a pianist, as a way of bringing foreign artists to Hong Kong, but also in order to showcase local musicians to an international audience.
This year's festival features Finnish artists including violinist Pekka Kuusisto, pianist Paavali Jumppanen, and the Tapiola Sinfonietta, as the country marks its 100th year of independence.
"I had the idea that I wanted to do a music festival here that did not just attract artists from overseas – I wanted them to actually perform with local musicians," he says. "Finnish musicians are the complete package. They are very open-minded. They play a very soulful kind of music."
Lee thinks that Hong Kong can take inspiration from Europe, which presents classical music in more interesting settings, and says that he has tried to replicate this by having Kuusisto perform at an intimate concert at Nan Lian Garden, which houses the Chi Lin Nunnery, in Diamond Hill.
"I haven't seen this kind of thing happening in Hong Kong before," he says.
Last year, as part of his work as a Unicef ambassador, Lee joined the Imagine Project with Yoko Ono at the UN General Assembly Hall in New York, to celebrate the 25th anniversary of the United Nations Convention on the Rights of the Child. He says that he considers it as one of his most high-profile gigs to date.
Although he is on tour for up to six months every year, he says he counts Berlin as his home because "that is where my washing machine is". In his spare time, he enjoys going to museums, spending time with fellow artists and checking out the city's latest graffiti murals. He also swims regularly to soothe his back muscles, which can tense up after hours of playing the cello.
"Berlin is such a melting pot," he says. " I like walking around the city and discovering so many new things. I can have a three-hour lunch there, which is hard to do in Hong Kong. But being a musician, I am not sure I want to be anywhere permanently."
The Musicus Festival runs from November 23 - 27. Book tickets at www.urbtix.hk.