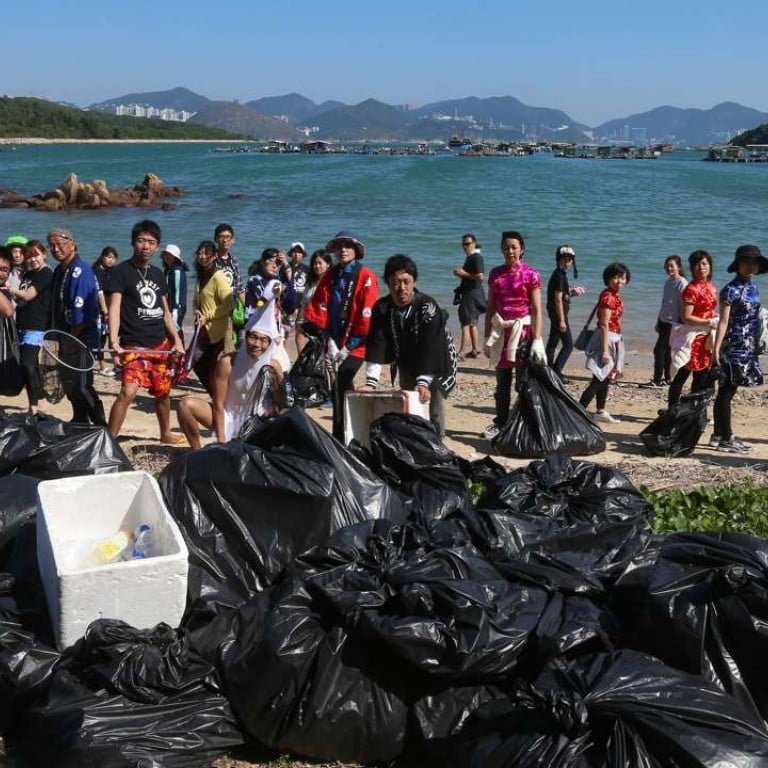 Japanese eco-warriors hit Hong Kong's polluted beaches
Visitors pay out of their own pockets for a four-day clean-up of Lantau and Lamma coastlines
After hearing about Hong Kong's coastal pollution crisis in the summer, Toma Kondo, a 10-year-old Japanese boy, spent all of his savings on booking a flight to the city to clean up the beaches.
Kondo was one of 32 tourists who flew in from Japan to clean the city's coastlines last week. The group, which calls itself the Beach Clean-up World Tour, spent four days from Friday to Monday picking up rubbish strewn on beaches around Lantau Island and Lamma Island.
Watch: Japanese tourists helping clean Hong Kong beaches
The group was led by Hiromasa Suzuki, an international eco-warrior who has been taking groups of Japanese to help reforest barren land in Inner Mongolia since 2009. Suzuki, who is also the founder of environmental organisation Open Earth, first visited Hong Kong in August for a clean-up operation.
"I became friends with several Hongkongers and Japanese expats during the clean-up event [in August]," he said. "They immediately decided to help me launch an event here in Hong Kong, which is similar to what I do in Inner Mongolia."
He said the team of 32 Japanese all paid for themselves to come to Hong Kong. They collected more than 135 full 64-gallon bags of garbage over the course of three days.
"I am extremely touched by how so many people were willing to pay over HK$10,000 just to come here to protect the environment," he said. "And half of the group have also joined me before in the reforestation programme."
He said the participants were from all walks of life and the cost of the tour was "not an easily affordable amount for most of the people". He said the group had to raise funds to finance the trip in addition to collecting the tour fees from each individual.
While Kondo was the youngest of the group, the oldest volunteers were in their 60s.
Saori Ishioka, a medical researcher, said she hoped the event could show people that protecting the environment should be "a cause without border".
"Japan and Hong Kong have always enjoyed very close ties thanks to trade and finance," she said. "But I hope the love [for nature] can also [bind] us together."
She said she was shocked at the extent of the pollution on Hong Kong's beaches.
"We saw a lot of small plastic and styrofoam waste on the beaches. And this smaller waste is the hardest to remove."
Satoko Matsuoka, one of the organisers of the event, said she was thrilled to see so many people taking part and amazed by how everyone genuinely enjoyed being part of the clean-up. She said the vibe throughout the journey was always "vibrant and colourful".
"We turned the simple task of collecting trash into a fun activity. We even held a prayer session before the event. We weren't praying to any god but just to nature itself."
The tour group also did some celebration dance parties at the end of each day's clean-up. Members were encouraged to put on cosplay costumes to liven up the activity. Matsuoka and her husband dressed as Peter Pan and Tinkerbell.
Philip Pun Wai-kwong, the husband of Matsuoka, said he felt ashamed as a Hongkonger when he realised how much more passionate the Japanese visitors were than many locals about preserving the beaches.
"Hongkongers should really learn from this. We have to take initiatives to take care of our own mess," he said. "We promote these food tours and shopping tours in our city. Why can't we encourage people to clean up the environment?"
Christine Loh Kung-wai, undersecretary for environment, and 10 other Hongkongers joined in on Sunday to show their support.
"When I read from the news that [Suzuki] was here by himself [in August], I decided that I had to find a way to thank him," Loh said. "Hopefully, in the longer term we will have more collaborations."
Who is Hiromasa Suzuki?
The 31-year-old founder of Open Earth from Okinawa is known as the Son of Universe among his fans. He quit his job in a food packaging factory about eight years ago to dedicate himself to protecting the environment. In 2012, Suzuki set out as a lone crusader who travels around the Pacific, cleaning coastlines to raise awareness of ocean pollution. He has more than 2,000 supporters online who help finance his trips and activities. His adventures to Hawaii and Bali have been filmed by a Japanese television channel and will be shown in a six-part documentary online.
His previous ventures
In 2009 Suzuki helped to organise the Fifth China, Inner Mongolia Reforesting Tour. So far he has been to 14 reforesting tours in Inner Mongolia and planted over 480,000 trees. He has also taken part in reforesting programmes in South Africa since 2009. In 2013 he started the "Big Ocean Cleaning" campaign to clean the beaches of Okinawa. Since then he has collected 200,000 items of rubbish weighing 6.5 tonnes. He has recently extended his campaign to Hawaii, Bali, Hong Kong and India.