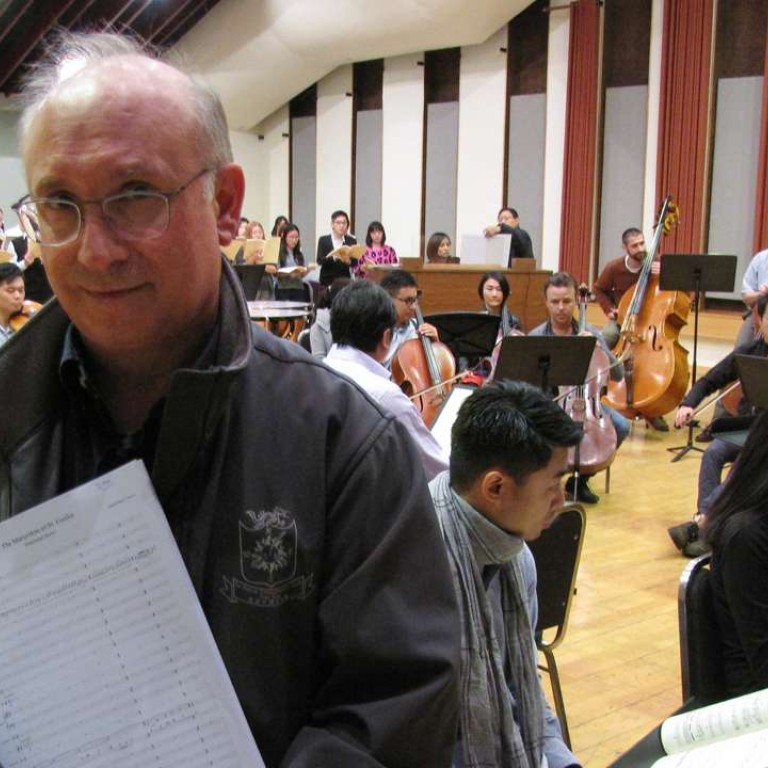 Major choral work gets world premiere in Hong Kong 24 years later
Opus by Baptist University instructor inspired by book of poems
A major choral work will be performed in the city a quarter century after it was conceived, its composer has remarked.
David Francis Urrows, who has taught music at Baptist University since 2001, calls the world premiere of his mega opus The Martyrdom of St. Cecilia on Monday night at City Hall "a strange synchronicity that happens in life sometimes".
"I came to Hong Kong in 1989, and left for a few years in 1991. Jerry came in 1991, not knowing I had been here, was given my old office, and the first thing he saw was a poster on the wall from a Bach Choir concert that I had conducted," the 59-year-old Boston native said, referring to Jerome Hoberman, music director of the Bach Choir since 1992.
It was also in 1992 that Urrows picked up a book of poems – George Barker's Ode Against St. Cecilia's Day – at a Massachusetts yard sale.
Urrows described Barker as a "post-apocalyptic" poet who questioned "the usual self-congratulatory stance of most St Cecilia pieces".
The music he set for the librettos in English and Latin was deemed too "depressing" by the oratorio society in Providence, Rhode Island.
"But St Cecilia has stayed in my files and the idea has nagged at me for the past 20 years until the Hong Kong Bach Choir discussed with me in 2013 a second work since my first with them in 2007," he said.
Hoberman described the new work as "born in Hong Kong to two permanent Hong Kong residents who've been here for a combined almost 50 years".
"David is a lyrical and a proudly tonal composer with very modern sounding in terms of rhythm," the conductor said.
An example is the wedding scene, which he said would encourage anyone's affections and inspire them to "get up and dance in the aisle."
Instead of strings and organ in the original setting, Urrows re-scored the music for four cellos, bass, two percussions, and organ. The strong percussion passages convey a contemporary theme.
"The violence such as martyrdom and beheading presented in the music wasn't a part of the world in 1992," he said. "But today terrorism around the world has sadly become a part of our daily life."
"We have to persevere and look for and sometimes make opportunity for ourselves," he added, citing the premiere of St Cecilia oratorio as an example.
This article appeared in the South China Morning Post print edition as: Major choral work gets premiere after 24 years