HSBC
Get more with myNEWS
A personalised news feed of stories that matter to you
Learn more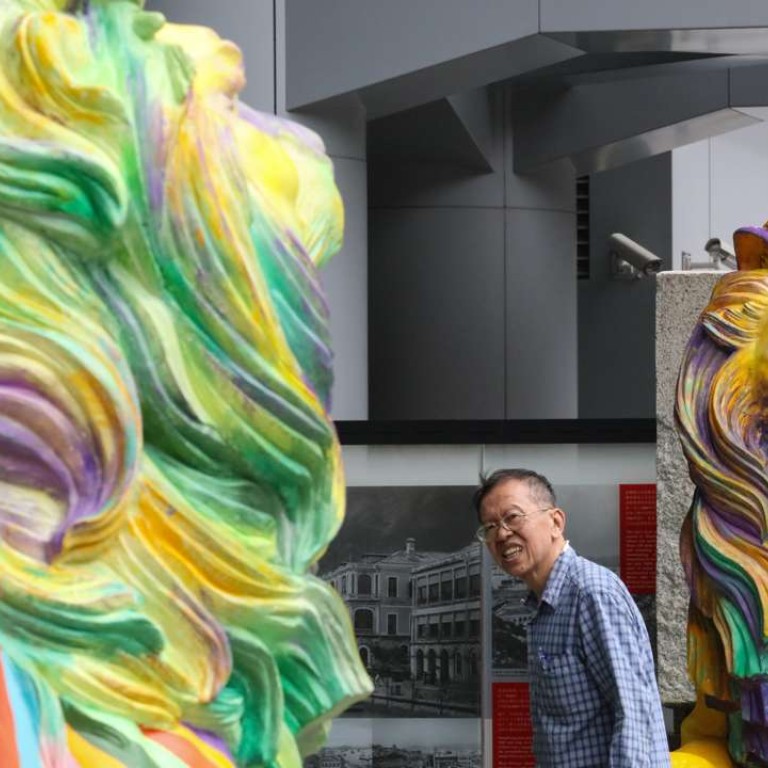 HSBC's pro-LGBT rainbow lions draw ire of Hong Kong family groups
Activists claim statues in support of sexual minorities offend customers and shareholders
Activists have accused HSBC of trampling on the family values of Hongkongers by decking two lion statues in rainbow colours at its Central headquarters in support of sexual minorities.
The Family School SODO Concern Group, Parents for the Family Association, Overturning LGBT Agenda and Next Generation Orientation have launched a joint online signature campaign expressing disapproval at the "disgusting" display, which they claimed had offended both customers and shareholders.
Watch: HSBC's rainbow lions cause storm in Hong Kong
By 9pm on Monday night they had collected 1,800 signatures and they vowed to protest in front of the lions if they collected 3,000. On HSBC Hong Kong's Facebook page there were mixed views, with some threatening to close their accounts and others supporting the bank's inclusive policy.
HSBC kicked off the "Celebrate Pride, Celebrate Unity" campaign late last month by displaying replicas in rainbow colours of Stephen and Stitt, the bank's iconic lions, in front of its main building.
The statues, designed by local LGBT artist Michael Lam and on show until the end of December, represent pride and unity in diversity, with Stephen painted in stripes and Stitt in circles. Throughout the bank's history, the lions have stood for courage and prosperity.
Unveiling the rainbow lions, Diana Cesar, HSBC group general manager and chief executive, said the campaign called for support for the local LGBT community, and "equality for everyone".
But petition organiser Roger Wong Wai-ming, convenor of the Family School Sexual Orientation Discrimination Ordinance Concern Group, accused HSBC of disregarding the feelings of its shareholders and customers as the social movement it backed blurred gender boundaries and discriminated against traditional values that most people held dear.
"We think that this very act is causing damage to the emotions of many Hong Kong people as well as trampling on their family values," he said.
HSBC had adopted some pro-LGBT policies, such as providing spousal benefits to the gay partners of employees, Wong said, claiming this was not fair to shareholders because the policy had never been discussed in any shareholders' meeting.
"This kind of policy literally forces every shareholder, willing or not, to recognise the homosexual lifestyle. It may intrude the freedom of conscience as well as affect their rights as a shareholder."
In reply to the Post's inquiries, an HSBC spokeswoman said the bank's commitment to diversity and inclusion had helped it to attract, develop and retain employees.
"Having a workforce that reflects the diversity of our millions of customers in Hong Kong and which draws on a wide range of perspectives makes us better able to serve the whole community," she said.
Brian Leung Siu-fai, of the pro-LGBT Big Love Alliance, said if shareholders felt upset about HSBC's campaign, they could withdraw their investments.
"Promoting diversity and inclusion is a universal trend. As a global retail bank, HSBC may have difficulty in promoting this concept to its clients as they come from different backgrounds. It may need to take more time to educate its clients," Leung said.
"But from a business perspective, this policy helps retain and attract talent and expand its customer base."