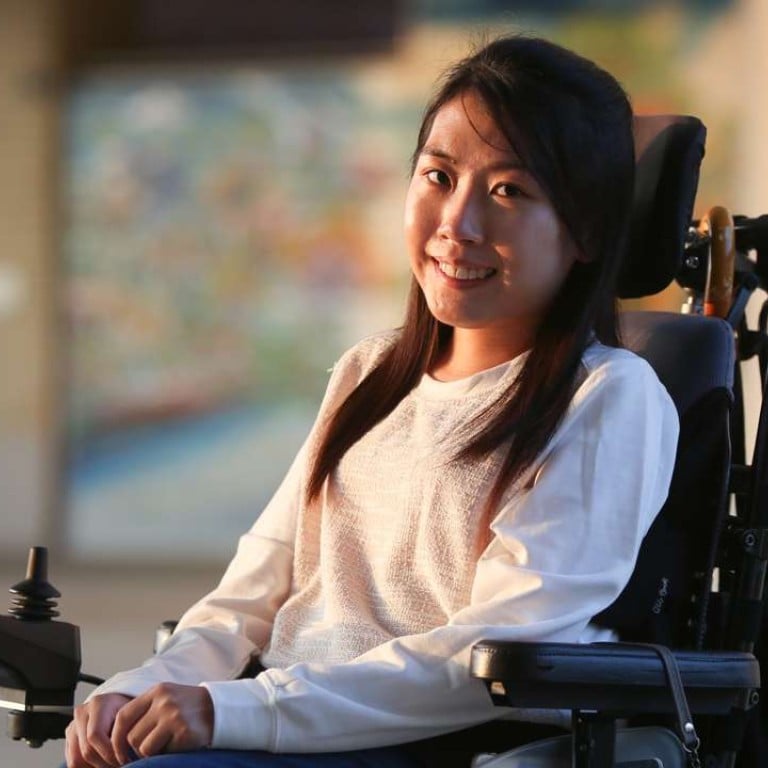 Hong Kong Paralympian wants to share passion for sports
Charity receives HK$710,000 to serve spinal muscular atrophy patients like top boccia player Ho Yuen-kei
Having placed fifth at the Rio Paralympics, Ho Yuen-kei, the city's top boccia player, believes her best days are still ahead of her.
Born with spinal muscular atrophy (SMA), a condition similar to that of renown scientist Stephen Hawking, Ho is paralysed from her waist down. But the 23-year-old athlete has never lost her passion for boccia, a sport in which players compete to roll leather balls as close as possible to a white objective ball.
Due to her placing in Rio, Ho's mix-gender world ranking is likely to move up from the current No 12 spot. She has been the highest-ranked female player in her category since last year.
Ho is one of the 70 SMA patients and families served by Families of SMA Charitable Trust. In 2016, the trust looks to continue to care for SMA sufferers with a donation of HK$710,000 provided by Operation Santa Claus, the annual charity campaign jointly organised by the South China Morning Post and RTHK.
Ruby Wan, a trustee, said it was an honour for the trust to serve an outstanding young woman such as Ho. She said the organisation aims primarily to provide beneficiaries with home-based rehabilitation schemes and medical equipment.
"Yuen-kei is going to study in a programme at Tsinghua University next year. So we are trying to sponsor her a new wheelchair that is more compact and fit for travelling," Wan said.
She added that it was crucial to raise awareness about the condition because "one out of 60 people carry the gene which could potentially lead to SMA".
Wan said: "It is categorised as a rare disease. But many people could still be at risk."
Ho's career as an athlete is one of ongoing hardship as her condition continues to affect more and more of her upper body motor function.
"I used to compete in the BC4 category," she said. "But over time I have lost strength in my arms. Now I can compete only in BC3."
Unlike players in BC4 who can still roll the balls with their arms, players in BC3 have to use a ramp.
"I was first devastated when I realised I had to move to a different category because my body was failing," Ho said. "But then I realised I still love boccia, and BC3 and BC4 are two different kinds of games."
Ho said her struggle with SMA would be lifelong, and exercise was critical in preventing her condition from further deteriorating.
"I have to keep playing sports to keep my muscles 'alive'," she said. "I am grateful for even having the opportunity to compete with others through the sport of boccia."
Ho said she wanted to dedicate her life to helping those with disabilities experience "the joy of sports".
"[The meaning of sports] is not necessarily about the titles but the satisfaction of competing with others," she said.
This article appeared in the South China Morning Post print edition as: Paralympian wants everyone to share joy of sports