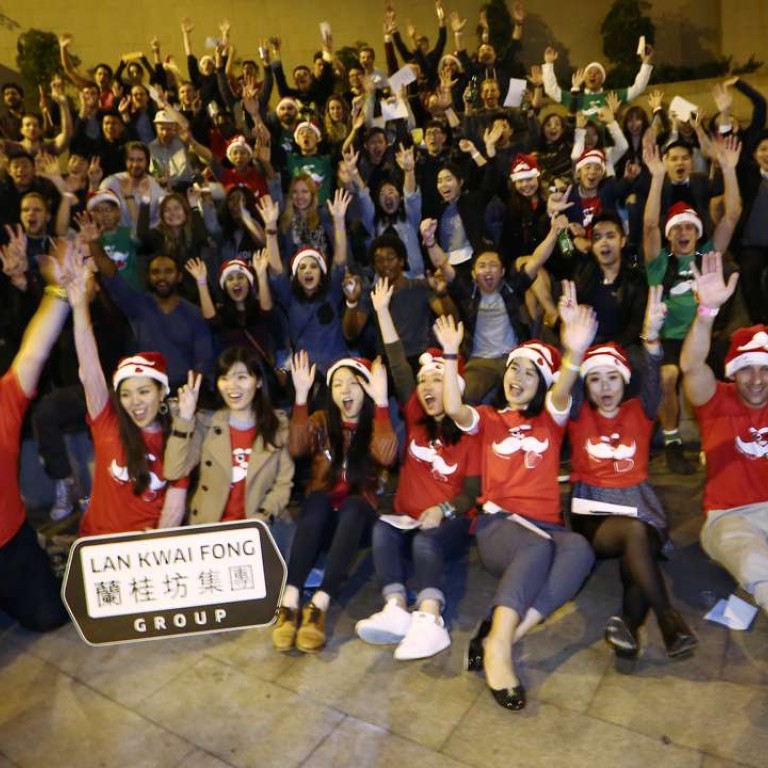 Drinkers partake of pub crawl – all for Operation Santa Claus
Participants started out timid but after a few shots lightened up
Scores of revellers joined a festive charity pub crawl through Lan Kwai Fong for Operation Santa Claus earlier this month.
About 80 people, donning Santa outfits, met at Boomshack on December 15 for a night of boozing in the name of Operation Santa Claus, the annual festive charity campaign organised by the South China Morning Post and RTHK.
Participants paid HK$200 for the drinking tour of four bars and one club, which offered discounted drinks and free shots. All proceeds were donated to the charity drive.
They sang Christmas carols before setting off on their tour.
Justin Ciarla, co-founder of Hong Kong Pub Crawl, which has been organising pub crawls in the city since 2010 and partnered with Operation Santa Claus for the first time this year, said the atmosphere appeared "timid" at first but soon became relaxed after participants enjoyed a couple of shots for "Dutch courage".
"By the end of it, I'm expecting e-mail addresses and Facebook details to be exchanged, with friendships being formed that will last after Christmas and New Year," he said.
Ciarla said his staff found it easy to maintain control of the group because they were able to balance being assertive while maintaining a fun tone.
"There was something for everyone," he said. "It was different to just going out to a club; it was more social and there was more chatting. It was like we were running a giant conga line."
Jonathan Zeman, chief executive officer of the Lan Kwai Fong Group, which sponsored the event, said he was glad that the participants were able to support a charitable cause while enjoying themselves.
"It was simply awesome," he said. "It was a great experience for me and I think the people enjoyed the night as much as I did.
"To celebrate this festive season, there's nothing better than meeting new friends, having drinks with them, while doing charity and spreading love at the same time."
Operation Santa Claus, which this year has the theme "Small Change, Big Change", has received donations of more than HK$250 million for more than 230 charities since it was founded in 1988.
The organisers have set a minimum target of HK$17 million this year for a raft of new projects, many of which support the city's youth.
Last year, the charity drive raised a record-breaking HK$21.3 million for a variety of good causes in Hong Kong.
This article appeared in the South China Morning Post print edition as: Pub crawl brings seasonal charity cheer