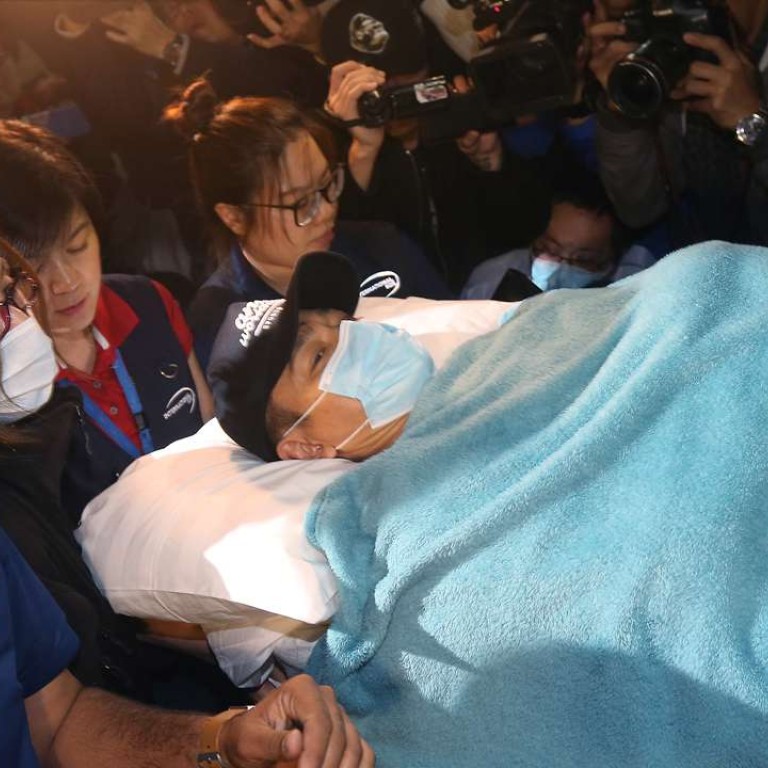 Hong Kong star Andy Lau's recovery to take up to nine months after being thrown from horse on shoot
Entertainer says in blog post that he will need to be hospitalised for another six to eight weeks
Hong Kong actor and singer Andy Lau Tak-wah will need up to nine months to recover from a pelvic injury after he was thrown off a horse during a commercial shoot in Thailand last week.
The 55-year-old entertainer and producer has been undergoing treatment at the Hong Kong Sanatorium and Hospital and will require further hospitalisation for the next six to eight weeks, he confirmed in a post on his official blog.
Lau said he had suffered multiple pelvic fractures and muscle tendon strains, but added that his condition had stabilised over the past few days.
Doctors estimated that his recovery could take between six to nine months, according to a statement from Topman Global, a subsidiary of Focus Group, the film and artiste management business Lau founded.
"I will fully comply with the recommendations of the medical team," Lau wrote in his blog post. "I know your pain will not be any less than mine. I will rest quietly and quickly get better!"
The post received over 1,400 comments from fans by late Monday afternoon.
"Seeing how serious your injury was, it must have hurt a lot," one fan wrote. "I can't take away any of that pain – all I can do is support you every day and pray you will quickly recover!"
"Pain to your body causes pain to our hearts!" another supporter said. "We don't have to have meetings, concerts or movies, as long as you are safe and healthy in front of us. Rest well, we will wait for you!"
Fans also launched the website getwellsoonandy.com, with about 20,400 people sending him greetings and good wishes.
Andy Lau returns to Hong Kong after TV set injury in Thailand
The actor was injured while filming a drink advertisement at Khao Lak, an area three hours outside of Thailand's capital city, Bangkok.
During the shoot, the horse Lau was riding appeared to go out of control, throwing the entertainer to the ground and stepping on his back.
The actor had arrived in Thailand last Monday for the shoot but was flown back to Hong Kong by medical charter flight late last Wednesday after the incident.
He was accompanied by his wife, Carol Chu Lai-sin.
"Thank you for the kind attention and support from people of all walks of life, the media, the fans and concerned friends," his company's statement said. "We would like to express our most sincere gratitude to all of you on behalf of Mr Lau."
The long recovery period for the actor could affect his upcoming projects, including four films and a planned New Year's Eve countdown concert in Hong Kong, Apple Daily reported.
A spokeswoman for his company said there would be further discussions about Lau's work following his injury, but she could not say more at this point.
The actor is one of the most prominent faces in Hong Kong entertainment and is known as one of the four heavenly kings of Canto-pop, along with Jacky Cheung Hok-yau, Leon Lai Ming and Aaron Kwok Fu-shing.
Lau has starred in various martial arts films, a sequel to Internal Affairs, and recent Hollywood blockbuster The Great Wall.
This article appeared in the South China Morning Post print edition as: Up to nine months out for Andy Lau after horse agony