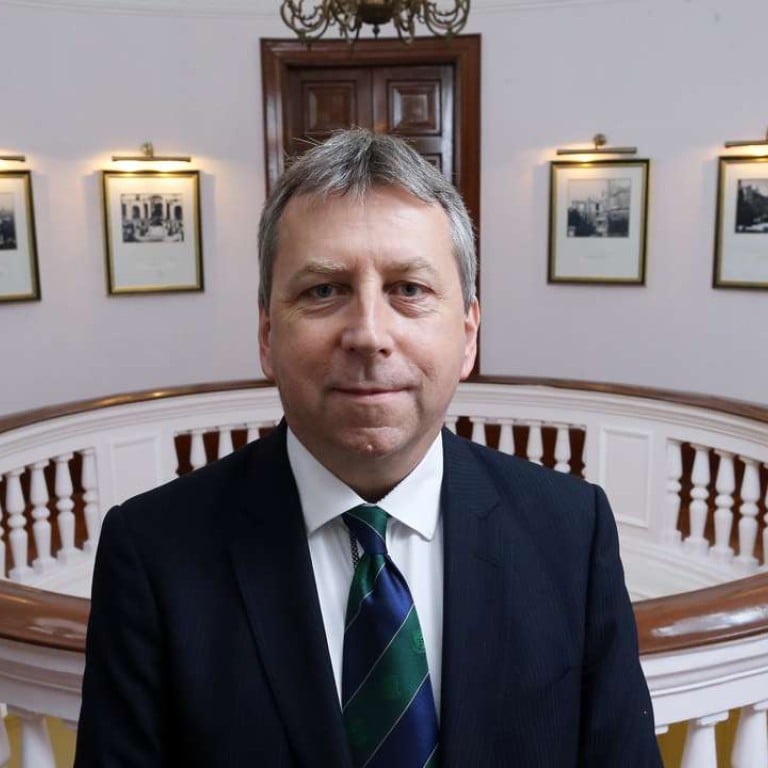 University of Hong Kong chief quits early after two years of turmoil
Vice-chancellor to take huge cut from his estimated HK$5.8m pay packet and take helm at prestigious Edinburgh University
University of Hong Kong vice-chancellor Peter Mathieson shocked the city's academic and political circles on Thursday by announcing his resignation, two years before his contract expires, to take the helm at Scotland's prestigious Edinburgh University.
His premature departure follows recent years of tension and clashes between the university's governing body and students amid allegations of political interference in academic freedom at Hong Kong's premier higher learning institute.
In an email to colleagues, students and alumni, Mathieson said he was leaving for "personal reasons", but stressed there would be "no loss of momentum at HKU" in the year ahead.
Mathieson, who once described the vice-chancellorship of the city's oldest university as the "best job" he had ever held, will leave his post by January next year – his contract with HKU is due to expire in 2019.
The former dean of the University of Bristol's medicine and dentistry faculty took the helm at HKU in April 2014, five months before the outbreak of the 79-day pro-democracy Occupy protests.
His vice-chancellorship witnessed the HKU governing council's controversial rejection of a liberal academic's promotion to a senior manager's job, and what he called "mob rule" by some students when they besieged a council meeting in January last year to press for a review of the university's governance structure.
"Perhaps most satisfyingly of all, repeatedly during the last three years we have articulated, promoted and defended the university's core principles during a period of unprecedented political complexity in Hong Kong, ensuring that our students and staff can continue to flourish in an environment that respects their freedom of speech: long may this continue," he wrote in his email.
"There are very few universities in the world that could have tempted me to leave HKU but Edinburgh is one of them."
Mathieson, who earns an estimated HK$5.8 million a year, will take a huge pay cut after switching to the Scottish university, whose chief is offered an annual remuneration of £301,000. But he will be joining a globally more prestigious institution – Times Higher Education's latest rankings put HKU at No 43, while Edinburgh University sits at 27.
The Education Bureau said it respected what was a personal decision by Mathieson. "Appointment of presidents is a matter within the autonomy of the universities, for which the government has every respect," a spokesman said.
HKU council chairman Professor Arthur Li Kwok-cheung praised Mathieson for his leadership.
"Peter has laid the foundation for the strategic development over the next 10 years of the university," Li said, adding that the council would initiate a global search for a replacement as soon as possible.
The academic at the centre of the promotion row, Johannes Chan Man-mun, expressed surprise at Mathieson's resignation and warned that the appointment of his successor by the council was still a concern as it was wielding greater power.
He told the Post: "It came as a surprise. A concern is the appointment of the next president.
"It will be spearheaded by the council. At present the position of provost is still unfilled, and another vice-president (institutional development) tendered his resignation some months ago.
"All these positions are to be appointed by the council, and the simultaneous availability of these vacancies will give the council great power to influence the senior management of HKU."
Council member Professor Timothy O'Leary said: "Concern is being expressed that [Mathieson's] position became untenable due to disagreements with [Li]."
He feared the appointment process "is likely to be contentious and politicised – which may, unfortunately, scare away many candidates for the job".
Chief executive contender Woo Kwok-hing said it was very unusual for university heads in Hong Kong to quit before their tenures expired and called for a clearer explanation. His three rivals for the city's top job did not comment on Mathieson's resignation.
Cheung Sing-wai, chairman of HKU's Academic Staff Association, said he believed Mathieson left due to "intense pressure" he was facing from the council.
Student union president Althea Suen Hiu-nam said it was irresponsible for Mathieson to quit prematurely.
Additional reporting by Peace Chiu
This article appeared in the South China Morning Post print edition as: hku chief quits early after two years of turmoil