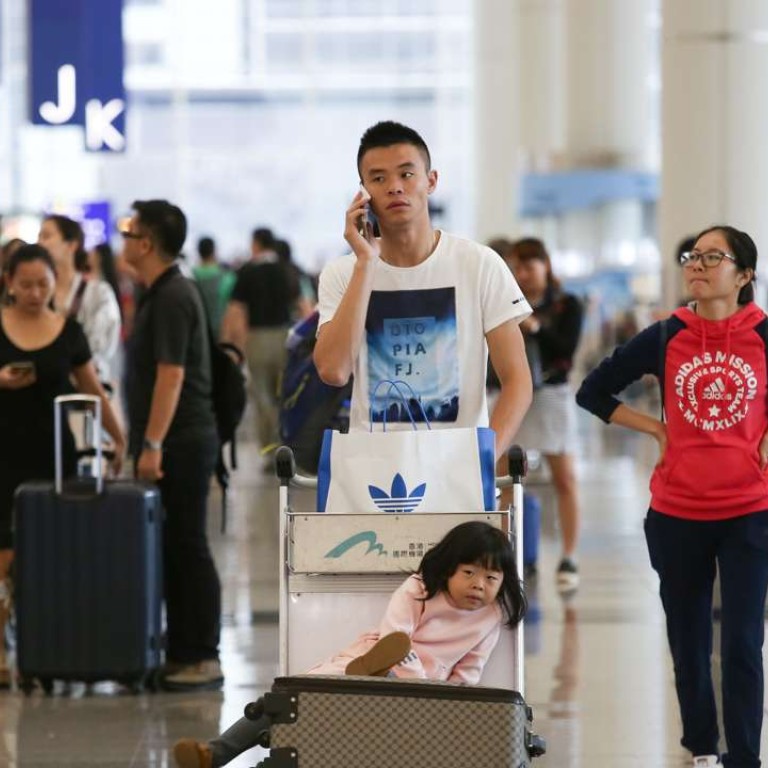 From codes to conveyors: how your bags are travelling from departure to arrival
You have a greater chance of winning the Mark Six, than your bags have of getting lost on the way
We all know that winning the Mark Six is hard. But the chances are still higher than losing your luggage.
Gamblers have a 1.763 per cent chance , or 1/56.7, to win the seventh prize (a fixed HK$40 prize) from the Mark Six – the Hong Kong Jockey Club's jackpot from three drawn numbers – according to 2011 research by Poon Che-cheong, associate economics professor at Hong Kong Shue Yan University.
But that is still higher than the possibility of losing your luggage at the airport. The chance of baggage being mishandled stands at a rate of 6.5 bags per 1,000 passengers, making it a 0.65 per cent chance, according to a report by air transport information and technology specialist SITA.
The report, released last year, showed there were 23.1 million mishandled bags around the world in 2015, down from 24.3 million in 2014. Delayed bags accounted for 79 per cent of the overall numbers, while lost or stolen bags accounted for six per cent.
Mishandled bags cost the aviation industry around US$2.3 billion (HK$17.85 billion) in 2015, the report said.
For Hong Kong – a busy gateway and stopover point for Asia travellers – an effective baggage system is crucial to service the 70.5 million passengers and 4.52 million tonnes of air cargo each year.
The city has the eighth busiest airport in the world after cities such as Beijing, Dubai, London, and Tokyo, and handles tens of thousands of baggage items every day.
Airports around the world use baggage handling systems (BHS) or conveyer systems to move passenger luggage from check-in counters onto planes.
Once checked in, bags are transported by conveyers to be screened and then sorted before being finally loaded onto planes.
Hong Kong originally used barcode-only tags for people's bags, but introduced radio frequency identification tags in 2008.
Airlines in Hong Kong generally employ ramp handling operators to handle and deliver passengers' hold baggage. Operators providing ramp handling services are required to obtain operation licences, which are issued by the Airport Authority – operator of the Hong Kong International Airport (HKIA) – and are subject to monitoring.
Hong Kong's airport began using a Direct Feed System to deliver and sort its baggage in 2010, and saw an upgrade in 2011, which included the installation of a Transfer Screening Feed system and steel platform level for its conveyer system.
In the middle of last year, the HKIA began using a data warehouse system called BASIS to replicate information in real time from the baggage handling system, generating reports within 10 minutes for immediate feedback and troubleshooting.
"Our baggage handling team is facing an ever-growing baggage volume," Andy Bien, chief information officer of Airport Authority Hong Kong, said previously. "We had to rely heavily on individual experiences for managing this volume and allocating resources where needed."