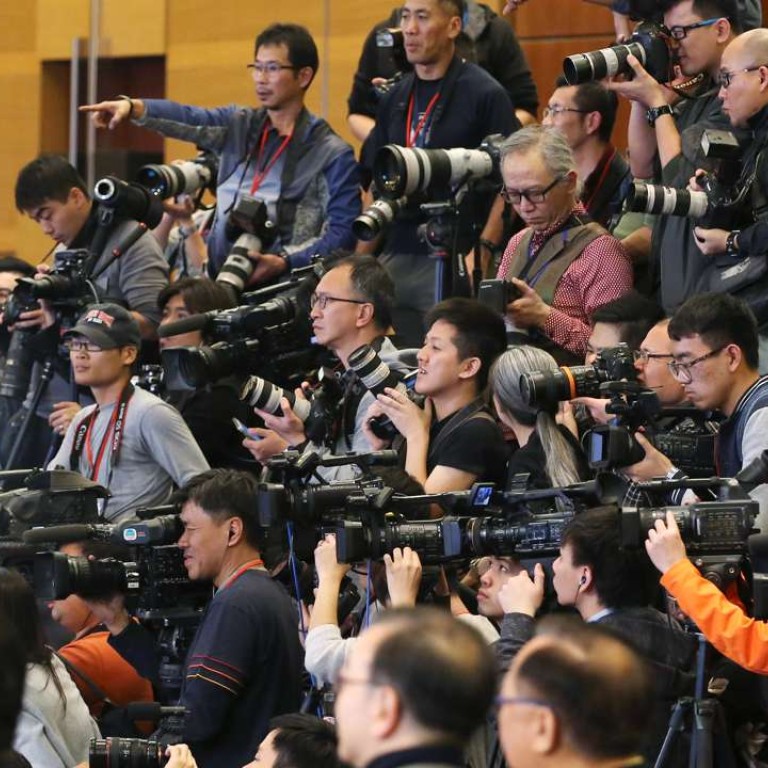 Perception of Hong Kong press freedom improves slightly but situation still 'worrying'
Journalists' group credits rise of online media for diversity and small increase in index
Despite an improvement in the perception of press freedom for 2016 after two consecutive years of decline, the Hong Kong Journalists Association says the situation continues to be "worrying".
The annual Press Freedom ­Index for journalists rose 1.2 points to 39.4 out of 100, while the index for the general public increased slightly by 0.6 points to 48.
The index measures a group's perception of media freedom in society.
The positive development, however, came despite 72 per cent of media workers surveyed saying they felt press freedom had worsened in the past year.
"I believe one of the factors ­behind the mild increase is the rise of online media last year, which has diversified news coverage and the angles of reportage," association chairwoman Sham Yee-lan said on Thursday.
"But it is still hard to set our minds at ease as the index for both groups – 39.4 for journalists and 48 for members of the public – is still way ­below the passing mark of 50 points," she said.
The case of five Hong Kong booksellers, who were believed to have been abducted by mainland agents in 2015 because of their ­involvement in publications critical of the Communist Party, had also hampered public confidence in press freedom, Sham added.
The index comprised two polls conducted from January to ­February. Some 1,010 members of the public were surveyed by the University of Hong Kong's public opinion programme, and 465 media workers filled in questionnaires handled by the association.
Dr Robert Chung Ting-yiu, director of the public opinion programme, said press freedom was experiencing difficult times in the current political environment, with chief executive-elect Carrie Lam Cheng Yuet-ngor due to ­succeed Leung Chun-ying as leader in July.
Meanwhile, self-censorship continued to be cited by media workers as their biggest problem. They gave this a rating of 3.1 out of 10 points, with 10 being not at all common.
Using the same scale, they gave a score of 3.7 when asked about difficulties in acquiring ­information, down from four points in 2015. They also gave a significantly low score of 2.8 for the attitude of ­government officials in addressing their inquiries.
On the other hand, the public found the pressure exerted by media owners and management on staff as the most serious problem.
Sham said journalists were facing increasing difficulties in getting information from the ­government.
She called on Lam to fulfil her election promise to enact freedom of information and archives laws within her term.
"Hongkongers' right to know should be protected," Sham said, referring to the freedom to seek, receive and impart information, which was enshrined in Article 19 of the International Covenant on Civil and Political Rights.
This article appeared in the South China Morning Post print edition as: 'Worrying' days for freedom of press despite index rises