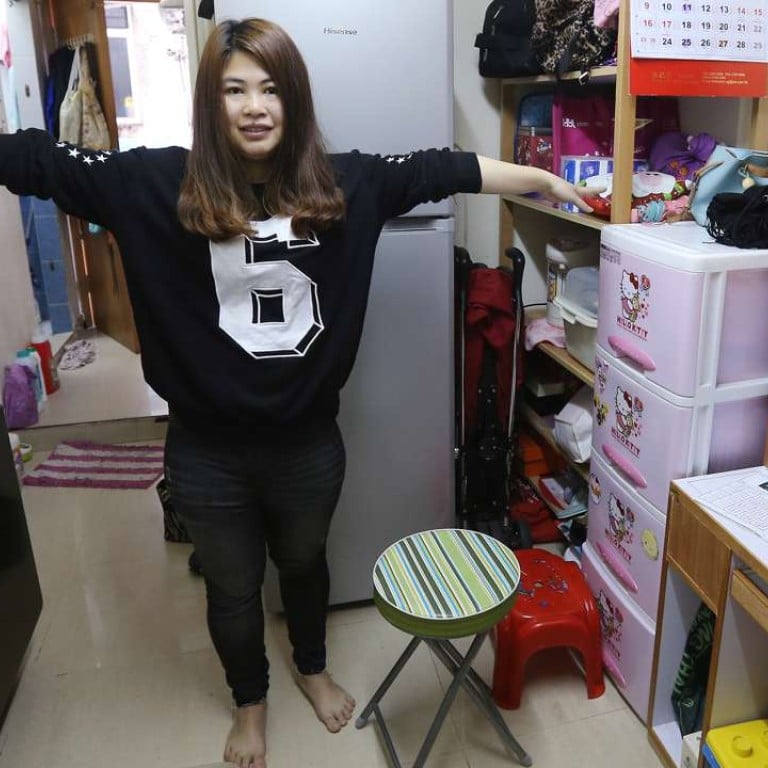 How the right furniture can transform a cramped Hong Kong subdivided home
Initiative sponsored by Post gets not-for-profit architectural firm to design custom-made furniture to ease clutter in tiny homes for poor families
Four-year-old Vera Wong Zi-wei's favourite possession isn't the latest Disney princess doll, but her brand new study desk that fits into the 200 sq ft subdivided flat in Sham Shui Po she calls home.
Wong's desk, complete with a secret compartment for her stationery and toys, is a rare commodity for families that are squeezed into cluttered, shoebox apartments.
"She used to only be able to do homework on a folding table that had to be put away all the time, but now she can work and play in the same space. It's the first place she goes to when she gets home now," Wong's mother, Yan Nga-chi, said.
Wong, who lives with her mother and grandmother, is one of 70 low-income families which have benefitted from a project that aims to transform the living space of tiny flats with custom-made furniture.
Watch: Creating learning and living space for Hong Kong's subdivided flat families
"Many grass-roots families don't have the extra cash to spend on furniture. Instead, they'll hoard a lot of second-hand furniture even if it's not very practical because they don't know if they'll be able to afford it in the future," said social worker Angela Lui Yi-shan, who runs the project with human rights advocacy group Society for Community Organisation.
The HK$3 million home modification project, sponsored by the South China Morning Post since 2013, can provide up to 120 low-income families with custom-made furniture, such as desks, shelves and storage cupboards, and also give their home a mini-makeover by rearranging their living space.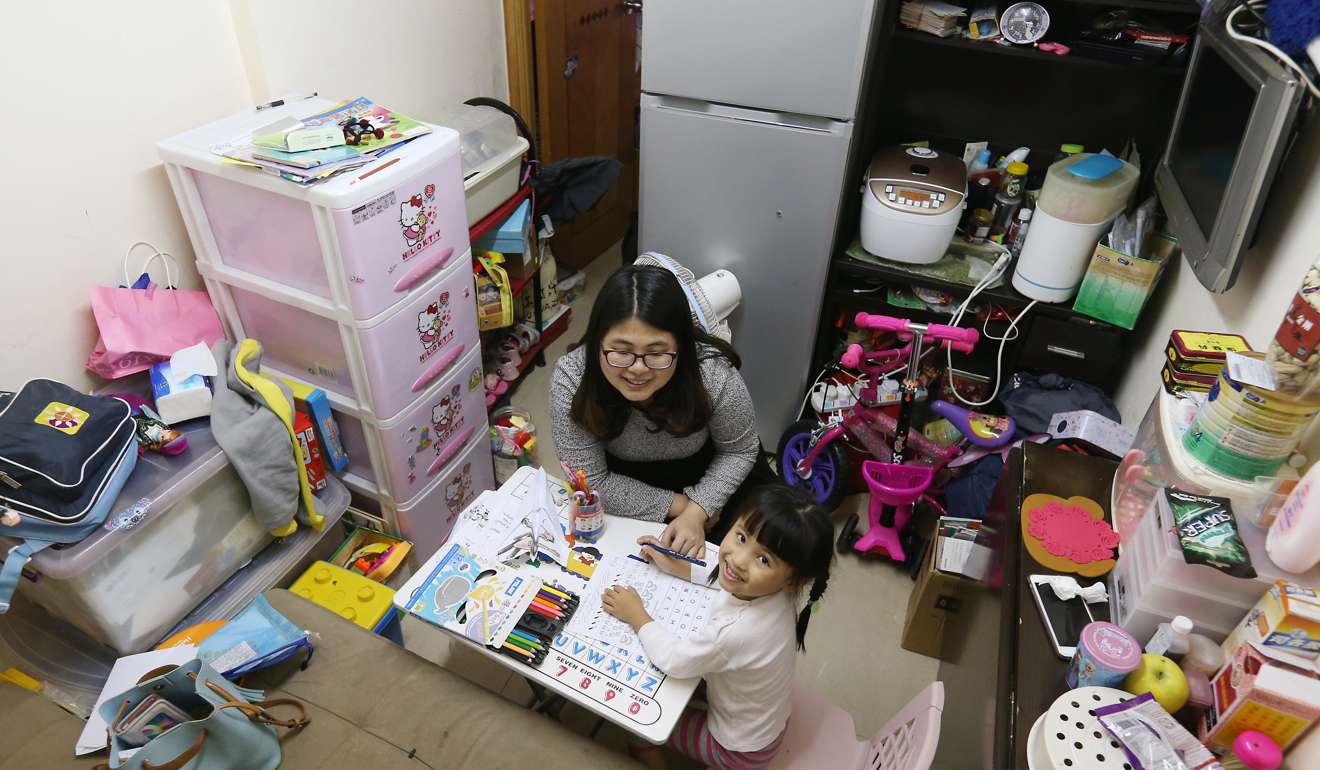 Before the modification, Yan's apartment barely had any walking space when folding tables were put up for dinner or homework.
A three-seater sofa that also doubled as a bed for Yan's elderly mother had blocked half the corridor that led to the kitchen and bathroom.
A large desk with little storage space took up most of the living room, while the floor was cluttered with multiple plastic boxes piled on top of each other.
The team of architects rearranged the existing furniture and designed the study desk and two new shelving units to fit Yan's living room.
By utilising the high ceilings in old tenement houses, Yan's family could make use of floor-to-ceiling storage instead of having storage boxes take up limited floor space.
With
an average four-year wait for public housing
and ever-increasing rents in the private sector, many residents who live below the poverty line are forced to tolerate cramped and squalid living conditions that range from cage homes to coffin cubicles.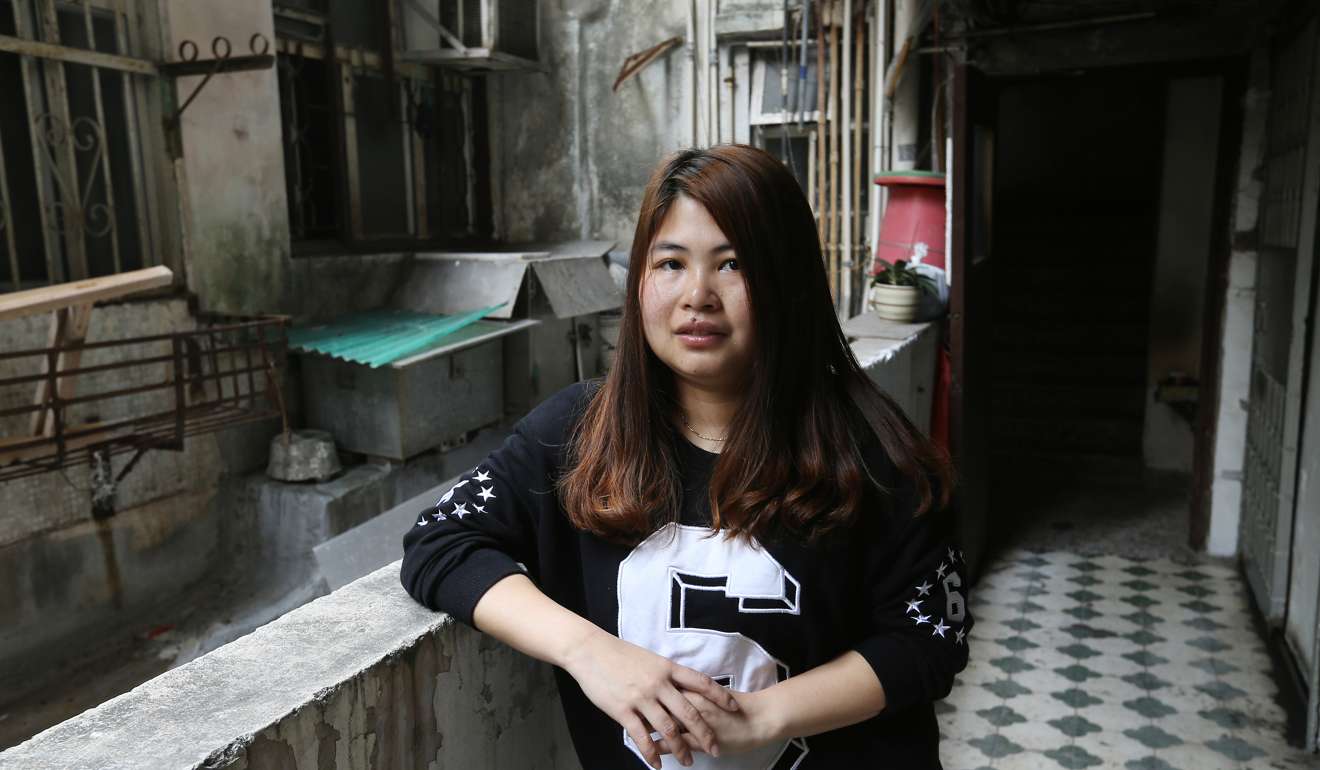 Almost 200,000 people lived in some 88,000 subdivided units in 2015, according to official figures.
The Society for Community Organisation's project focuses on families with education needs, in the hope that providing a dedicated working space will help children focus better on their studies and eventually give the family a chance to escape poverty.
"Most of the children we work with lie on the ground or bed to do their homework, and it's not good for their health or development, but this project can help change that," Lui said.
DOMAT, the not-for-profit architecture firm that designs the furniture, visits each family individually and makes items to suit the family and the peculiar layouts resulting from partitioned flats.
The furniture, built by a contractor in mainland China, is designed to be flexible so it can stay with the family if it moves into another subdivided flat or public housing.
"Based on their daily habits, we see how our designs can match their needs. We want to use furniture as a tool to improve their space, rather than just providing new furniture," architect Maggie Ma said.
The company's personal approach to the project is also a key reason why the firm does not like working with developers.
"What I realised [in building high rises] is that so much of the process is controlled by market demand and what can bring in more money," Ma said.
"In a way, they sacrifice a bit of the user's needs, so we wanted to look for designs that are more humane. This project actually makes us understand more about how people live and what is most important to them."
Although she was forced to move out of her apartment into another subdivided flat after the installation, Yan said the new furniture had transformed her home.
"When you first move into a flat, you don't really think too much about the furniture. Everything was fine as long as we had space to put our things. But now, we can see how practical this furniture can be and how it can make a better living space," she said.
Ma's partner and fellow architect Mark Kingsley said: "It's not like those TV shows where you go to the house and they've totally transformed it into something completely different. The ambition of the project is much more modest – to make small changes that can have a big impact on the family."
This article appeared in the South China Morning Post print edition as: How designer furniture can change a cramped flat