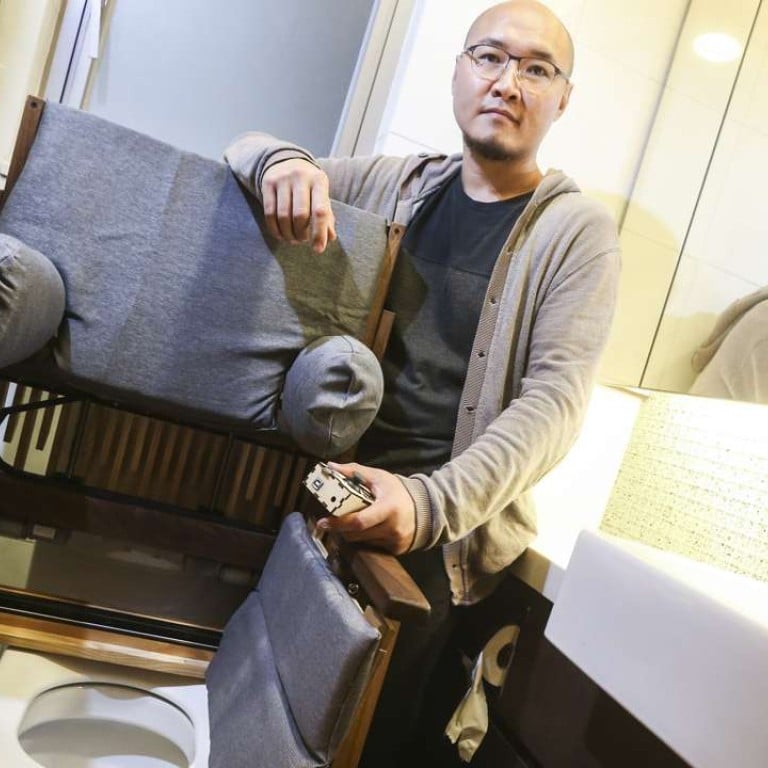 Hong Kong designer in race to find backing for wheelchair plan
Chun Kwok-tung built the Easiseat from scratch but needs investors if it is to go mainstream
Stories of people leaving their run-of-the-mill jobs to start a business, whether to seek a change in life or chase unfulfilled dreams, are nothing new.
But Chun Kwok-tung found a more meaningful purpose than most.
The 36-year-old architect stepped away from his profession two years ago to
set up a workshop
designing smart furniture and home appliances, incorporating carpentry, technology and ergonomics – all of his leisure interests.
He created screen doors with shutters that are activated by motion, and beds controlled by a mobile phone app that slide out for easier storage and cleaning. However, it's his latest invention that might prove a real winner.
Called the Easiseat, it is a wheelchair that moves laterally, diagonally and even rotates at a fixed spot – perfect for manoeuvring small spaces and tight corners inside Hong Kong's compact homes.
The idea came after he witnessed the daily frustrations encountered by his mother, who suffers amyotrophic lateral sclerosis, a neurological disease which prevents voluntary muscle movements.
Other than its agility, Easiseat's seat panel also retracts at the touch of a button and slides the user onto the toilet seat at home, making an otherwise exhausting chore fast and simple.
"A lot of disabled people are reluctant to use commode chairs, because they feel embarrassed and disrespected," Chun explained.
On the choice of materials, Chun said there was a reason he opted for walnut instead of aluminium, which is easier to clean, lighter and cheaper.
"I want them to live a dignified life. They deserve to use a chair which is as good-looking as any other piece of furniture," he said.
His refusal to sacrifice quality, however, may prevent his invention from gaining mainstream popularity. The wheelchair, which took six months to build from scratch, costs around HK$60,000.
To help with production costs, Chun started a
fundraising campaign
on global crowdfunding website Kickstarter, aiming to raise HK$100,000 to make a digital fabrication template for factories.
If successful, a mass-produced Easiseat would carry a more affordable price tag of HK$26,800.
But his lack of experience – and maybe his low-profile personality – meant he had only raised HK$3,600 so far from 18 backers, with two weeks to go.
The Science Park's incubation programme had mostly provided technical support but not so much financial assistance. He was hesitant when asked how much longer he could sustain his workshop without an income.
"A lot of my friends have suggested I set a timeline for myself. Maybe I'll give up my dream if nothing works out by the end of the year," he said with a soft but determined voice, expressing little regret.
This article appeared in the South China Morning Post print edition as: Designer races to raise finance for special wheelchair