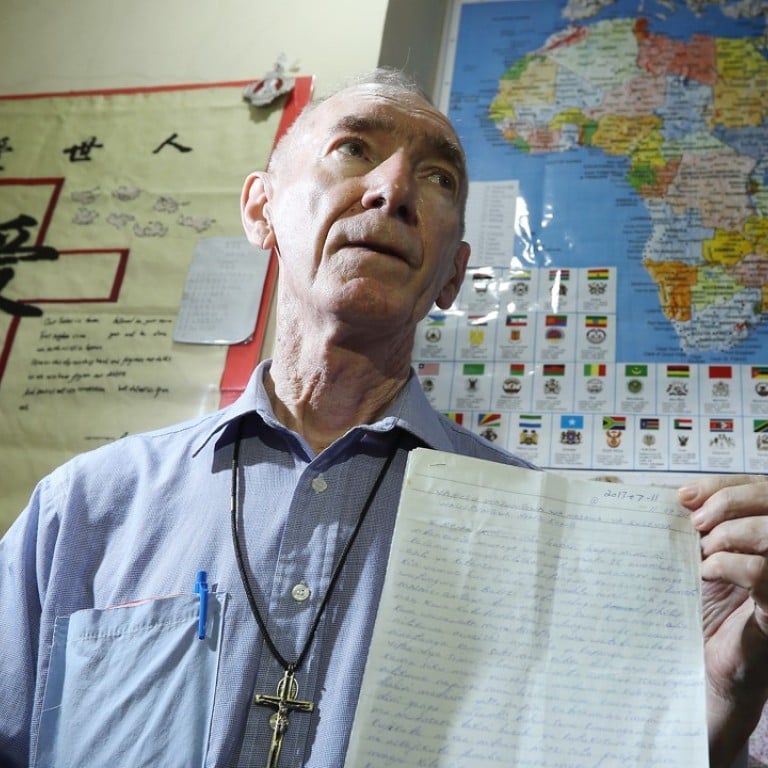 The prison chaplain who has stopped 150 drug mules reaching Hong Kong
John Wotherspoon's campaign has taken him around the world – now he is lobbying for authorities to take more action in the fight against drugs
Father John Wotherspoon has been fighting an anti-drugs campaign since 2013. As a prison chaplain, he has met his fair share of smugglers who want their family and friends to stop bringing drugs into Hong Kong and stay out of jail.
Since he convinced a Tanzanian drug mule to write a letter home warning people not to follow his footsteps four years ago, Wotherspoon, 70, has made the issue his top priority.
"I would estimate the campaign has stopped one drug mule a week from coming to Hong Kong over the last three years," he said. "Most of them carry at least 500 grammes, a lot of them have more than one kilo. That's stopped 50 kilos of drugs from going on the streets of Hong Kong."
"At that stage, nobody mentioned anything about 'if you write a letter, the judge might give you a discount'. It wasn't on their minds.
"Now, as soon as they're arrested, I tell them about the campaign. Nobody has to join it, but I'd say a third do join it. Then I take [the letters] to court with my support letter.
"In the last couple of years, most have been given discounts for their help in stopping drug mules from coming to Hong Kong."
The priest now posts all the letters he receives on his website, v2catholic.com. It is part of his bigger campaign to work with politicians and the media in countries whose drug mules often come to Hong Kong.
Wotherspoon's work has taken him to Kenya, Uganda and Zambia, among other nations, to spread the word on the dangers of bringing drugs into the city.
He has since partnered with several lawyers to set up a non-governmental organisation, Voice for Prisoners, to expand on what he started. The group's mission is to lobby for authorities to take more action in the fight against drugs.
"Some [drug lords] will come, they're arrested at the airport, they give customs the name of the person they were supposed to meet. They're now an informer, so nothing is done.
"In return for protection, they sacrifice one or more victims a month. I'm trying to expose that, I think it's wrong.
"We're hoping that this new NGO will continue to lobby for more action on this front.
"What I'm doing is what the Hong Kong government should be doing, or customs or the police."
Wotherspoon's work has put him in danger, in particular with drug lords from different parts of the world. He posts threats by them on his website and has since gone to the police, but that has not stopped him from continuing his campaign.
District councillor Paul Zimmerman has nominated Wotherspoon, 70, for the
South China Morning Post
's
Spirit of Hong Kong Awards
in the Community Contribution category. The priest hopes this will help him get the word out on his work.
"From visiting the prisoners and getting their trust, I've learnt a lot about what's going on. I'd just like to do something to stop people from coming to Hong Kong with drugs, stop people from doing crazy things like set-ups.
"Come on, this is Hong Kong. It's affecting families, people are dying. I'd just like to see people stop suffering."
This article appeared in the South China Morning Post print edition as: chaplain on a mission to stop drug mules