Focus
Get more with myNEWS
A personalised news feed of stories that matter to you
Learn more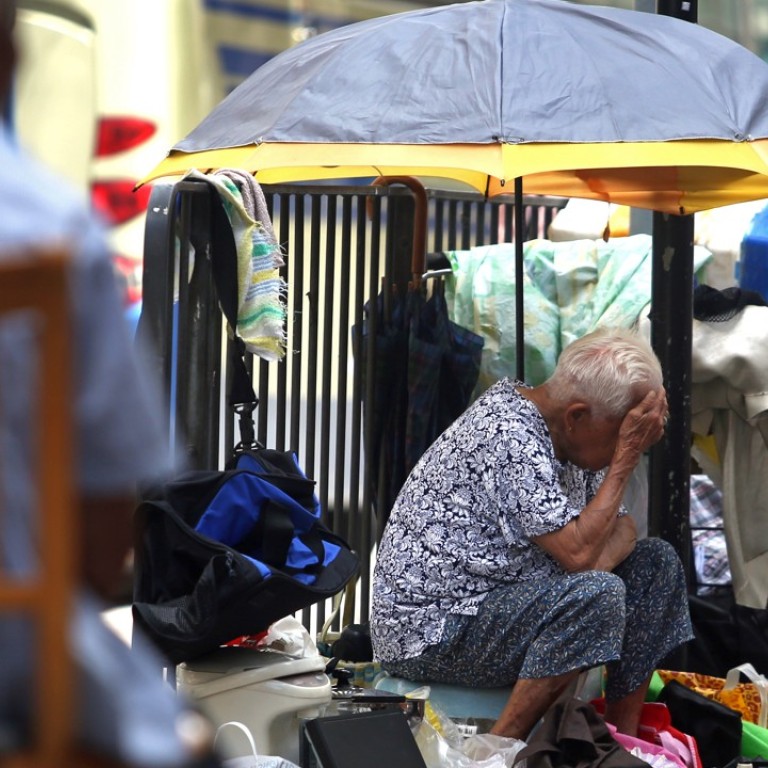 How many Hongkongers are really living in poverty?
According to one calculation over a quarter of people are on the edge of poverty, but some critics of relief efforts argue the statisticians have got their sums wrong
As Hongkongers get fired up and ready to celebrate the 20th anniversary of the city's return to China in just over a month, the government seems equally psyched up and has taken every opportunity to brag about its achievements over the past two decades.
During a function in April, Chief Secretary Matthew Cheung Kin-chung proudly announced a string of impressive statistics: since 1997 the city's gross domestic product had grown by an accumulated 82 per cent, employment had gone up by 20 per cent, while the monthly incomes of full-time employees had surged by nearly 70 per cent.
But the administration was less keen to shine a light on the city's shameful poverty rate, which stood at 14.3 per cent in 2015.
The concept of drawing up a poverty line was initiated by none other than chief executive-elect Carrie Lam Cheng Yuet-ngor in 2012 when she was chief secretary and a former chairwoman of the Commission on Poverty. The poverty indicator has since been repeatedly cited as one of the major achievements of the administration because it is viewed as a symbol of determination to alleviate poverty.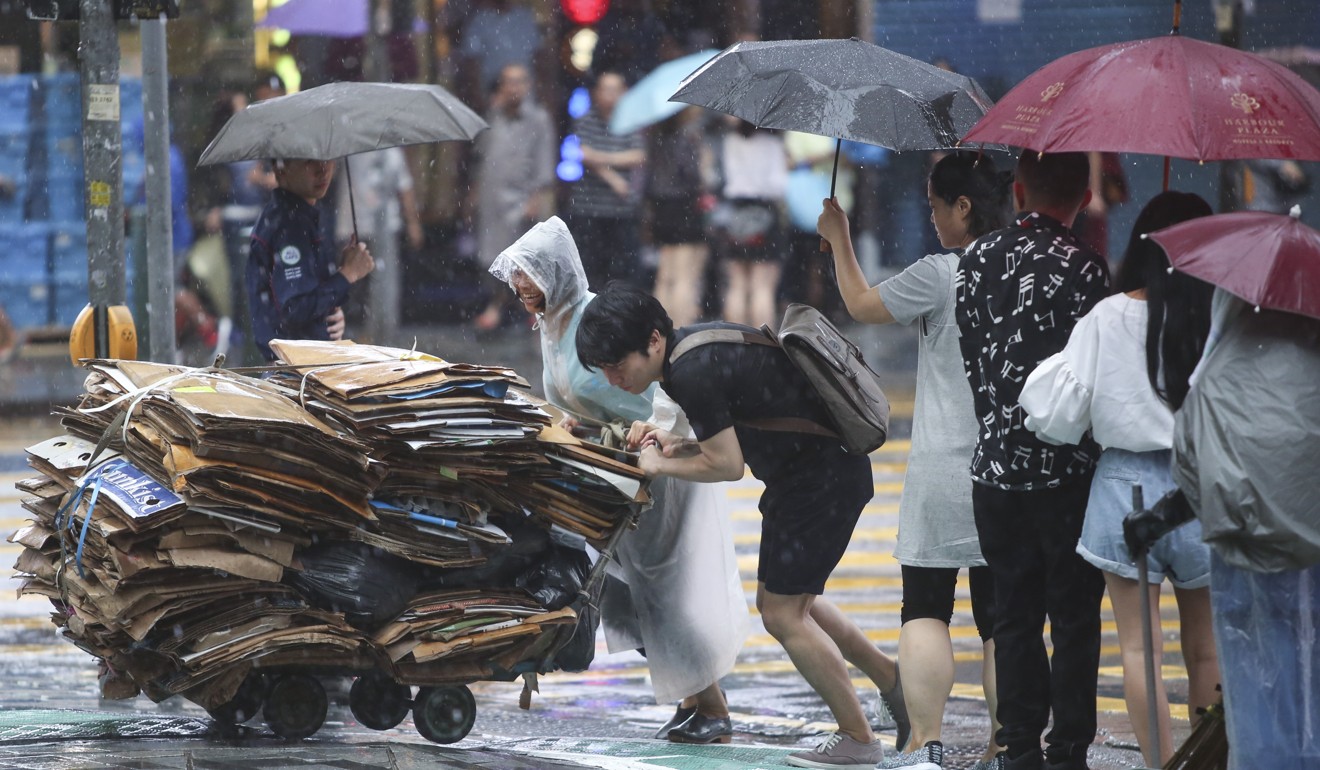 According to that methodology, nearly one million people lived in poverty in 2015 as they earned less than half of the median monthly household income – set at HK$3,800 for single people, HK$8,800 for a two-person household and HK$14,000 for a family of three.
If that did not demonstrate the severity of the situation, the official poverty report published in 2016 also studied the concept of households at risk of poverty, where the threshold of median monthly household income was raised from 50 to 60 per cent, which consequently exposed another underlying problem.
After the adjustment, the at-risk-of-poverty rate went up to 26.3 per cent, showing more than one in four Hongkongers were living on the edge of poverty.
All these daunting figures, however, did not seem to upset those who argued that government statisticians might have committed a mathematical error leading to an exaggeration of the poverty situation.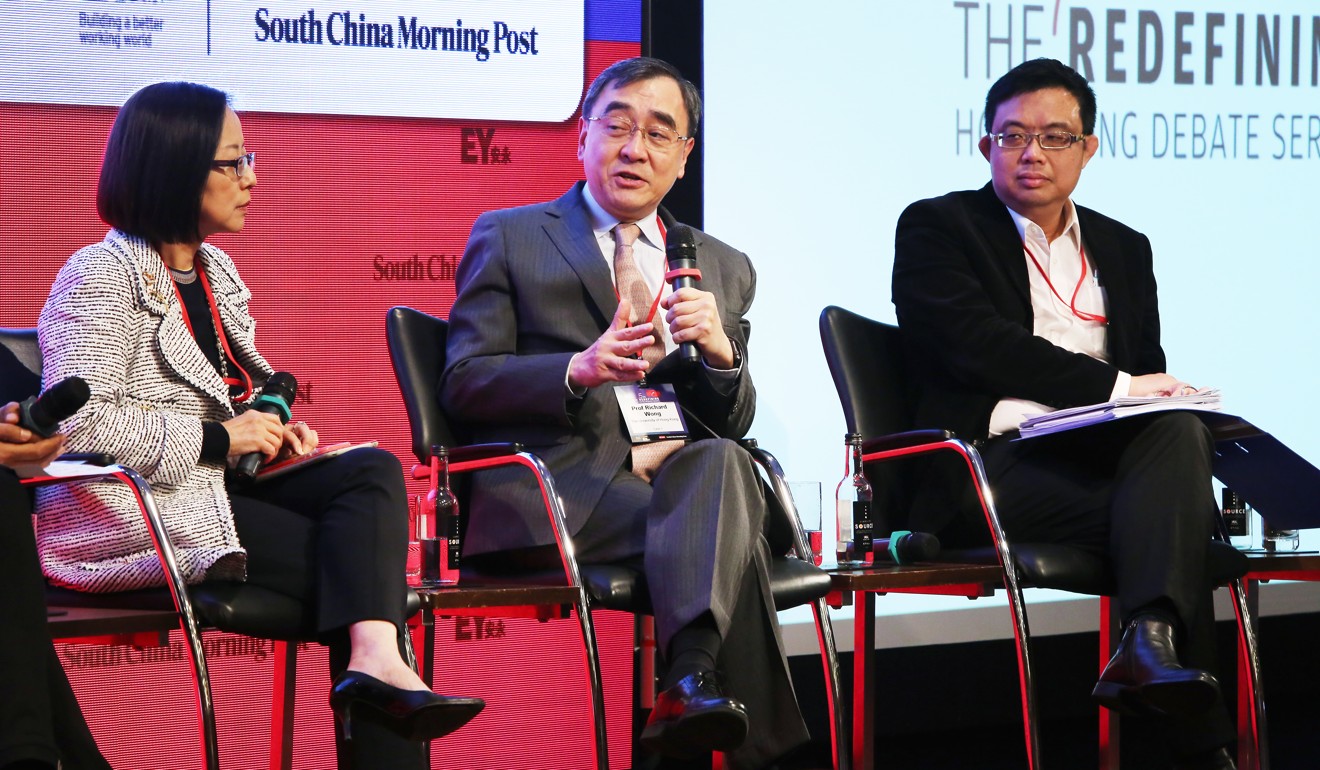 One of these sceptics was Professor Richard Wong Yue-chim, chair of economics at the University of Hong Kong's School of Economics and Finance.
During a recent forum held by the Post to discuss the government budget, Wong raised more than a few eyebrows by casting doubt on the poverty numbers compiled by the government and concern groups. He even suggested they were "downright misleading".
"There are not that many poor people in Hong Kong," claimed Wong, who once sat on a Commission on Poverty panel, tasked to study social security and retirement protection for the needy.
The economist went on to question the effectiveness of the
low-income working family allowance scheme
, an initiative introduced last year to encourage self-reliance for the underprivileged, as opposed to providing a full-on subsidy like comprehensive social security assistance (CSSA).
Under the scheme, eligible families are entitled to a monthly allowance of between HK$300 and HK$1,000, with an additional HK$400 or HK$800 given for each child.
According to the government, the allowance scheme was expected to benefit 200,000 low-income working families comprising 700,000 people, including 170,000 children or dependant youths.
While setting the public coffers back HK$3 billion a year, it's hoped that the initiative will slash the overall poverty rate by two percentage points initially.
"But when the programme was eventually launched , only 30,000 people applied, of whom only 20,000 were qualified," Wong pointed out at the forum.
"Twenty thousand is 10 per cent of 200,000. So why didn't [more families] step forward? If I said I would hand out HK$1,000 to anyone here, they would definitely jump up and step forward. Who wouldn't?"
Wong, an outspoken academic who has commented on topics including housing, poverty and retirement protection, believed the big difference between the government estimates and the actual number of applications for the allowance was proof that the poverty population was largely exaggerated.
"There are always errors or margins for all these things. As an economist who has spent 50 years working on numbers, I can tell you if the estimate was 200,000 and at the end of the day only 30,000 of them stepped forward, no matter how [big] the margin was, it's clear that the level of poverty had been grossly overestimated by at least 50 per cent," he concluded.
In an article in January, Wong also took aim at Oxfam Hong Kong, calling the agency's research "wrong-headed" by advocating a poverty line, the implementation of a minimum wage and the low-income working family allowance, all of which the government had adopted over the past six years.
"Oxfam does fabulous work in helping the poor and disadvantaged in many countries, and in Hong Kong. But wandering into policy is not its forte," he said.
Wong, however, declined an interview request from the Post.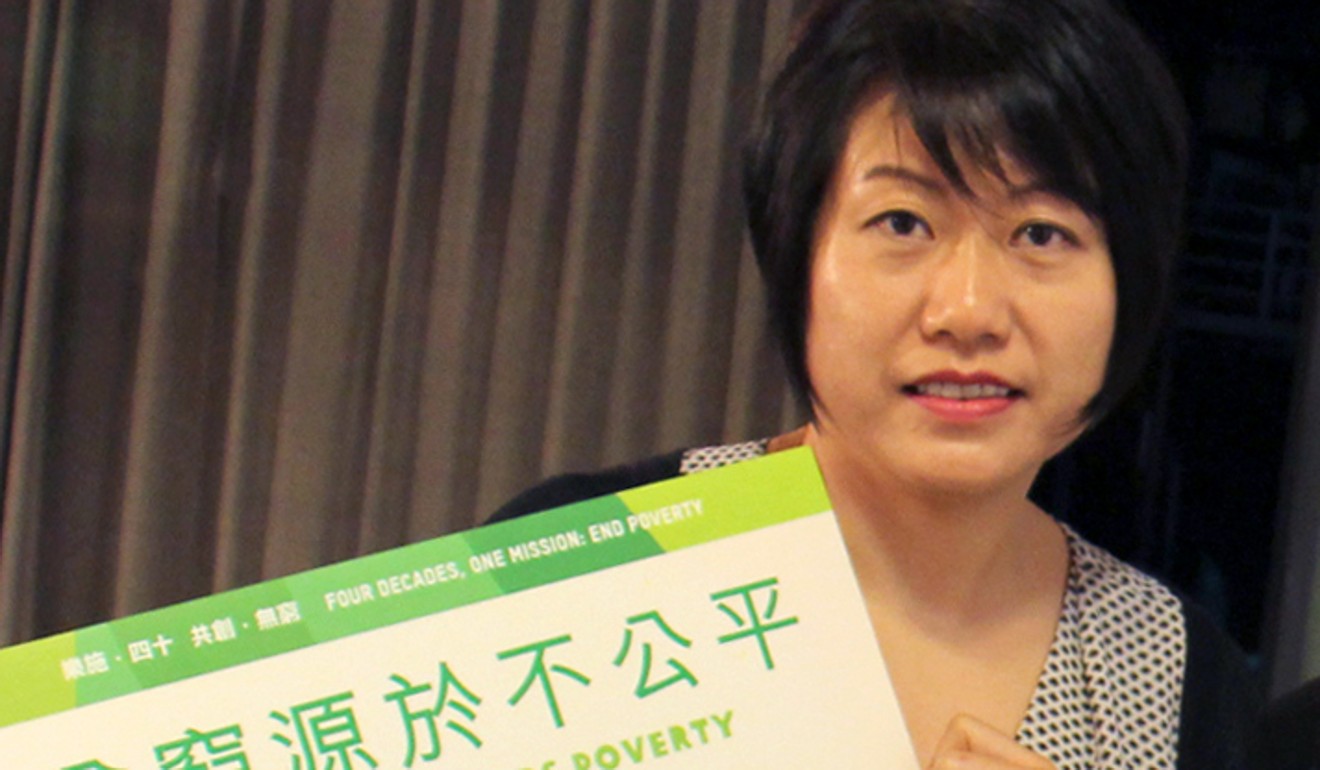 In response, Kalina Tsang Ka-wai, head of Oxfam's Hong Kong, Macau, Taiwan programme, said she was shocked that Wong rejected the concept of relative poverty, on which the poverty line is based.
According to the United Nations Educational, Scientific and Cultural Organisation, relative poverty "defines poverty in relation to the economic status of other members of society" – people are deemed poor if they fall below prevailing standards of living in a given societal context.
This differs from absolute poverty, which only studies the amount of money needed to meet basic needs such as food, clothing and shelter.
"Clearly the living standard of Hongkongers is much more than just meeting survival needs. Drawing a poverty line is a practice widely adopted by countries and concern groups around the world," she said.
"I'd be very happy if the government does everything as we say. We're only one of many stakeholders who support the concept."
Watch: Creating living space for subdivided flat families
Lawmaker Dr Fernando Cheung Chiu-hung, who has for years fought for better welfare for underprivileged families, said Wong had committed a logical error.
"If the government ensured everyone earned above the minimal amount by means of policy intervention, then there would be no one living below the poverty line. Statistically there is such a possibility," he said.
Asked about Wong's criticism of the low-income working family allowance, Tsang believed it was still too early to conclude that the scheme was a failure.
In the five months since its launch, the government rejected 8,000 out of 32,000 applications received.
"The situation is very similar to that of the work incentive transport subsidy scheme when it was introduced in 2011. A few months after its launch, only 10 per cent of the estimated number of applications were received," she recalled.
But after fine-tuning the terms and simplifying application procedures, the scheme became a huge success, Tsang pointed out.
"Could we repeat the success for the low-income working family allowance? Currently you need employers to certify the number of hours you have worked … and this seems to be a bit much for those who work multiple casual jobs," she suggested.
Since Chief Executive Leung Chun-ying took office in 2012, recurrent government expenditure on social welfare has surged by 55 per cent.
Interestingly, the poverty population has only shrunk by 47,000 over the same period. So the natural question from most critics is: where did all the money go?
Tsang suggested inflation might have partially depleted the relief measures and subsidies.
"When the minimum [hourly] wage of HK$28 was introduced in 2010, the government had set a baseline," she explained.
That amount went up to HK$34.5 in May this year, but after factoring in inflation the actual hourly wage was only HK$27.4 in real terms, Tsang said.
"That means our wages have actually shrunk compared to six or seven years ago."
Another reason, according to Cheung, was that these relief measures might not have been sufficient enough to lift as many people out of poverty as had been expected.
"What we really need is for the government to redistribute resources more effectively," he said.
This article appeared in the South China Morning Post print edition as: Drawing a line on pover ty