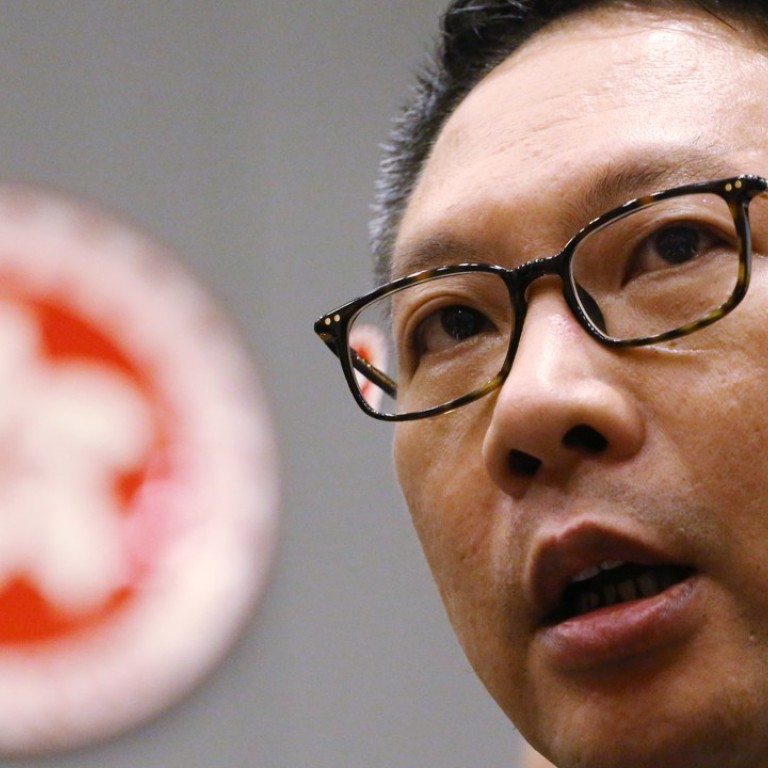 Hong Kong government appeals gay rights spouse ruling
Pro-establishment lawmakers protest at legalisation of same-sex marriage
The government is appealing against a High Court ruling last month that entitles a gay civil servant's spouse to the same benefits as his heterosexual colleagues.
A Department of Justice spokesman said it had applied to appeal against the judgment on Thursday but would not further elaborate.
"As there are ongoing legal proceedings, it is not appropriate for the department to make further comments," he said.
Earlier in the day lawmaker Holden Chow Ho-ding, of the pro-establishment Democratic Alliance for the Betterment and Progress of Hong Kong, led fellow party members to petition government headquarters, urging the government to appeal.
"We oppose any discrimination against gay people, but we cannot agree with the legalisation of same-sex marriage," Chow said.
Senior immigration officer Angus Leung Chun-kwong married his partner, Scott Adams, in New Zealand in 2014. He ran into problems with the Civil Service Bureau when he tried to update his marital status.
He launched a legal challenge in 2015 that centred on civil service regulations, which state that officers' benefits can extend to their spouses. He also challenged the Inland Revenue Department for refusing to recognise his overseas same-sex marriage for tax purposes.
The High Court ruled in Leung's favour, calling the bureau's policy "indirect discrimination".
But Mr Justice Anderson Chow Ka-ming said Leung had failed in his challenge against the taxman, partly because a provision in the Inland Revenue Ordinance states clearly that a marriage is between a man and woman.
Rights advocates hailed it as a landmark victory with far-reaching implications for Hong Kong's sexual minorities, but it upset conservative groups.
Chow and four other pro-establishment legislators – Priscilla Leung Mei-fun, Junius Ho Kwan-yiu, Shiu Ka-fai and Michael Tien Puk-sun – this week signed a petition to urge the government to defend family values by opposing same-sex marriage.
Ho warned the judgment was a Pandora's box and violated the definition of spouse.
Leung said he was not prepared to comment on the appeal.
First recognised in the Netherlands in 2001 and now legal in more than 20 countries, same-sex marriage started catching attention in Hong Kong in 2012 after the coming-out of a newly elected legislator, Raymond Chan Chi-chuen, and two pop singers, Anthony Wong Yiu-ming and Denise Ho Wan-sze.
Religious groups and anti-gay groups strongly oppose the concept, saying it contravenes family values.
This article appeared in the South China Morning Post print edition as: Appeal against gay rights spouse ruling