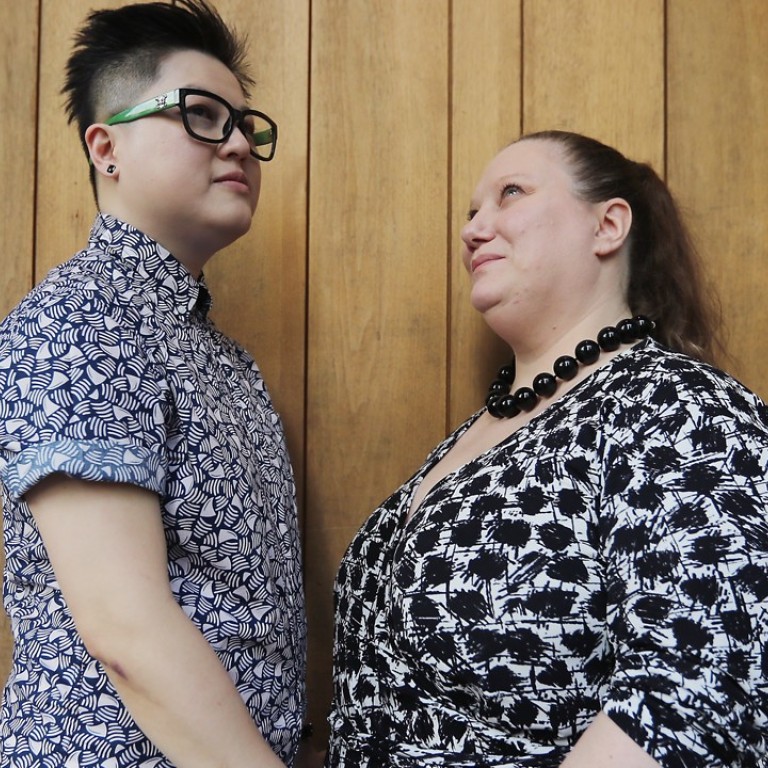 Hong Kong columbarium bill 'still discriminates against LGBTs' in rights to claim partners' ashes
Couple says two-year live-in mark and non-recognition of same-sex marriages registered overseas is 'outrageous'
Same-sex couples in Hong Kong have called for rights equal to those enjoyed by heterosexual spouses to claim the ashes of their loved ones, after lawmakers approved a bill to regulate the city's columbariums on Thursday.
Betty Grisoni, a French native who has lived in Hong Kong for more than 15 years with her same-sex partner, Abby Lee, called the bill "outrageous".
Grisoni, 46, said the new law denied the right of those who have not lived with their same-sex partners for more than two years – but have registered their marriage overseas – to claim the ashes of their loved ones stored in niches.
"I don't want anything special, all I want are the basic human rights enjoyed by heterosexual couples," she said. She has been with her partner Abby Lee for more than 18 years since they met in Singapore.
Grisoni added that anti-LGBT politicians in the government were "on the wrong side of the history", as things would change eventually.
The long delayed columbarium bill was passed on Thursday to regulate the industry. It allows partners in live-in relationships beyond two years – including those in same-sex unions – to claim the ashes of their loved ones.
The new bill was revised from a similar proposal last year, which allowed only relatives the right to claim a deceased person's remains. But despite the changes, same-sex couples who do not meet the two-year mark still cannot claim the ashes of their loved ones even if they have marriages registered overseas.
Abby Lee, 44, partner of Grisoni, said she felt that the bill discriminated against the LGBT community.
"I think it's a rather hypocritical bill. It's like they are showing you some sweets, but you are not going to have it all," she said.
The bill was passed after an unsuccessful bid by pan-democratic lawmaker Fernando Cheung Chiu-hung, who proposed allowing same-sex partners with marriages registered overseas to claim their loved one's ashes, much like heterosexual couples.
A number of lawmakers from the pro-establishment camp rejected Cheung's suggestion. Starry Lee Wai-king from the Democratic Alliance for the Betterment and Progress of Hong Kong said the proposal would be a "shock" to Hong Kong's marriage system and might undermine traditional family values held by the majority.
This article appeared in the South China Morning Post print edition as: 'Give us the same rights to claim partners ashes'