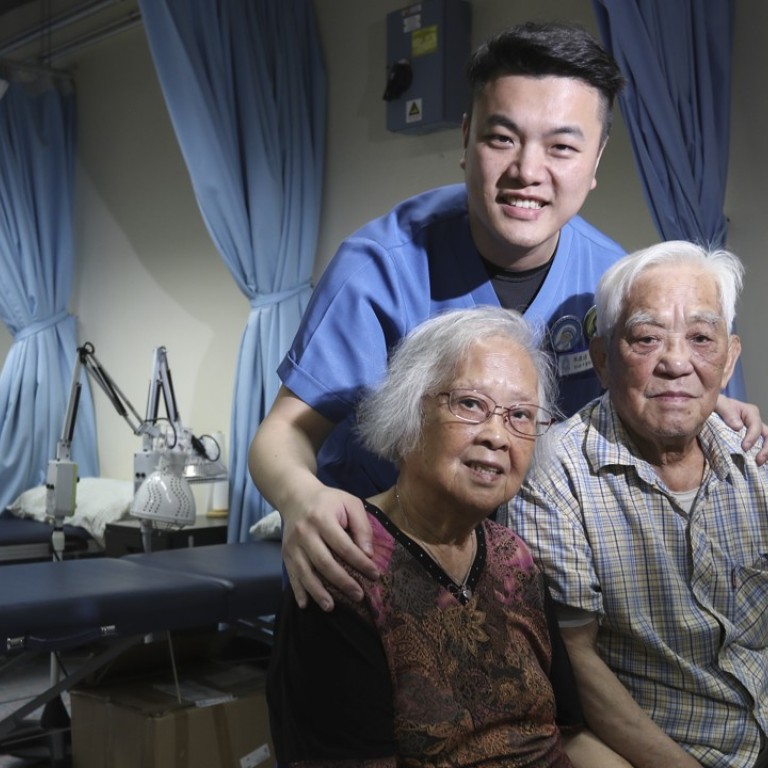 Hong Kong clinic offers free care and a healthy dose of happiness
The staff who provide Chinese medicine services at Light of Raphael are so dedicated they worked without pay for months when donations dried up
Ninety-year-old To Wan-fei and his wife Tang Sui-chui, 87, have been visiting Light of Raphael since it opened in 2010.
The Chinese medicine clinic at a public housing estate in Chai Wan is where they go for all their medical problems. For To, it's a swollen leg and breathing difficulties.
Tang visits regularly for acupuncture for knee and back pain.
"The doctors and nurses here are very good," she said. "If we have a cold, we only have to take two or three doses of medicine to fully recover. They have a good attitude too, they really care about us."
Acupuncture costs the couple HK$50 per session and medicine is HK$30 a day – far lower than most Chinese medicine shops would charge.
What they pay at Light of Raphael falls within their means with the HK$2,000 a year they receive under the government's elderly health care voucher scheme.
The couple are typical of patients at the clinic, where some do not pay anything at all because they are simply unable to.
It is low-income patients like these that Douglas Shum Hong-yuen wants to help. He founded Light of Raphael with his friends, inspired by Mother Teresa.
He was also moved when his family, despite not being poor, questioned whether to pay for his grandfather to see a Chinese medical practitioner after suffering a stroke. It led Shum to wonder how low-income families could possibly cope if the same thing happened to them.
"There's no way they can shoulder the financial burden of, say, three to four sessions of acupuncture a week at HK$300 or HK$400 each time in the private sector," Shum said.
Light of Raphael was at first funded by a donor, whose company paid for rent, medicine and salaries. At the time, none of the patients had to pay for anything. However, soon after the clinic was established, the donations stopped coming in.
"We had to look for other sources of income. All the staff – five doctors and four nurses – decided to forgo their salaries altogether. We just persisted. Some of us went for nearly six months without pay," Shum recalled.
Now, the clinic accepts paying patients and the income received goes to subsidising patients who cannot afford it.
Besides regular clinic services, Light of Raphael has set up other medical schemes for those in need. They include longer-term health care for low-income elderly who have more serious problems, like cancer or stroke. The scheme allows them to get full medical services entirely for free for a year.
Light of Raphael has been nominated by the Methodist Epworth Village Community Centre for the
South China Morning Post
's
Spirit of Hong Kong Awards
in the Lion Rock Entrepreneurship category.
The well-rounded nature of the clinic's work is what keeps patients like To and Tang coming back. Tang pulled out three photos from her handbag to show the couple smiling widely with Shum at a restaurant. She says they did not have to pay for the meal, they just had to get themselves there.
"Taking medicine can't make patients happy. In fact, the more medicine I give them, the unhappier they get," Shum said with a laugh.
"That's why we use other methods. The photos were of a dinner event, where they saw music and dance performances, and socialised with other elderly people. I've never seen them smile like that before. The happier they are, the healthier they become."
This article appeared in the South China Morning Post print edition as: Free care and a big dose of happiness