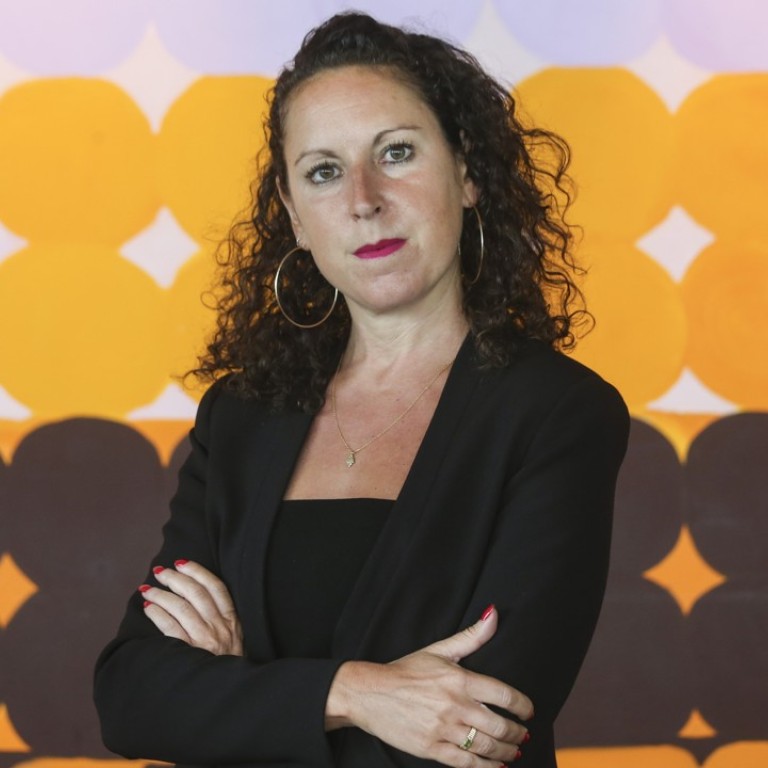 Hong Kong's prisoners deserve an education too, says pioneering American professor
Distance learning is not good enough, according to Baz Dreisinger, who wants society to invest in 'in person' schooling for inmates
Baz Dreisinger is on a mission to ensure the world's prisoners get an education.
The 40-year-old American professor, who advocates for penal reform internationally, believes everyone deserves a second chance and that access to education is a human right.
This week she met representatives from the Hong Kong Correctional Services Department to discuss how they can better prepare inmates for life after prison, while further reducing recidivism rates.
As part of her three-day visit she was given a tour of the all-female prison in Lo Wu, where she was told about the "A Taste of University" lectures offered to prisoners by academics from City University.
"I can see there is a commitment to education in Hong Kong," she said. "I was told about how one inmate was able to obtain a masters.
"When it comes to university opportunities in the prison, they have them but the numbers are small. And a lot of it is distance learning, which does not encourage people in the way that in person learning does."
Dreisinger is the founding academic director of the "prison-to-college" pipeline programme at John Jay College of Criminal Justice, which is part of the City University of New York. The initiative offers college courses and re-entry planning to incarcerated men at Otisville Correctional Facility, and advocates more widely for improved educational opportunities for inmates in the US.
As a graduate of City University and Columbia University, Dreisinger gives lectures around the world about prison-based education and is currently advising penal officials in the Caribbean, South Africa, the UK, Australia and now Hong Kong.
She covers the prison systems of nine countries in her book Incarceration Nations: A Journey to Justice in Prisons Around the World (2016).
"The US is my focus, but I want to see this as a global conversation," she said. "A lot of the time we are focused on the problem and not the solution."
Dreisinger admits it can be difficult to persuade officials in a region such as Hong Kong, where crime is relatively low, that greater educational opportunities are needed for inmates, but she believes it is still important for society's progress as a whole.
"No matter what you've done, you are entitled to an education," she said. "In most countries, it is the have-nots that end up in prison. So we need to give them access to what they didn't have before."
Dreisinger grew up in New York and became an advocate for penal reform after writing extensively on the criminal justice system in the US, and receiving letters of support from inmates.
One of five siblings, she partly inherited her values about education from her mother, a teacher, and her father, a psychologist. She believes teaching inmates face-to-face in a real classroom is far more effective for their development than distance learning.
"Education is the most powerful way to improve a person's chances, their sense of self and what they are capable of," she said. "I do not think you get that through distance learning. I would love to see a system that involves an 'in person' educational opportunity for all prisoners."
But she admits some people continue to believe that prisoners, particularly high-level offenders, are not deserving of educational opportunities that ordinary citizens lack.
"I understand that criticism but I do not think this has to be an either/or option," she said. "It is not about 'us' versus 'them'. I would like to see access to education for everyone. We have to think about the benefits to the social fabric as a whole."
She says it can also be challenging to persuade governments to invest in their prisons, but admits she sometimes highlights studies that show recidivism rates can be reduced with better job opportunities for inmates after prison, a more cost-effective strategy in the long term.
"I believe governments want to do things that are right for their people. A lot of people think that everyone in prison is a bad person, and they don't want to think about how they got there.
"Sadly, although we call prisons correctional facilities, a lot of the focus across the world is on punishment and not rehabilitation."