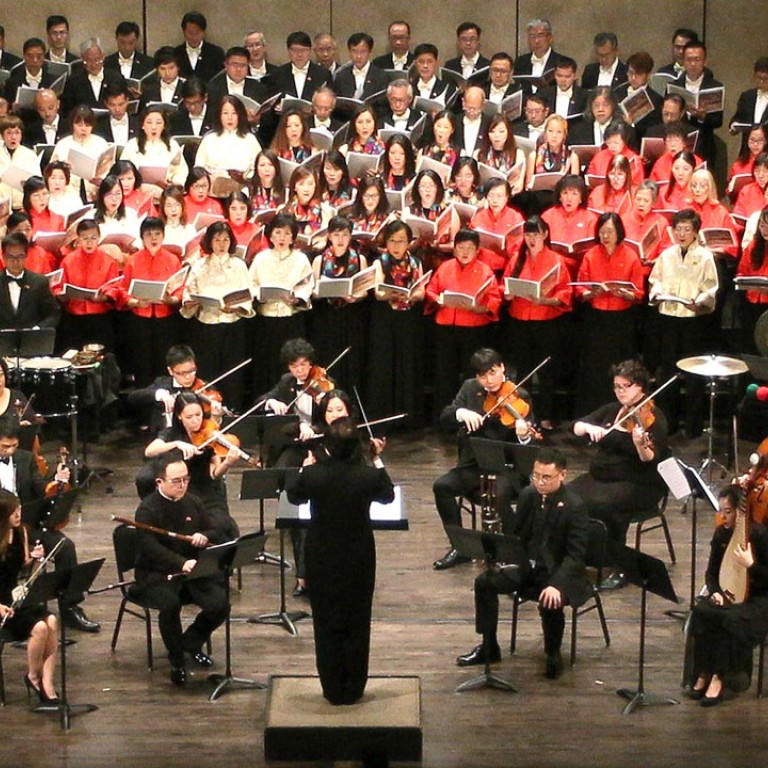 Hong Kong's oldest choir in US handover celebration
Oratorio Society joins up with chorus of city emigrants for California shows
The city's oldest choir set out to mark the handover anniversary in America, but ended up in a historic first, plus a union with musicians of the Hong Kong diaspora.
Some 70 members of the Hong Kong Oratorio Society, founded in 1956, are on a two-city tour of California.
After a sell-out performance at the Herbst Theatre in San Francisco on Friday night, the choir, under music director and renowned composer Chan Wing-wah, will make its debut on Sunday at the Walt Disney Concert Hall, a landmark in downtown Los Angeles.
"I believe that would be the first for an arts group from Hong Kong and we are very honoured to perform at that renowned hall," Chan said.
Both nights they will share the stage with a choir formed by Hong Kong emigrants to San Francisco, and local players.
"The idea of a joint performance first came about in late 2015 when Professor Chan performed his song Drunken Dream with us," said Stephanie Chan Ming-ngun, founder of Voices of the Valley choir, and former music master at St Paul's Co-educational College, Hong Kong, who left for the United States with her violinist husband in 1996.
"We have members coming back from Hong Kong and they said the 20th anniversary was quite a big thing there, so we feel very happy to be a part of it and at the same time have the opportunity to sing with a well-established choir," she added.
Voices of the Valley consists of professionals from computer experts to lawyers. Mostly being from Hong Kong, they should have little difficulty singing the Putonghua lyrics in Chan Wing-wah's 8th symphony, entitled This Boundless Land.
"My work was originally commissioned in 2008 by the Hong Kong Chinese Orchestra so I need to revise it for a small string orchestra plus organ, percussions and four Chinese instruments," the composer said.
The work, in three movements, was inspired by a trip to Dunhuang, a main depot on the ancient silk road.
"After the second movement that depicts the dark moments, the third opens with a soft organ solo passage to denote reconciliation through forgiveness and love, and that's what I hope for Hong Kong to become, a place of smiles again," he said.
Stephanie Chan and her husband Andrew Chan Wing-kin, a former first violinist with the Hong Kong Philharmonic, said they got the message in the music.
"The music is approachable and it has something to say," she said. "I know there are difficulties in our home city, but it's not good to destroy what you have."