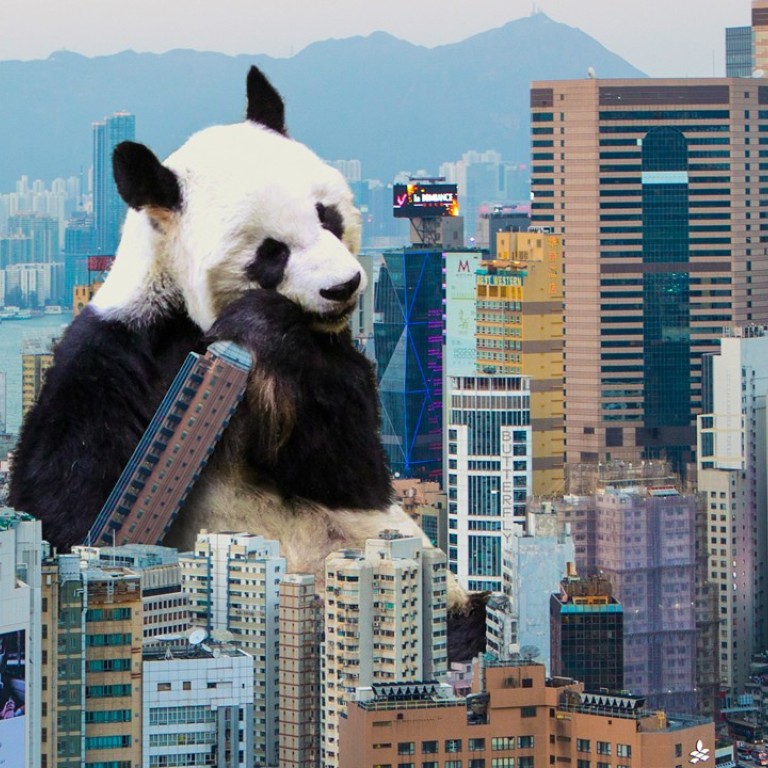 Going against the flow: fun photos show a surreal side of Hong Kong
When Hongkonger Tommy Fung returned after three decades living in Venezuela, he thought the city was oddly unhappy. So he decided to offer views from a different angle
A Hong Kong artist whose innovative photographs of the city's major landmarks and everyday scenes have become an online hit said he only started the project to "cheer Hong Kong people up".
Tommy Fung has used Photoshop to adapt hit shots of sites including the IFC, the Big Buddha and the Star Ferry, often giving them a distinctive reinvention.
His Instagram series @SurrealHK has quickly amassed almost 10,000 followers since he launched it last year, with fans lapping up his imaginative images each month.
The 38-year-old Hongkonger, who lives in Ap Lei Chau, returned to the city seeking new opportunities after almost three decades living with his Chinese family in Venezuela. Fung said he felt forced to leave the South American country after a deteriorating economy and a political impasse sparked widespread protests in 2014, which are
still causing chaos
. "I still have family there, and they are surviving, but it is very hard," he said.
As Fung became reacquainted with Hong Kong, where he went to school until he was nine years old, the former graphic designer began taking photographs of the city's most notable sites.
"I saw people seemed really unhappy," he said. "I didn't know why because I think Hong Kong is a really great city.
"They have so much great food and transportation. I thought to myself 'maybe they don't appreciate it enough'. I was starting to think: 'What can I do to cheer people up?'
"So that's when I started uploading these photographs with a surreal perspective. I didn't think many people were doing this kind of thing."
A post shared by My surreal life in Hong Kong (@surrealhk) on Mar 12, 2017 at 4:35am PDT
Fung's followers appear to enjoy his sense of humour.
Accompanying his photograph of the Big Buddha on Lantau Island, which shows the statue suspended in the air above its mount in Ngong Ping, he wrote the caption: "In the near future, the Big Buddha will look like this?"
And for his image of the Star Ferry, which saw him Photoshop himself to look like a giant sitting on the boat's rooftop, he wrote: "Take a Star Ferry from Wan Chai to Tsim Sha Tsui and enjoy the view."
Fung regularly includes himself in his photos. Another image shows him with four arms, intently texting with two of them while using the other pair to hold the handrail on the MTR, poking fun at the typical Hong Kong commuter's immersion in gadgets.
A post shared by My surreal life in Hong Kong (@surrealhk) on Feb 20, 2017 at 2:50am PST
In a separate shot, he is shown coming dangerously close to falling off the edge of Kowloon Peak after seemingly being swept away by a gust of wind which has hit his open umbrella.
"I get inspiration everywhere," he said. "I look for photos to take in order to keep my eyes away, like most people, from simply looking at my phone. Sometimes I just see something on the news and try to take a photo of something that everyone is talking about."
A post shared by My surreal life in Hong Kong (@surrealhk) on Jun 18, 2017 at 4:08am PDT
Fung said most of his photographs take five hours to digitally enhance, but more complex projects can take up to 15 hours.
In one of his most popular images to date, also one of his favourites, Fung reimagined a Hong Kong taxi as a flying car in the style of the 1980s science fiction film series Back to the Future.
But for what is undoubtedly his most successful Instagram post, which got more than 3,600 likes on the image-sharing platform, he created a Photoshopped ice cream cone onto the skyline, as seen from High West mountain on Hong Kong Island, to make it look as though the clouds were circulating into a whipped-up ice cream.
A post shared by My surreal life in Hong Kong (@surrealhk) on Jun 7, 2017 at 4:02am PDT
He said he had been pleasantly surprised by the enthusiastic reaction to his photo series, and that he hoped he could develop it into an exhibition.
"The response has been really positive," he said. "I've found the whole process really interesting. I want to show people how great Hong Kong is and just make fun of all the city's normal situations."