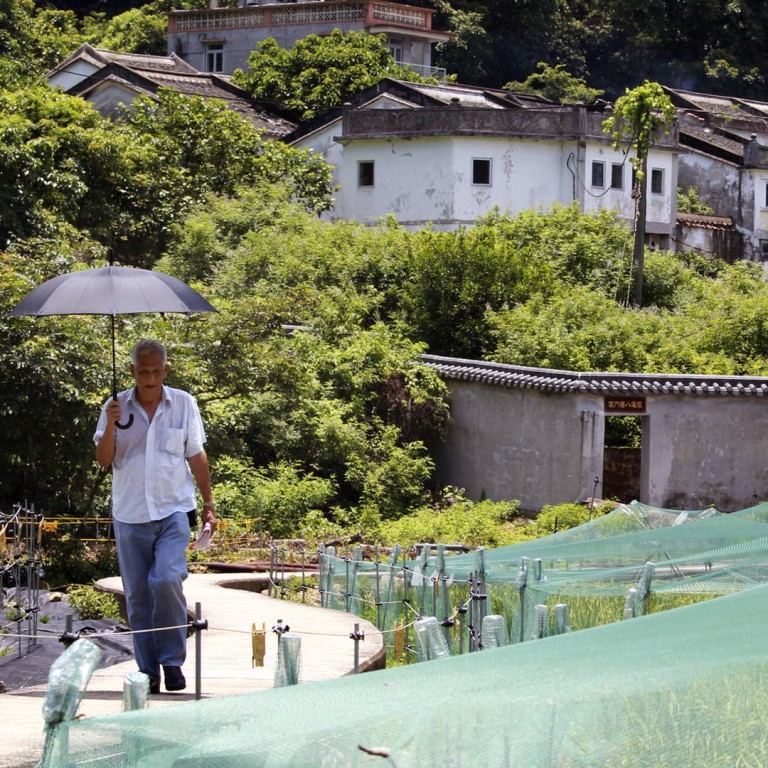 Hong Kong village's revival hampered by red tape
Insurmountable bureaucracy over guesthouses, selling fresh produce and the construction of a new pier are all hampering Lai Chi Wo project
On a hot and sunny weekday afternoon, the songs of cicadas and birds are the only sounds audible among waterlogged rice paddies in a Plover Cove Country Park enclave. A small power generator can be heard humming in the distance.
The two hectares of pastoral tranquility could have been the backdrop of an old Chinese water brush painting if it were not for the solar-powered electric fencing and green bird-netting set up around the crops.
By August, villagers of Lai Chi Wo will have harvested their third crop of homegrown rice. They expect this summer's yield to surpass the last two.
In a few years, the aim of villagers - with the help of the University of Hong Kong's Kadoorie Institute and funding from HSBC - will be to revive these fields after more than 30 years of abandonment. They also want to revitalise their 400-year-old walled Hakka village and spur a new wave of agricultural, eco and heritage tourism.
But the success depends on whether the government is willing to provide more assistance.
"Villagers have no intention of expanding [the village] zones and there are no small houses here," said Tsang Wai-yip, one of the village's two indigenous inhabitant representatives. "We are not like those villages in Sai Kung, Sha Tin or Yuen Long, building these beautiful village houses to make money. We just want what is best for our village … to restore it."
The idea is said to have stemmed from a 1963 satellite photo of the hamlet and its once sprawling terrace paddies. The project's initiator, villager David Tsang Wai-keung, says it is this black and white photo that had inspired him.
After emigrating to Britain in 1972, Tsang came back to Hong Kong five years ago to see what he could do to revitalise the village. While working as a volunteer at the village's heritage centre, a student came by asking him about the village's history. Tsang was shown the photo.
"The memories suddenly came back and I knew I had to find a way to get the village into that shape again." The photo is now framed and hung up in his ancestral house.
But major problems stand in the way - the lack of transport to actually get people there and a range of ambitions at odds with rigid government policies.
"We're trying so hard to make this happen but the government isn't giving us a lot of support," said Tsang Wai-yip.
Tucked into the 90-hectare enclave of Plover Cove Country Park, the village is accessible only by two-hour hike or by boats small enough to traverse shallow waters and berth at the pier.
The village has lobbied several times to upgrade its run-down jetty - which they built themselves - but to no avail, as the government feared the environmental impact on the surrounding Yan Chau Tong Marine Park.
Ferries cannot berth at the pier as it does not extend to a suitable water depth.
But building a new pier would require dredging a channel underwater. The villagers have proposed building a pier made of wood.
"We're doing so much to enhance our village but it will be pointless if no one can come and see it," said Tsang.
He said all they wanted was a single ferry route from Ma Liu Shui, near Chinese University.
"The ferry service … only [needs to be] on Sunday or the weekends so [those] who can't hike for two hours can come here and see this beautiful village."
With more than 211 rustic Hakka village houses - many of them more than 100 years of age and falling apart - villagers see potential in creating bed and breakfast-style guesthouses.
But again the bureaucratic challenges are insurmountable. Licences are required for renting the houses on a short-term basis and for selling fresh farm produce, said Winnie Law Wai-yi, assistant director at the Kadoorie Institute.
"We need a one-stop government body to sort out all these problems to save these enclaves from dying," she said.
Turning the century-old houses into guesthouses would also require structural modifications incompatible with preserving its distinct Hakka architecture, said villager Anna Mak.
"The government must look at the whole village, rather than each house individually, if it wants to preserve the heritage," she said.
Lai Chi Wo features a diverse and rare variety of flora and fauna – 163 plant species, 112 freshwater insects, 104 birds, 122 butterflies and 18 reptiles, including the endangered yellow-breasted bunting, locally rare white dragontail butterfly and Fujian large-headed frog.
Special plant species like water fern, coastal heritiera trees and white-flowered derris can also be found.
At its prime, the village had a population of 1,000 but it fell to 450 in 1950s and was almost entirely cleared by the 1960s, with most villagers emigrating overseas. Birmingham in Britain was strangely where most villagers ended up.
"The reason you see some of the houses in good shape was that villagers who went abroad still cared about their houses. They still sent money back home to maintain the village," David Tsang said.
Only time will tell whether the enclave's development model could be one emulated in other villages. Kadoorie Institute project manager Katie Chick Hiu-lai said: "You can say it's an old idea, but a new concept to our society."
Some villagers' claims have roots extending four centuries back to the end of the Ming dynasty.
Famed for the large fung shui forest on its western flank, 14 generations have been born to this village since, surnamed Wong or Tsang, all which have their ancestral roots in Shandong province.
About 200 years ago, the village got so big some villagers moved out to set up other villages. These are now known as So Lo Pun, Mui Tsz Lam, Siu Tan and Ngau Shi Wu.
Tsang Ah Chat, 77, the village's other indigenous representative, said villagers continued working the fields as the second world war raged on. He said Japanese troops had even come knocking on doors in search of guerilla resistance fighters.
Legend has it that Japanese troops attempted to chop down a giant camphor tree to take back to Japan. It was spared after villagers conjured up a story of it being a sacred Buddhist shrine. The troops ended up hacking off just one of the tree's branches. The hole is still visible today.
This article appeared in the South China Morning Post print edition as: Village revival needs to overcome red tape