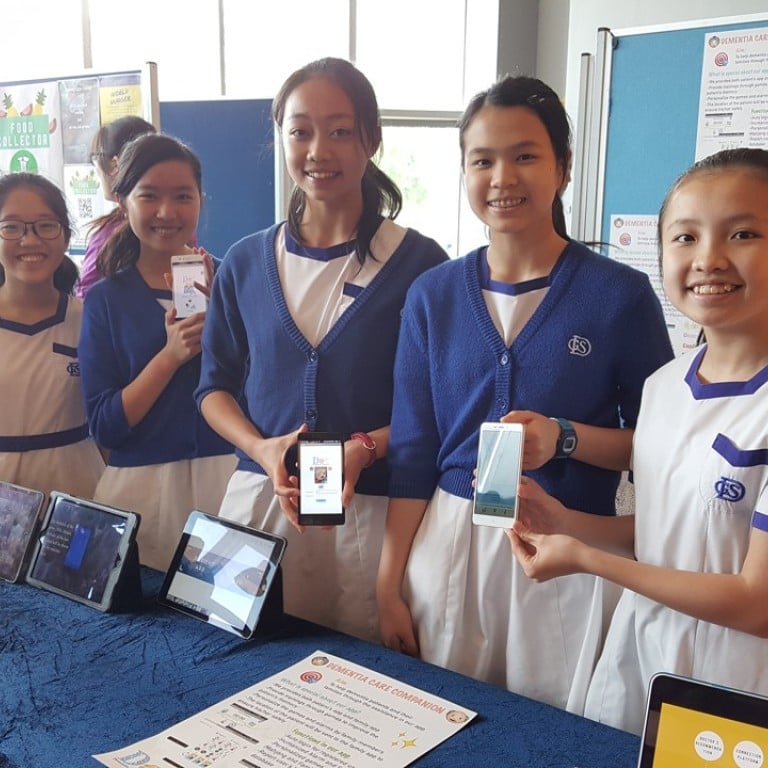 All-girl teams shine at global tech contest with health care apps
Team members share their take on girl power and gender inequality in the tech industry
Hong Kong schoolgirls have triumphed at the Technovation World Pitch Summit this summer, the world's biggest international technology entrepreneurship challenge for girls aged 10 to 18.
A team of five pupils in their early teens from Diocesan Girls' School (DGS) won the Grand Prize (Junior Division) for making an innovative mobile app that helps dementia patients and caregivers. They beat no fewer than 1,100 other junior teams worldwide to the accolade.
The DGS team was present at the five-day summit held at Google's Mountain View headquarters in Silicon Valley in September. Hong Kong's top senior team, from St Paul's Convent School, which was selected as a world semi-finalist, joined them as a visiting team.
Young Makers & ChangeMakers, a non-profit platform promoting STEM (science, technology, engineering and mathematics) skills among youth in Hong Kong, was pivotal in introducing the worldwide event to the territory.
It has reached out to nearly 300 girls from more than 40 schools across Hong Kong who participated under the guidance of more than 100 industry and teacher mentors, utilising Technovation's online curriculum to ideate, prototype, create and pitch their app solution using MIT's App Inventor visual programming language. A total of 22 teams were set up, each developing its own app.
Participating pupils were also given the opportunity to make field trips to cutting-edge workplaces such as Google Hong Kong, the Commonwealth Bank Innovation Lab, Infiniti Lab and WeWork, as well as attending a boot camp at the University of Hong Kong.
"The significance of this event is more than just winning a world competition. It is about how ready schools, corporate sector, the government and of course young pupils are to work together to explore the endless possibilities in the field of STEM," says Brian Tang Wha-Li, founder of Young Makers & ChangeMakers. A father of three, he now runs his own FinTech firm after a stint as a lawyer in the investment banking industry.
"It is no small feat for 22 teams of schoolgirls from all over Hong Kong, across different tiers of banding, to have come together and committed themselves to the event, spending several months attending our workshops, field trips, and boot camps, finishing their apps with the help of their teachers and industry mentors and pitching to a large audience at Cyberport," Tang says. "It makes me feel immensely proud."
The DGS team, who had swept the grand prize for the junior division, says the event was an eye-opener for them.
"I have learned quite a lot of things throughout this trip, like presentation skills and how women can still make a huge impact in the world, despite gender inequalities in some parts of the globe," says team member Sharon Ng Yan-laam, aged 13.
"What I enjoyed the most in the World Pitch Summit was the bonding between different teams,' she adds. "Although we were of different nationalities and were supposed to be competitors, we treated each other as friends and built up an extraordinary friendship. Winning this competition is an honour for us, and we will further develop this app by modifying bugs and coding a better version of Dementia Care Companion."
The other four team members are Katrina Liu Tin-nam (14), Amanda Looi Nga-man (13), Celine Mung Hoi-yan (13) and Natalie Tsang Sum-yee (14).
The aim of their app is to provide a 360° solution to families with members suffering from dementia. Its features include interactive games, an alarm and location reporting.
The interactive games are designed to delay the decline of patients' cognitive ability by providing various personalised memory training games, while the humanised alarm feature, where patients may record their own voice or those of family members, aims to reduce patients' agitation while helping to remind them of their daily routine. The location reporting function, on the other hand, ensures the safety of patients by reporting their current locations.
The journey to creating the app was a bumpy one: there were frustrating moments where it would crash, bugs would appear, or conflicting ideas would arise among team members. It was also a logistic challenge to coordinate the team members' schedules amid school work and other commitments.
They also say it was especially inspiring to see how their peers from Hong Kong and overseas developed apps to address real-life issues. It made them feel empowered knowing that they could make a difference to their community and to the world, with the help of technology.
Their views are shared by the St Paul's Convent School team, who made it to the world semi-final list in the senior division with their app, ASAPHealth.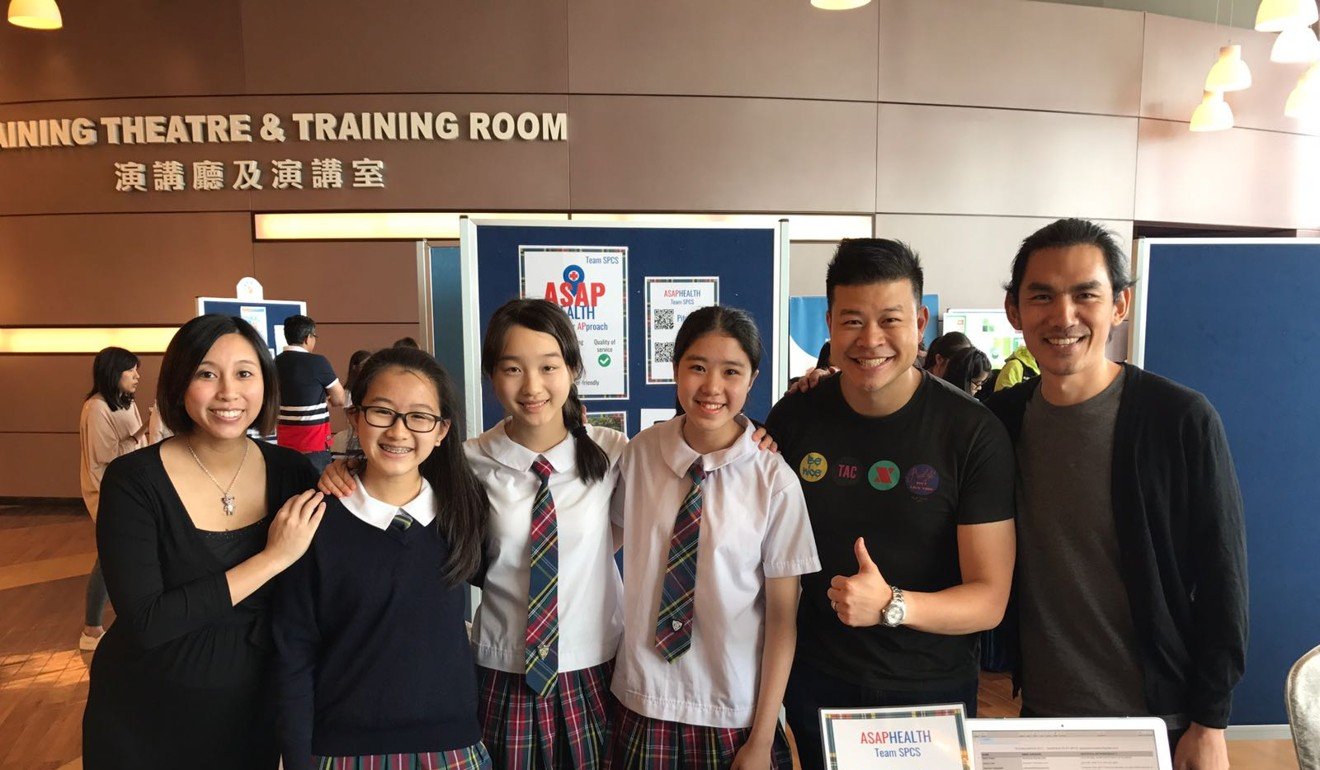 The app aims to alleviate stress in public hospital emergency rooms by addressing the uneven distribution of patients across different hospitals and different hours of the day. It integrates the Google Map function so that users can find out the travel distance and time for different hospitals. It also provides public data on the average wait-time in each of the emergency rooms.
The team comprised three pupils: Tivona Yeung Ka-yu (14), who is the business development manager in charge of developing the business model and pitching; Madeline Leung King-ni (15), the team's chief programmer, and Cindy Yeung Tsz-mei (15), programmer and full-stack developer.
They are still attending pitching events in Hong Kong to raise funds to perfect the app and working with the Hospital Authority to provide real-time data on their app regarding the wait-time and availability in public hospital emergency rooms.
The idea of entrepreneurship was new to all of them before they joined Technovation. Apart from the technical aspects, such as solving bugs and correcting the programme, the business part was also challenging, because they had no idea how the business world works.
"However, with the help of our teacher and corporate mentor, we learned how to put together a business plan and pitch," says Madeline Leung. "The experience made me realise that technology has a very large impact on society, and that it helps a lot of people solve their problems, regardless of how old you are and which part of the world you are from. On the other hand, technology on its own will not solve the world's problems for you. There needs to be the human-to-human care for those issues and the bravery to step up."
Leung says the Silicon Valley trip made her aware of world issues that normally would not come up on her radar in Hong Kong. For example, during one of the pitches, she learned about the serious problem of genital mutilation in Kenya, and was impressed by how the Kenyan team proposed to address the issue through the use of technology.
"It was wonderful to see the senior finalist teams from all around the world pitching their ideas," Leung says. "We also went on several field trips to amazing places such as the Microsoft and Google headquarters, where people do really cool things."
Back at school, the team had signed up for optional enriching IT courses that supplemented their core IT subject. All the girls say they are passionate about technology, and are not daunted by the fact that it is traditionally a male-dominated industry.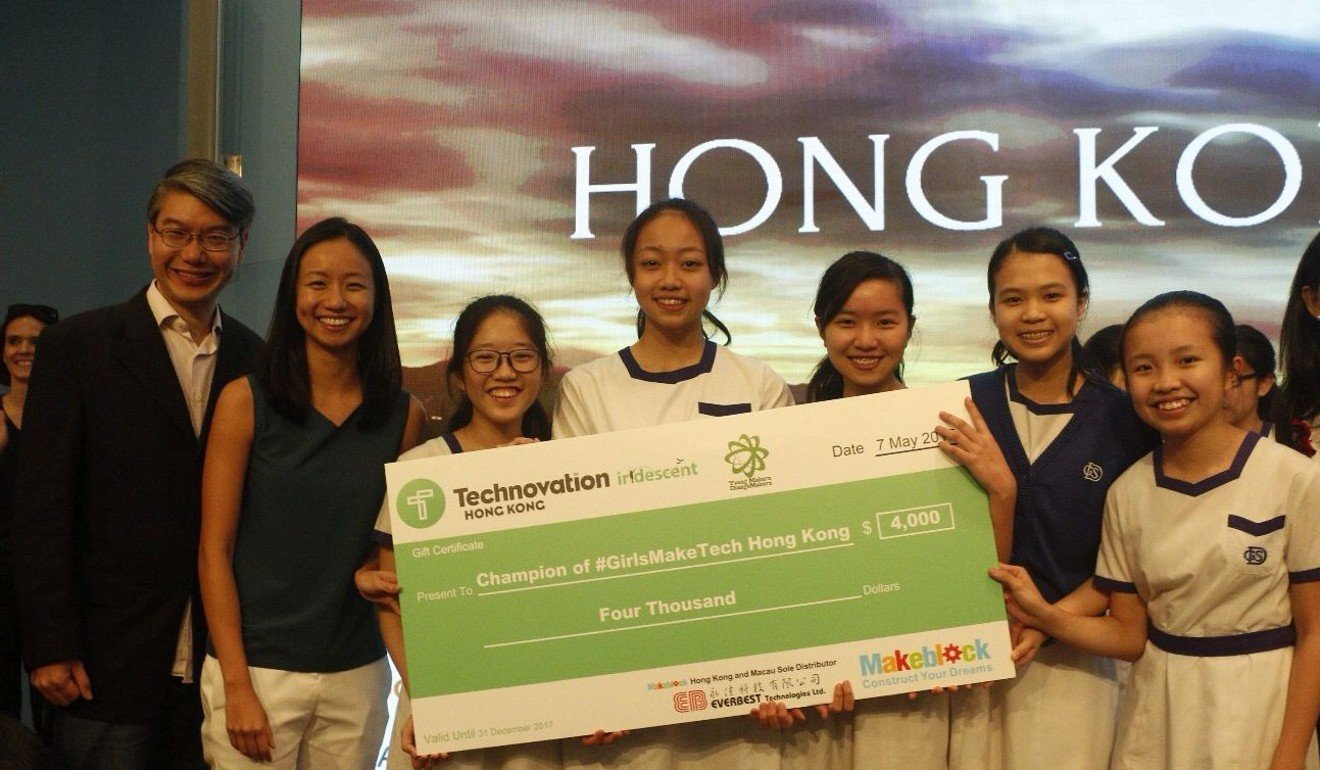 "I guess you won't really care if it is male or female-dominated when you are passionate enough about what you want to pursue," Tivona Yeung says. "It also helps that we study in a girls' school."
Stephanie Tong, senior manager at SMS Management & Technology, who is mentor to the St Paul's Convent School team, says she hopes to groom the next generation of girls to be bold and to become leaders in the field of technology. Even nowadays, it is not uncommon for Tong to find herself the only female member in a project team.
She also feels that, with the disruptive nature of technology, it is very important for young people to understand that they may very well be the pioneers in their fields and not to expect there to be an older generation to guide them all the time. It is therefore all the more important to cultivate a self-starter mindset where they are confident and capable of discovering, testing, and creating solutions on their own.
Daryl Chan, the Hong Kong lead of why innovations!, says the corporate sector has a great role to play in bridging the gap between what schools teach and what works in the real world. He is a business mentor to the St Paul's Convent School team in developing business models and creating a successful business case.
Tang adds that parents also have a role to play in encouraging their children to pursue their interest 
in technology.
"Parents need to recognise the importance for their children to be literate in the language of technology and embrace it as part of their lives," Tang says. "Not everyone will work in the technology industry, but the job market in 21st century is always going to be relevant to the skills and concepts in tech."
This article appeared in the Young Post CSR supplement as: girls win pitch for glory