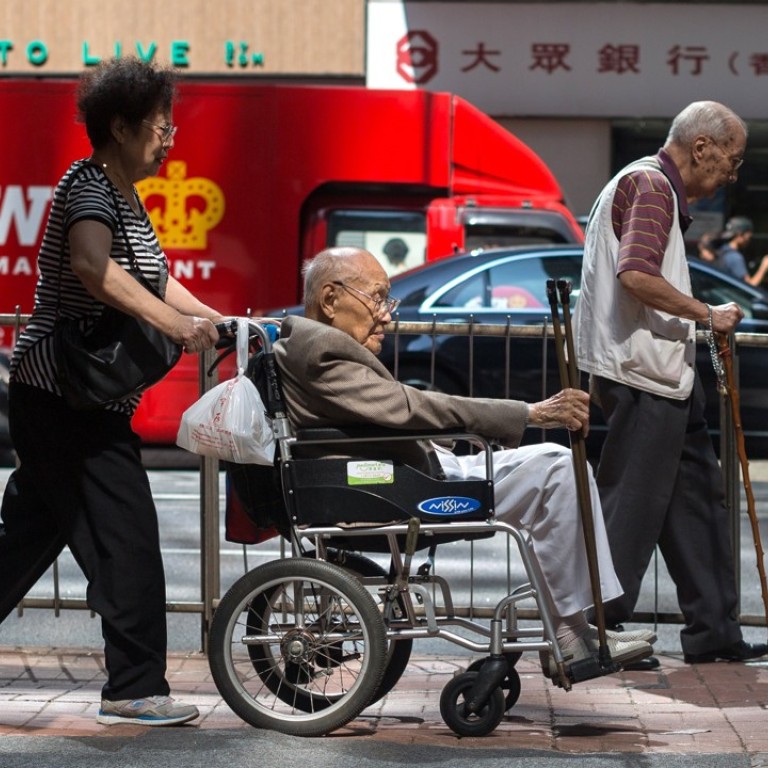 Hong Kong faces challenge in how to manage its ageing population
Demand for elderly goods and services will grow as Hong Kong faces a declining labour force, shrinking family size and rising elderly dependency ratio
One of the major challenges for Hong Kong to sustain its global city status is to find ways to manage significant demographic changes in society.
According to "Hong Kong Population Projections 2015-2064", the number of elderly people, those aged 65 or older, in Hong Kong will reach 2.58 million by 2064, around 35.9 per cent of the population. The work force, those aged 15 to 64, will shrink to 3.92 million, or 54.6 per cent of the population).
In 2014, the elderly dependency ratio was 198, meaning each elderly person was supported by 2.4 of working age. The ratio is projected to jump to 567 by 2064, implying that each elderly person will be supported by 1.8 of working age. The average family size is projected to drop from 3.9 people in 1981 to 2.8 in 2024.
In light of the ageing population, the government established the Elderly Commission as an advisory group for elderly policy in 1997. In 2017, the Commission launched an "Elderly Services Programme Plan" in which the importance of "Ageing-in-place")was emphasised.
Pok Oi Hospital celebrated its centenary in November 2017 by launching a huge residential care project for the elderly, the Pok Oi Hospital Tuen Mun Lam Tec Residential for the Elderly. This project will provide residential care for more than 1,400 elderly people.
The project requires community-based research bringing social care / social policy experts, Gerontechnology and Socialpreneurship together for research as well as for trained professionals to meet the manpower and research needs of the residential home.
At the same time as Hong Kong faces a declining labour force, shrinking average family size, rising elderly dependency ratio and ageing population, the demand for elderly-related goods and services will keep increasing. This makes management of its rapidly ageing population more complicated.
It is against such a context that the introduction of technology to assist the management of the elderly health care sector is more important. Gerontechnology, which combines Gerontology with technology, revolutionises conventional caregiving. This technology could be the key to tackle ageing and allow Hong Kong to turn these challenges into golden opportunities by benefiting seniors and their carers.
Gerontechnology: Underdevelopment in Hong Kong
Gerontechnology is not yet well recognised nor popular in Hong Kong. The "Gerontechnology Landscape Report" produced by Our Hong Kong Foundation(and authored by Wong et al. (2017) illustrated five key gaps and difficulties with its development in Hong Kong, including: (1) lacking social awareness in the importance of technology; (2) lacking collaboration between various stakeholders; (3) limited funding input during the initial stage of prototyping; (4) localising products and (5) lacking testing ground for new products. The first three hurdles can be attributed to uncertainty. The report says that society, including government officials, generally lack an awareness of Gerontechnology, even the government is highly risk averse on the development of Gerontechnology.
"Socialpreneurs", a buzzword which combines social enterprise with entrepreneur, are the lead players in adopting innovative methods to solve social problems. Social enterprise (SE) is a hybrid form of business that operates with business tactics to achieve business and social objectives (Dees and Elias, 1998; Defourny and Nyssens, 2006; Szymanska and Jegers, 2016).
Despite the rising trend of SEs, their business performance is not ideal. Twenty-four of the 56 SEs that revealed their financial records in 2011 had deficits. Fifty per cent of SEs suffered a loss or ceased to function in their fourth year, as many SEs applied for government funding of up to HK$3 million in the first two to three years of operations.
The business performance of SEs that did not receive government funding were even worse: most SEs that reported a profit were found to rely mainly on volunteers. It seems that not many SEs are in a healthy financial situation.
A study on the SE sector in Hong Kong found that privately-owned SEs tend to find it difficult obtaining financial, marketing and human-resource support. There is an urgent need to build a platform (viral community) that uses innovative technology to embrace a sharing economy model to resolve resource limitations and enable the SE sector to enjoy huge improvements and to be in a position to nurture more social innovations.
Cross-sectoral collaboration promoting Gerontechnology and productive ageing
A close examination of the working relationship between the university, the industry and the community at large indicates that the conventional Triple Helix model is insufficient to promote cross-sectoral collaboration in managing an ageing population. The author believes we should move beyond the Triple Helix Model when analysing the relationship among multiple sectors. The community and civil society must be introduced to the model. We should examine the roles of social community and civil society in collaborating, developing and distributing knowledge, and benefit from innovation and knowledge transfer. When promoting innovation and entrepreneurship, governments should also encourage social, community and cultural engagement to enhance community integration, foster social harmony and contribute to the well-being of humankind. Figure 1 below highlights the multiple networks and hybrid organisations collaborating between the university, the industry and the community at large.
Critical reflections are made on governance transformation in fostering innovation-centric entrepreneurship and creative industries by engaging local communities and society at large. The theoretical framework above highlights the importance of "multiple networks" because of the involvement of many stakeholders who support innovation and entrepreneurship. Governments should promote synergy across sectors and collaboration among actors. To become an entrepreneurial state, governments must create a favourable policy environment and develop regulatory frameworks that are sufficiently flexible and responsive to the hybridisation of organisational structure. Actors from the industry and business, local communities and civil society must come together to encourage innovation and entrepreneurship. In response to the pressing demands for managing increasingly complex ageing and social care issues, engaging in deep collaboration is desperately needed across sectors. Stakeholders coming together to bring cutting-edge technology (Gerontechnology) into the management of ageing and social care, such moves would develop social innovations for promoting Active Ageing and Smart Ageing in Hong Kong. More collaborative projects through adopting multiple networks model for entrepreneurship would support the strategic direction of the HKSAR Government in creating a community which is age-friendly and innovation-technology driven to enhance the older population to lead a productive ageing and smart lifestyle.