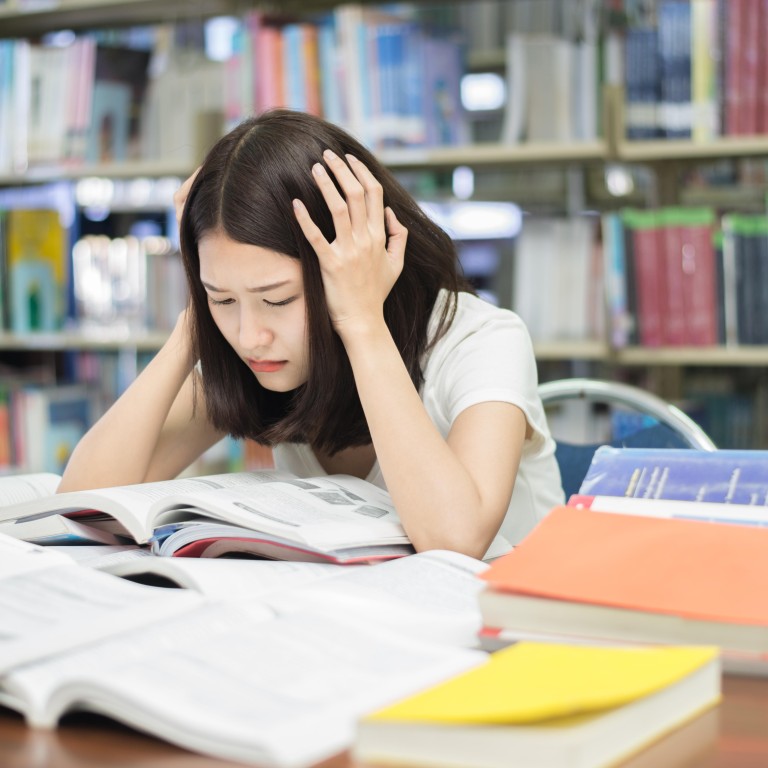 Guilt and social pressure making young Hongkongers choose all work and no play
A survey by NGO Breakthrough shows 40 per cent of young people feel guilty or fearful when taking breaks from work or study
The NGO says phenomenon is product of a competitive society that takes a dim view of rest
About 40 per cent of Hong Kong's young people feel guilty or fearful when taking breaks from studying or work, a survey released on Wednesday found.
The youth NGO Breakthrough polled 1,221 people between the ages of 10 and 29 from October to December last year.
A total of 53.4 per cent of the respondents were studying in primary or secondary schools, while 13.7 per cent were in tertiary institutions. Some 20 per cent of them had full-time jobs.
A total of 39.5 per cent said they felt guilty or regretted taking a break for rest or recreation, while 43.1 per cent said they did not dare rest or play if they had not finished their work.
"This affects the quality of rest and lowers the effectiveness of rest on mental stress," Simon Lam Chun-kit, a researcher at Breakthrough, said.
Some 55.4 per cent said that even though they felt tired, they were worried resting would result in them not being able to catch up in school or at work.
Lam believed this phenomenon was the product of a competitive culture and a tendency for society in Hong Kong to take a negative view of resting.
The study also found 44 per cent of respondents said they were suffering from fatigue while trying to manage with studies or work.
A secondary school graduate who wished to be known only as Angela recalled studying from 8am to 11.30pm during the six weeks of study break before her Diploma of Secondary Education examinations, which took place in April.
She said she would wake up at 7am every day and eat a big breakfast so she could study without interruption till 3pm.
"Because I'm full, I don't need to worry about what to eat for lunch and I can make full use of every minute to study," the 18-year-old said.
Besides taking time out for dinner and to shower, she only spent 45 minutes playing with her phone and watching television.
"I'll watch just 15 minutes as I don't feel I should have this time for entertainment," she said.
"If I watch for 15 more minutes, I'll lose that time to study or go over past years' papers."
Sometimes, she would rest for a bit longer to 4pm and ended up feeling guilty.
Angela also stopped playing the piano and deleted her Instagram account during that period so she could concentrate on studying.
But the result was that she suffered burnout and ended up crying and getting upset more.
"When I realised I hadn't completed my study schedule, I'd feel helpless and cry," she said.
Angela, who hopes to study science at the University of Hong Kong, said her parents, who are both secondary schoolteachers, often told her to revise her schoolwork and not waste time playing with her smartphone.
The survey also found the time spent studying was on average 45.6 hours a week, while the average for primary and secondary students was 53.2 hours. Those with full-time jobs worked on average 49.1 hours a week.
Respondents slept for an average of 6.6 hours per day, with some sleeping for as little as two hours.
Carmen Liau Fai-ching, senior psychological counsellor at Breakthrough, urged schools not to forgo breaks and physical education classes for other activities and called on parents to not threaten their children with confiscating their phones.
Lam said society also needed to correct negative views about resting, such as associating it with laziness.