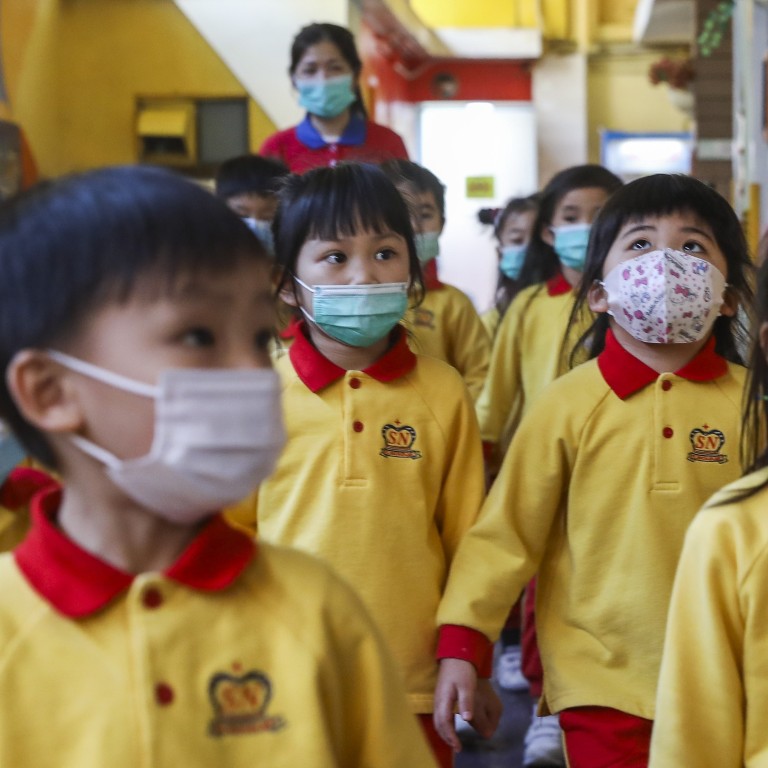 Coronavirus: Hong Kong government to extend school closures until March 16, and keep civil servants at home for another week
Classes to be suspended beyond original return date of March 2
Major Primary Six exam for secondary school placements also cancelled
Hong Kong schools will remain closed until March 16 at the earliest and an important exam for primary school pupils has been cancelled, the education minister said on Thursday, as the city battles to contain the spread of the coronavirus.
The government also announced that civil servants would continue to work from home for another week, meaning most of its 176,000 staff would be out of the office until February 23.
Secretary for Education Kevin Yeung Yun-hung said there had been little choice but to extend the suspension of classes for two extra weeks at the city's kindergartens, primary and secondary schools.
The Primary Six exam for secondary school placements was also cancelled, while kindergartens would receive a special subsidy to help with cleaning costs, Yeung added.
"We all know that in view of the epidemic, it is not really safe now to resume classes, that's why we have to suspend classes," he said.
"We will continue to take into account the professional advice from health experts, readiness of schools, as well as the supply of epidemic preventive materials in the community in making further assessment and deciding the exact day of class resumption."
Classes were first suspended in January, with an extension of the Lunar New Year holiday, and pupils were tentatively scheduled to return to school on February 17. The Education Bureau later extended that to March 2.
Government employees were originally advised to stay away from the office between January 29 and February 2, but the government then pushed that back to February 16.
As of Wednesday evening, Hong Kong had 50 confirmed cases of the virus, which causes the disease now officially known as Covid-19, and one related fatality.
"In view of the latest situation, the special work arrangement for government departments will be extended until February 23 to reduce social contacts and the risk of the spread of the novel coronavirus in the community," a government spokesman said.
"The government will review the situation before then."
Similar advice is likely to be adopted in the private sector, where many workers have already been told to stay at home.
Last week, the education minister said portions of Hong Kong's university entrance exam, known as the Diploma of Secondary Education (DSE), could be pushed back by as much as a month.
The bureau is considering two options, postponing a few tests but keeping the original schedule for most subjects starting on March 27, or bumping the written exams for a month starting on April 24 and cancelling the Chinese and English oral exam.
Yeung said a final decision would be made by the end of February.
"We are still doing an assessment," he said. "Basically, we have to consider the development of the epidemic and also all the preparatory work of the HKEAA [Hong Kong Examinations and Assessment Authority] in conducting the exams."
The pro-democracy Professional Teachers' Union and pro-establishment Hong Kong Federation of Education Workers believed suspending classes for two more weeks was reasonable, and both also urged the bureau to announce a decision on pushing back the DSE exams as soon as possible.
Teddy Tang Chun-keung, chairman of the Hong Kong Association of the Heads of Secondary Schools, suggested DSE candidates should still study for exams as if they were starting on March 27.
He also believed that when classes resumed, it should be in phases to reduce a sudden surge of social contacts in the community and allow schools to better prepare.
"For instance, senior secondary students could return to schools first, followed by junior secondary students one week after that, and then primary school students," he said.
Hong Kong Aided Primary School Heads Association honorary chairman Cheung Yung-pong, meanwhile, believed the impact of cancelling the Primary Six exam would be limited, as pupils had previously taken tests in Primary Five and Primary Six for secondary school placement purposes.
He predicted classes could be suspended beyond March 16, maybe into the Easter holidays in April, especially as many primary schools were facing a shortage of masks.
"For example, in a school with 500 students, each one needs to be given at least two masks per day, that amounts to 1,000 masks to be used every day," he said, adding that some schools' might only have enough supplies for less than three days.
This article appeared in the South China Morning Post print edition as: Schools shut for even longer as civil servants get more time at home