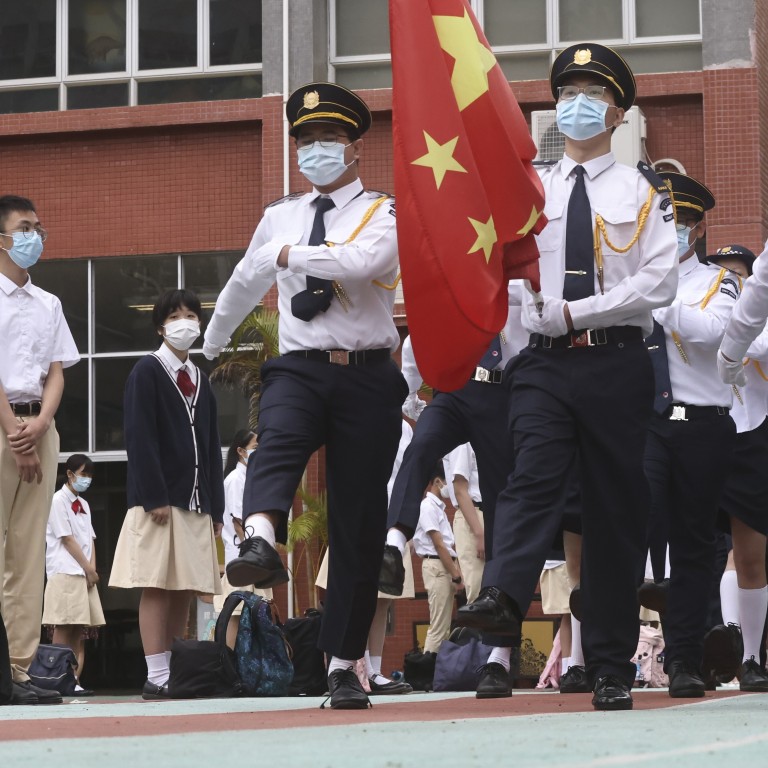 Hong Kong leader vows to push 'patriotic education' in city's schools to stop children being misled
Chief Executive Carrie Lam says undermining of national identity among young has led to serious consequences
Move backed by senior Beijing official who says children educated in Hong Kong must not be individuals who have a 'Chinese face but not a Chinese heart'
Hong Kong's leader has vowed to "boldly push ahead" with patriotic education, which she called an important policy the city has failed to implement even after its return to Chinese rule, to rectify the moral values of the younger generation.
Chief Executive Carrie Lam Cheng Yuet-ngor's pledge at Saturday's high-profile forum on patriotic education was backed by Tan Tie-niu, deputy director of Beijing's liaison office in the city, who said it was strange that some local youth opposed their country and slandered their own race.
Tan spelt out several directions for future national education, which surrounds the national identity of the youth, patriotism and their understanding on Chinese history and culture, as well as national security.
Lam urged those in the education sector and parents to attach importance to promoting patriotic education.
"Loving one's home country is entirely justified, and treason should never be tolerated," she said. "In the past, national education had been stigmatised by certain groups of people with ulterior motives and in the media, which had undermined students' sense of national identity and led to serious consequences."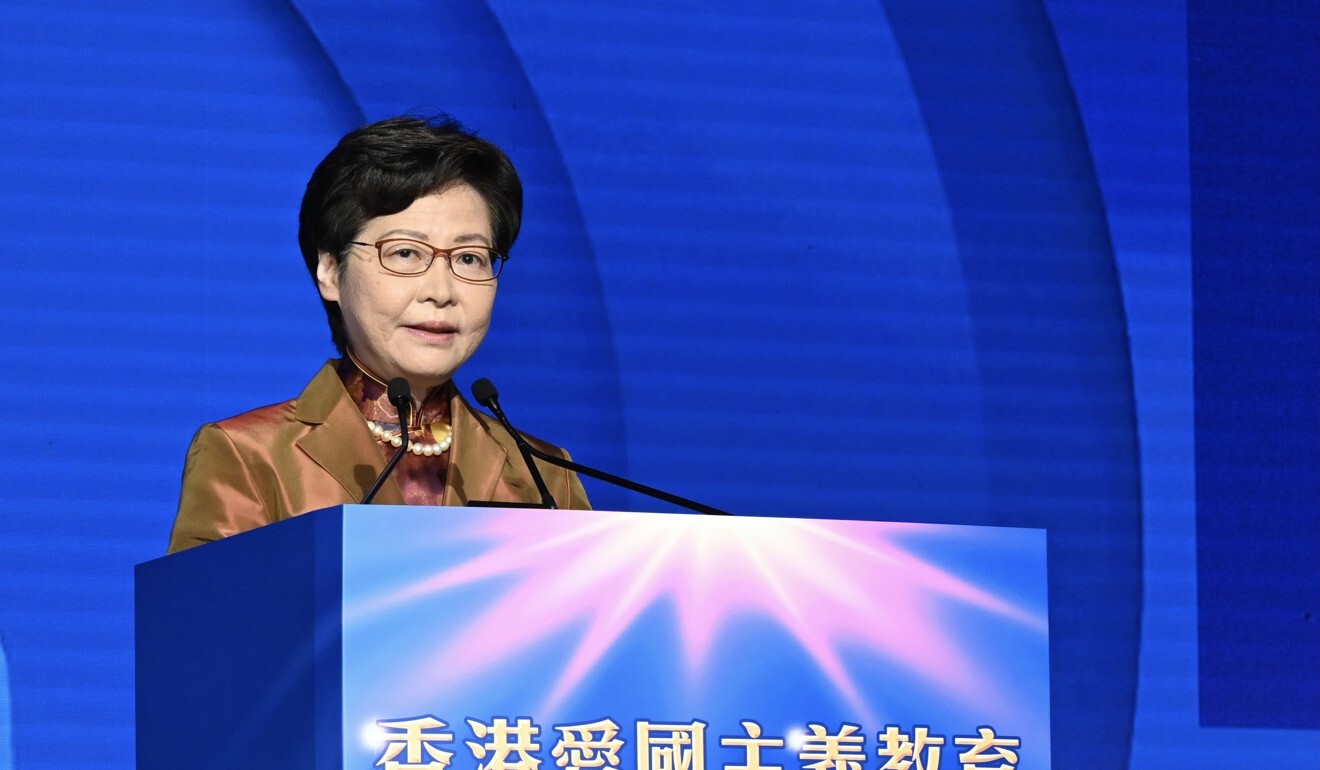 Lam was referring to a 2012 movement in which parents and students opposed a plan to implement moral and national education. Protesters besieged the government headquarters for 10 days. The demonstrations came to an end after then chief executive Leung Chun-ying announced that schools would no longer be required to teach the subject.
"More recently, people with ulterior motives and external forces have deliberately misled young people … and encouraged their extreme behaviour – something we must rectify with patriotic education," Lam said.
Earlier this week, the city's leader also said "ideologies" posed risks to national security and urged parents, teachers and religious leaders to observe teenagers' behaviour and report those who break the law to the authorities.
Lam, in the forum, suggested patriotic education could be carried out more systematically, citing examples from across the border, where students are taught the history and culture of the nation and how China has developed into a global powerhouse.
Tan said some confused young people had lost themselves during the anti-government protests in 2019, but the central government had taken measures to help Hong Kong stop the violent riots.
The Beijing official said education in the future should focus firstly on patriotic programmes for students to understand more about the nation and to strengthen national identity. Second, young people should learn about the history and culture of the nation so as to cultivate more positive views.
There was also a need to promote the Chinese Constitution, the Basic Law – the city's mini-constitution- and national security education, so young people will abide by the law, he added.
"Students educated in Hong Kong must not turn into individuals who only have a Chinese face but do not carry a Chinese heart," he said.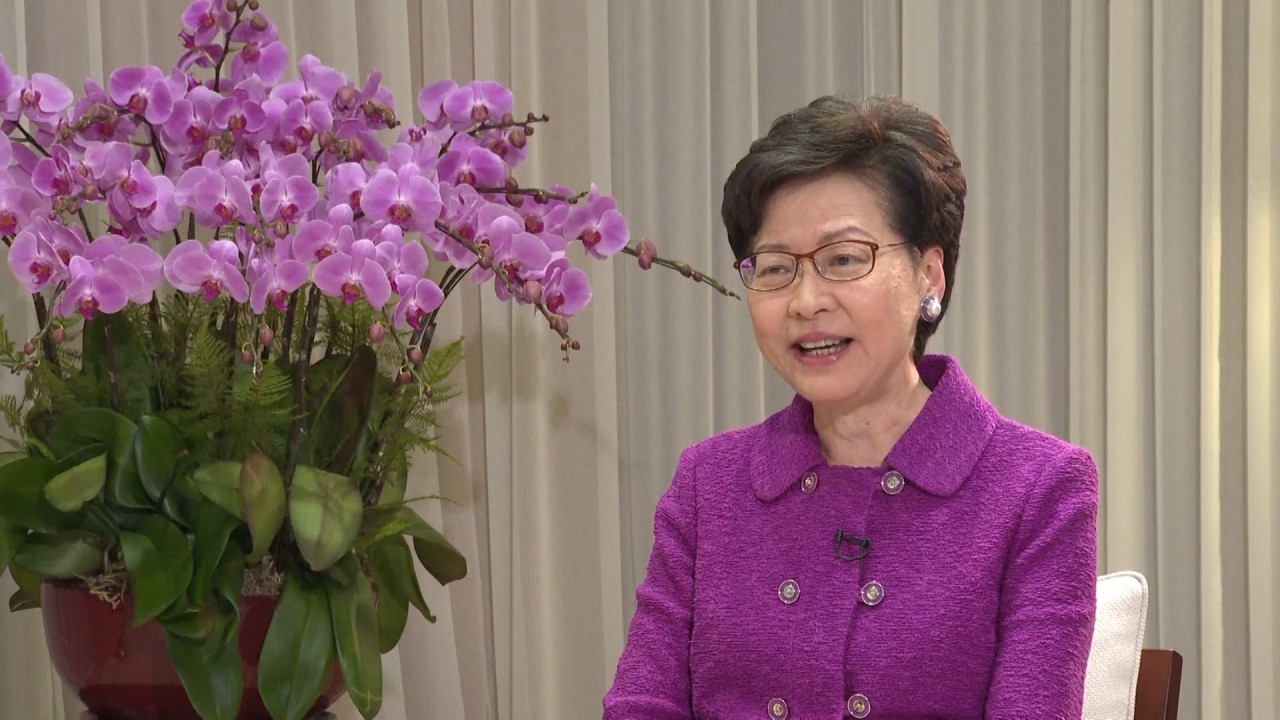 02:40
'We do not want unpatriotic people in our political system,' says Hong Kong leader Carrie Lam
'We do not want unpatriotic people in our political system,' says Hong Kong leader Carrie Lam
In his remarks, Tan also quoted patriotic educator Zhang Boling, who raised three questions during Nankai University's inauguration ceremony in 1935.
"She asked, 'are you a Chinese? Do you love China? Do you want to see your own country well?' Even though times have changed, I believe these three questions shall still be questioned and answered by our future generations," he said.
Tan said the local government should take the lead and establish a system to promote patriotic education, while schools should ensure patriotism penetrated the entire education process.
Former Legislative Council president Jasper Tsang Yok-sing, meanwhile, suggested students' sense of belonging and recognition of national identity were key for patriotic education to succeed.
"If we fail to develop students' sense of national identity, they will not feel proud of themselves as Chinese no matter how well the country develops," he said.
This article appeared in the South China Morning Post print edition as: Lam pledges to push 'patriotic education' to rectify values among youth