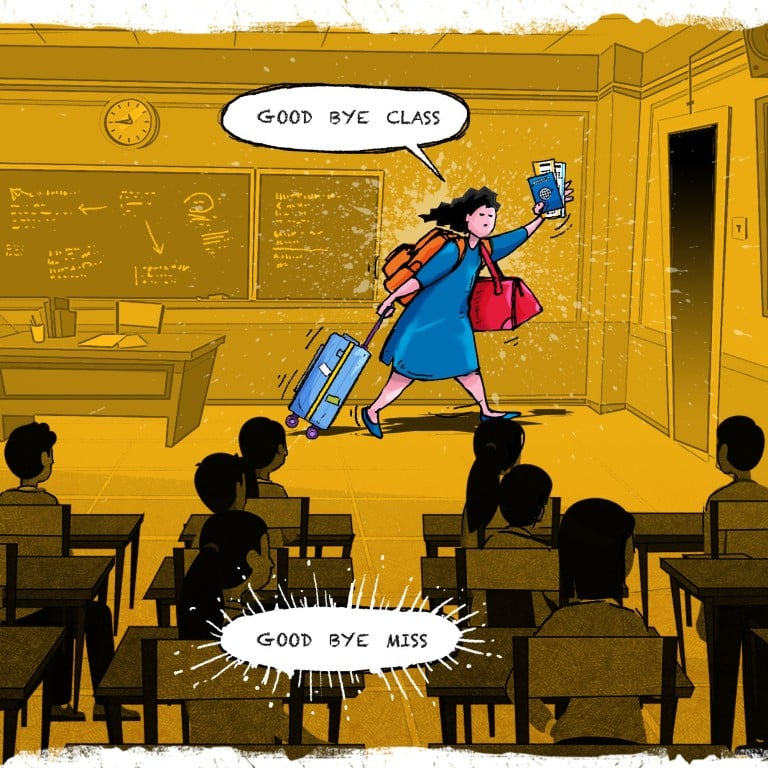 Teacher exodus leaves Hong Kong schools scrambling to hire fresh graduates, fill vacancies for senior positions
Record number of teachers resigned over past two years, in wake of 2019 social unrest
Education Bureau says teachers leave the profession every year for various reasons, including migration, retirement and taking up new jobs
After 20 years as a primary schoolteacher in Hong Kong, Keith*, 47, quit his job a year ago to move with his wife and son to the United Kingdom.
That meant giving up a comfortable salary of about HK$60,000 (US$7,643) a month. He also withdrew about HK$2 million from his teachers' retirement fund, sold his home and disposed of his assets.
Recalling how his principal tried dissuading him from leaving, the veteran mathematics and general studies teacher said: "The principal told me it was not easy to live in the UK and I would not have the same package I had in Hong Kong."
But he was not moved. He said his priority was his 13-year-old son's future and it did not matter if he would earn less, or even have to settle for a blue-collar job.
Keith was among a record number of Hong Kong educators who have resigned over the past two years, causing a shortage of experienced teachers in some schools and a scramble to hire trainees even before they graduate.
The trend was clear from various sources of data released in recent months.
In April, the Education Bureau said in reply to lawmaker Michael Tien Puk-sun during a special financial meeting of the Legislative Council, that 5,270 teachers from kindergartens, primary, secondary and special schools resigned in 2020-2021, up sharply from 3,440 in 2019-2020.
Earlier, the annual report of the Subsidised Schools Provident Fund – the retirement fund for teachers – said in March that 2,125 teachers withdrew a total of HK$6.8 billion of their savings over the 2020-2021 school year.
Just over half of them said they had resigned, compared to about 40 per cent in previous years. That meant most had not reached retirement age when they resigned, something not seen since the data became available in 2015.
Two-thirds of all those who resigned in 2020-2021 were senior teachers with more than 15 years of experience, up from 58 per cent among those who left the previous year. Those with 10 to 15 years' service made up 9 per cent of those who quit last year, up from 6 per cent the year before.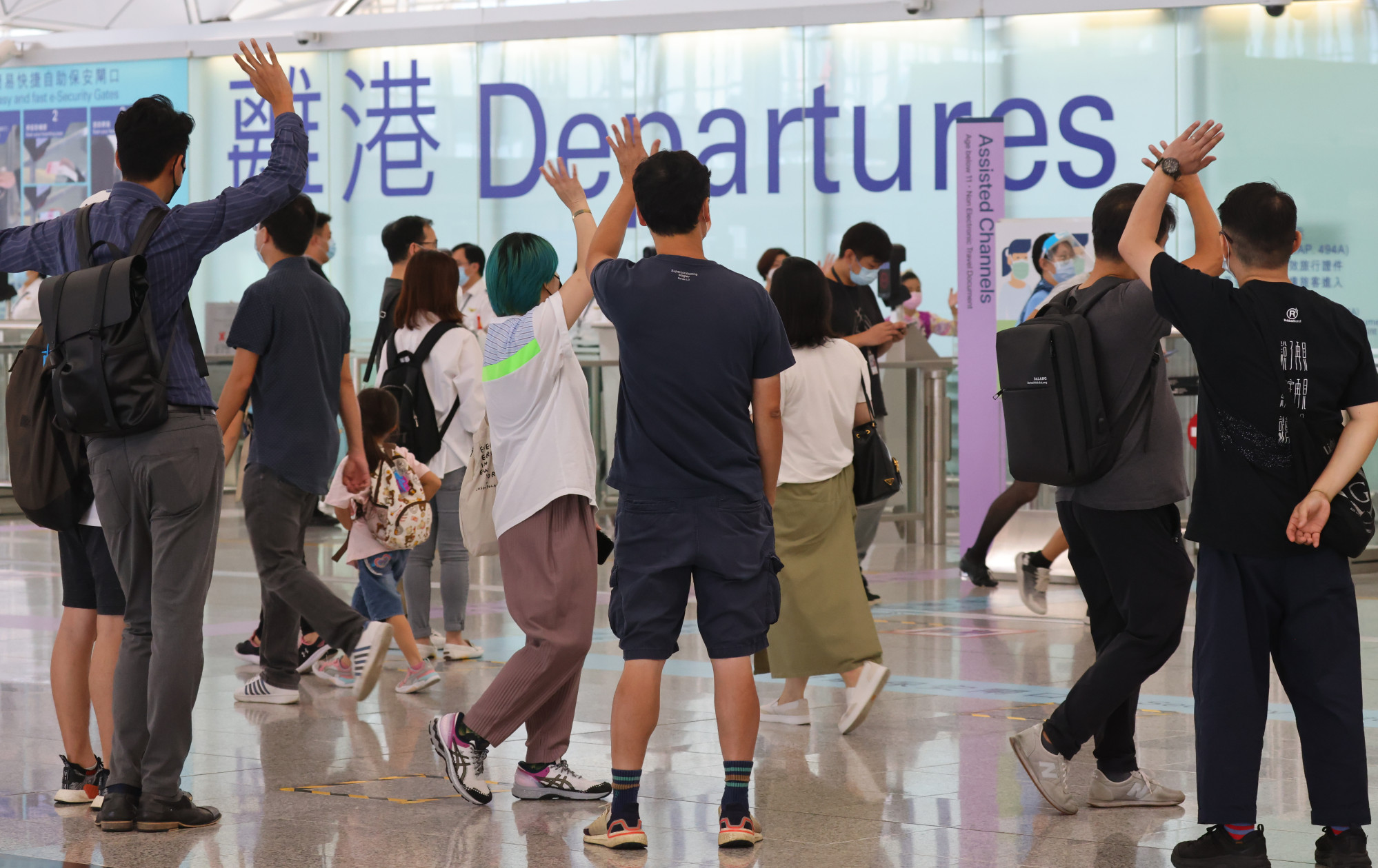 In May, the Hong Kong Association of the Heads of Secondary Schools released the results of a survey conducted last September, showing that a record number of teachers had left during the 2020-21 academic year.
Covering 140 secondary schools, the poll found that each lost an average of 7.1 teachers in 2020-21, up from 3.9 in 2019-20 and 4.2 in 2018-19.
The association said many principals also faced difficulties hiring teachers for the new academic year.
The Education Bureau said the departures were due to teachers leaving the profession every year for various reasons, including migration, retirement, pursuing further studies, taking up new jobs or getting married.
"According to our observation, schools are operating smoothly in general and there are enough qualified teachers," it said in its reply to Legco.
However, Hong Kong Education Workers Union chairman Wong Kin-ho said the high level of resignations over the past two academic years had created staffing problems in some schools.
"I have heard of a school with 67 teaching staff which lost 14 teachers in one year – that's about 20 per cent of its manpower, which is quite high," said Wong, who is also a secondary school vice-principal.
Education experts interviewed by the Post said the sharp rise in resignations over the past two years was related to the 2019 social unrest in Hong Kong, Beijing's introduction of the national security law in 2020 and the overhaul of the political system to ensure "patriots" were in charge.
In schools, some teachers were accused of misguiding their students, and there was a new emphasis on the need for institutions to inculcate loyalty and love of mainland China among youngsters.
The Education Bureau said in April that it received 502 complaints against teachers between 2019 and last year, with 344 – more than two-thirds of the figure – related to the anti-government protests.
The complaints were found to be substantiated in 189 cases, or 55 per cent of the 344. Six teachers were deregistered for life, while 50 received letters of reprimand and 59 were issued written warnings.
It is no secret that many teachers have become more cautious in the classroom, aware that what they say or do in front of students may attract complaints if they are accused of crossing the new "red line".
Ex-teacher trains to be an electrician
Former teacher Keith said it was the events of 2019 that made him want to leave the city, and he leapt at the opportunity when Britain responded to the national security law by offering Hongkongers a special pathway to migration there.
About 123,400 Hongkongers applied for the British National (Overseas) visa scheme between January last year and March this year, with 113,742 having received approval so far.
"It was the drastic change in Hong Kong society that forced me to resign, rather than the teaching profession itself," Keith said.
"Being a teacher in Hong Kong is not hard, whereas watching the news about Hong Kong is."
As a General Studies teacher, he said the political upheaval in the city had a chilling effect on schools.
He used to speak freely and honestly to his students, describing the 1989 Tiananmen Square crackdown on student protesters in Beijing, and showing videos produced by the pro-democracy Professional Teachers' Union.
The union disbanded last year, in the wake of the national security law which bans acts of secession, subversion, terrorism and collusion with foreign forces.
Keith said he had always tried to be objective in his lessons, but it was now "difficult to teach these facts to students".
"It seems teachers can no longer present both sides of a situation to students," he said.
Keith recalled that he stopped touching on politically sensitive events after teachers at his school received a "gentle reminder" from the management.
"They said it would be troublesome if the school received complaints and we teachers would then have to exercise self-censorship," he said.
After more than half a year in the UK, Keith said he was still jobless but in no hurry to find work. He took a course to qualify as an electrician and said he did not mind the prospect of becoming a blue-collar worker.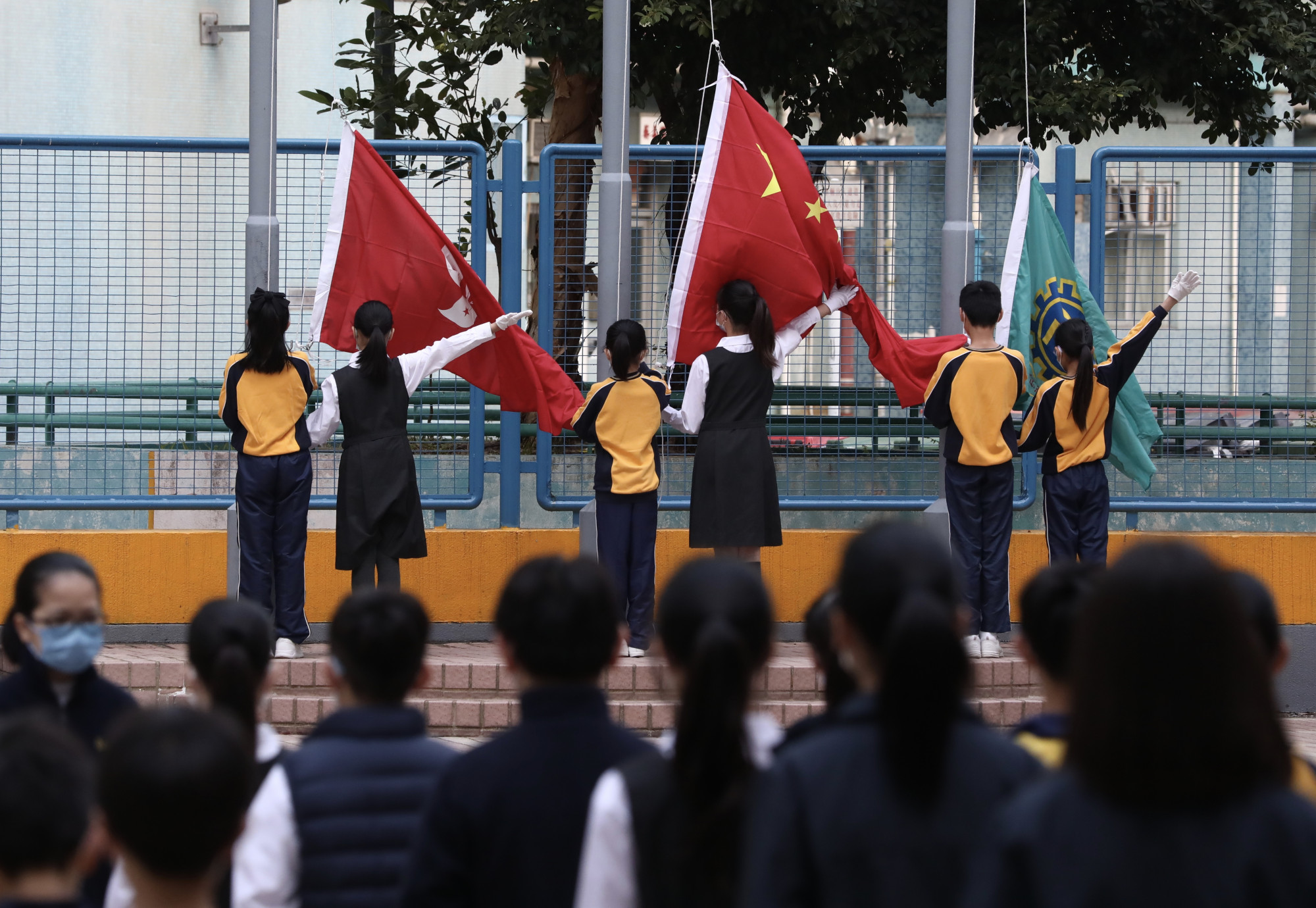 Former secondary school science teacher Steven*, 40, moved to the UK with his family after resigning last year, giving up a job he did for 15 years and which paid HK$60,000 a month.
He found an IT specialist job paying around HK$20,000, but said he had no regrets about leaving Hong Kong despite earning less.
He said teachers in the city were well-paid and their attractive retirement package meant most would simply maintain the status quo.
The teaching environment in Hong Kong was not as bad as some made it out to be and was not the reason for his resignation, he said.
"After all, I was just a science teacher, not teaching politically sensitive subjects like liberal studies and I was not required to do something I did not want to," he said.
He said he was drawn to life in the UK, and the lower cost of living and more spacious homes there made up for the lower salary he earned now.
"I knew that if I stayed a few more years, I would definitely be unwilling to leave as my savings in the provident fund would be really attractive," he said.
For education workers union chief Wong, the loss of so many experienced teachers over the past two years has left a gap in schools that will be hard to plug.
He said schools had failed to train enough middle management professionals and now faced the problem of finding suitable people to fill vacancies.
While schools would feel the loss of teachers during the current academic year, he said he expected the number of resignations to slow down in 2022-23.
"Those who wanted to leave have already quit," he said.
At the same time, the resignations have created opportunities for existing staff to be promoted, contract staff to switch to permanent positions and for aspiring teachers to get hired.
In these ways, he added, the exodus was "not a bad thing", and he urged the Education Bureau to provide more middle management training for less experienced teachers.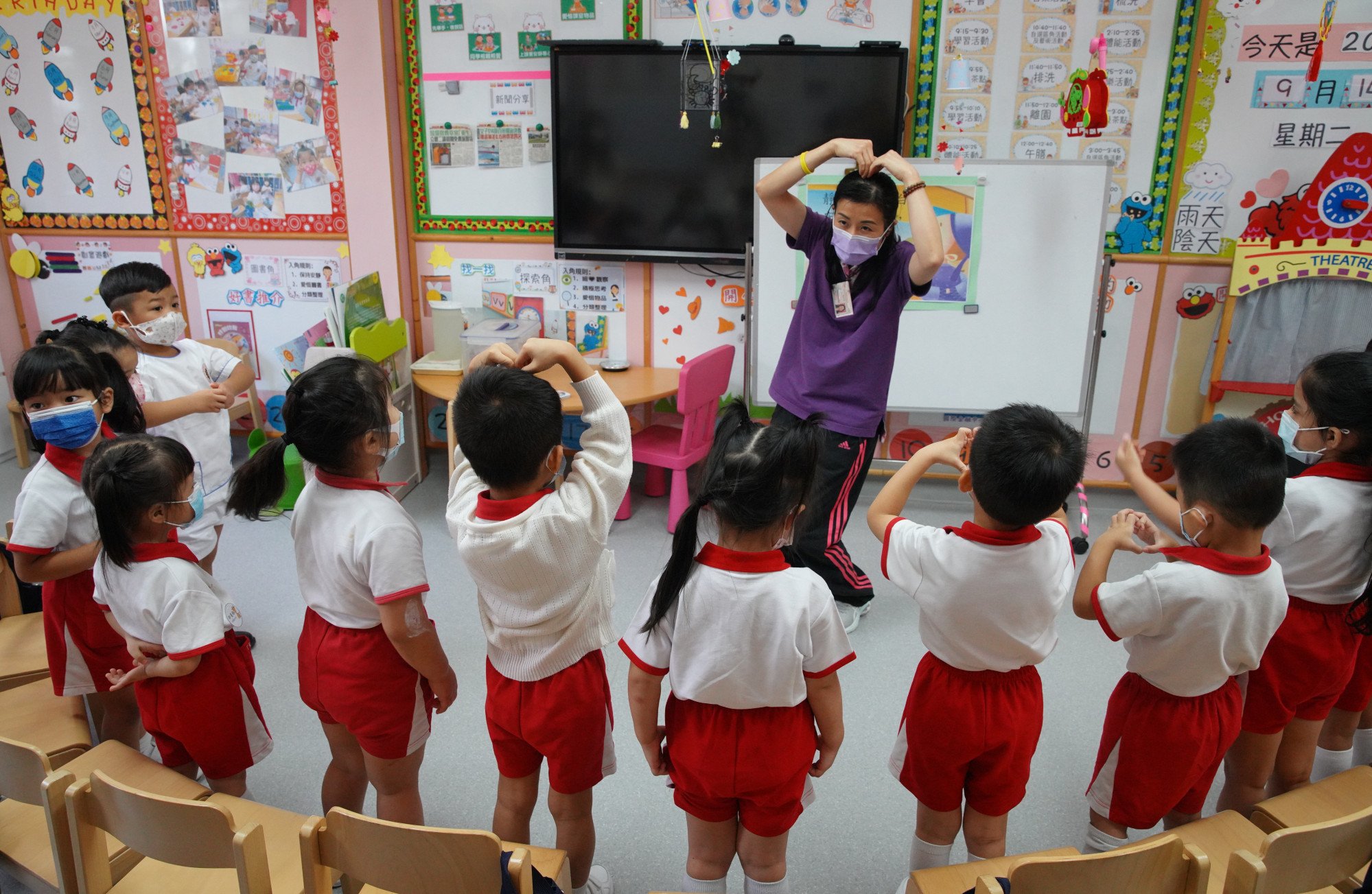 Meanwhile, the spate of recent resignations has led to high demand for fresh graduates from the city's tertiary teacher-training programmes.
Angie Yeon Yuk-mei, director of student affairs at Education University, the city's largest teacher-training centre, told the Post that schools had become more aggressive in recruiting new graduates.
"According to our university's employment survey, more than 70 per cent of respondents who majored in education successfully found a teaching post before graduation, which is higher than 2019's 30 per cent and 2020's 50 per cent," she said in a written reply.
The survey also showed that the starting pay for new teachers was HK$31,300 to HK$32,700.
Hong Kong still has 70,000 teachers in kindergartens, primary and secondary schools.
But Amy*, a secondary school Chinese teacher for 15 years in her mid-40s, said it was distressing to see so many good and dedicated educators, including some colleagues, leaving.
"It has led to teachers who have no heart in teaching and who are not well-qualified being promoted to fill vacancies for senior positions," she said. "It is disastrous that they now have power."
Describing how the workplace atmosphere had changed, she said teachers now "shut up" when it came to political current affairs, as nobody wanted to get into trouble.
She said she hoped officials would not interfere in school affairs to push their political agenda, or the morale among teachers would deteriorate further.
"I really do not understand why teachers now have to pass a Basic Law test when they transfer to other schools," she said, referring to a new test on Hong Kong's mini-constitution that fresh graduates and teachers changing institutions must sit to "safeguard the well-being of students".
Amy said the political changes in Hong Kong meant the working environment had become more challenging for everyone, from social workers to those in business, not only teachers.
But she had no plans to quit teaching, as she remained passionate about doing her best for her students and her conscience was clear.
"I have nowhere to go, and I am single with no kids," she said. "Besides, my finances are not adequate for me to emigrate."
* Names changed at interviewees' request.