Explainer

|
Hong Kong has changed Covid-19 vaccination requirements for schools as new term starts. Here's what you need to know
Secondary schools can hold full-day, in-person classes only if at least 90 per cent of students have had three Covid-19 shots
Most secondary schools should be able to comply, but primary ones are less likely to do so
Hong Kong education authorities have adjusted the vaccination requirements for schools, as students return to campuses on Thursday amid a resurgence of Covid-19 cases in the fifth wave.
The Post breaks down the new vaccine requirements from the city's education authorities.
1. What are the latest vaccination requirements for schools?
Under the new requirements, secondary schools are only allowed to hold full-day, face-to-face classes if 90 per cent of their students are vaccinated with three Covid-19 shots before November 1.
The same rule will also be applied to secondary and primary school students from October 1 if they want to participate in after-school extracurricular activities such as music, sports or team training.
This measure will also be applied to participants of some mask-off activities, which include playing woodwind instruments, football or basketball.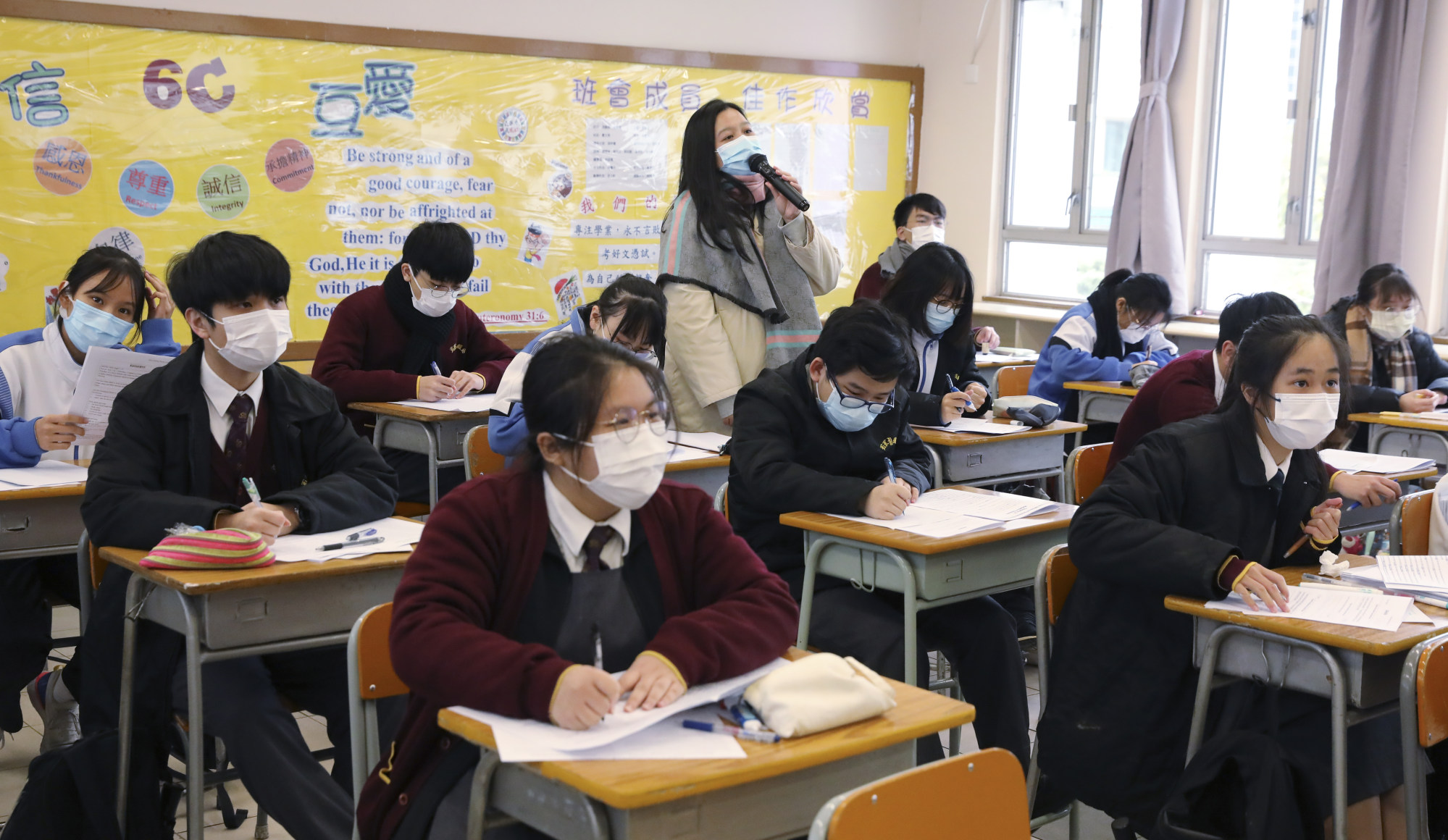 Education authorities said students in primary school and kindergarten would not be allowed to hold whole-day, face-to-face classes for the time being. This is because of their young age, low self-care ability and relatively low vaccination rates for those aged between three and 11 years.
International schools, meanwhile, are among academic institutions that are not subject to the new rule. The Education Bureau said institutions offering a non-local curriculum could take into account their own situation and the needs of students to make "flexible arrangements".
2. How have policies for face-to-face classes changed?
The government previously required secondary schools that intended to hold whole-day, face-to-face classes to have at least 90 per cent of students vaccinated with two doses instead of three, with those not fulfilling the requirement only allowed a half day of face-to-face classes.
Students who had received two doses for more than 14 days were allowed to take part in extracurricular activities after school. They were also permitted to join some mask-off activities as well.
3. What is the vaccination rate among children in Hong Kong?
As of Thursday, 66.26 per cent of children aged between three and 11 had received a second dose of a vaccine, with the rate for those aged between 12 and 19 at 95.97 per cent. The figure for three doses dropped to 11.95 per cent for those in the younger group, while those in the older bracket reached 53.69 per cent.
4. Are there many schools that can fulfil the new requirements?
Referring to the current vaccination figures, Federation of Education Workers vice-chairman Tang Fei said he was optimistic that most secondary schools would be able to comply with the new requirements.
However, he added that he did not share that sentiment for primary schools, where pupils have a much lower vaccination rate.
"I would not dare be optimistic for primary schools. You only have around 60 per cent of students with two doses, yet you are still asking them to get the third dose," he said. "I would be worried."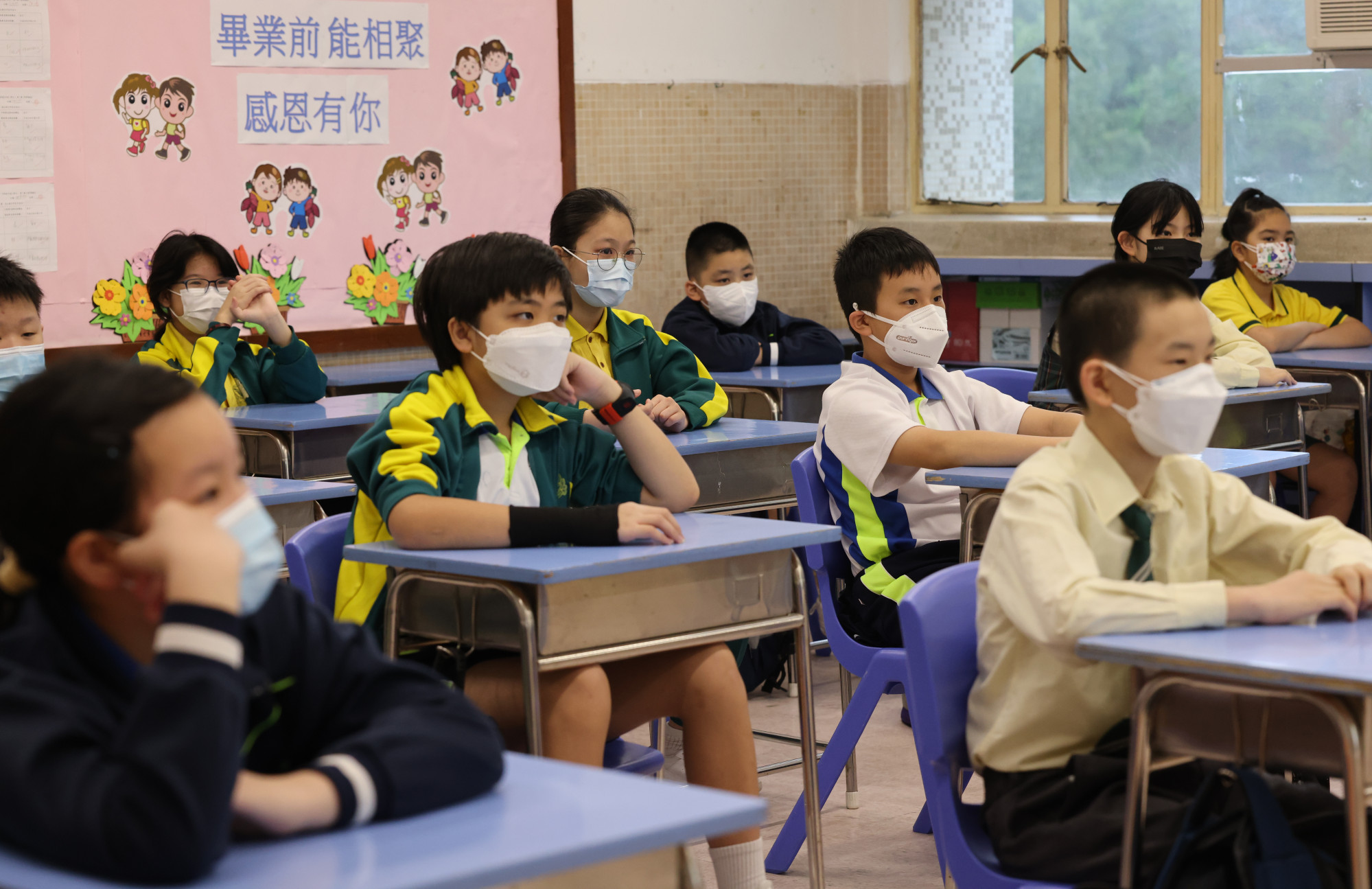 The legislator added that parents of primary school students were also not as concerned with half-day classes compared to those in secondary ones, reducing their incentives to vaccinate their children.
Dion Chen, chairman of the Hong Kong Direct Subsidy Scheme Schools Council, said that it was only a matter of time before secondaries aligned with the new requirements.
He noted that most secondary schools in his council had already reached the original two-dose requirement, but the same could not be said for primaries.
"From what I hear, not every primary school has a lot of students with two doses of the vaccine," he said.
Chen explained that the low uptake could be due to the relatively late introduction of vaccines for primary-school-aged students, as well as potential concerns from parents.
The government announced earlier this year that children aged between five and 11 could receive the BioNTech vaccine, while those between the ages of six months and 11 were allowed to take the Sinovac one.
Chen added that most senior secondary students should already satisfy the new requirement, as they would have to comply with the government's vaccine pass. However, more time may be needed for junior secondary school students, as they may not have all their required doses after graduating from primary school.
According to the Education Bureau, only 32 per cent or 163 of secondary schools resumed full-day, in-person teaching in the previous academic year. It added another 79 applied to conduct in-person, full-day teaching for specific forms only.
5. What other measures will schools have to implement before the new term begins?
The Education Bureau has also called for students and teachers to take rapid antigen tests (RAT) two days before school starts on Thursday.
This is in addition to the existing requirement for students to take a daily RAT and record their temperature before going to school.
Under the government's vaccine pass scheme, people with a red code are not allowed to return to school, while those with an amber one can do so for work and study.
Schools will also be required to report vaccination rates to the bureau monthly starting from September, with those attaining 70 per cent or higher recognised on its website.