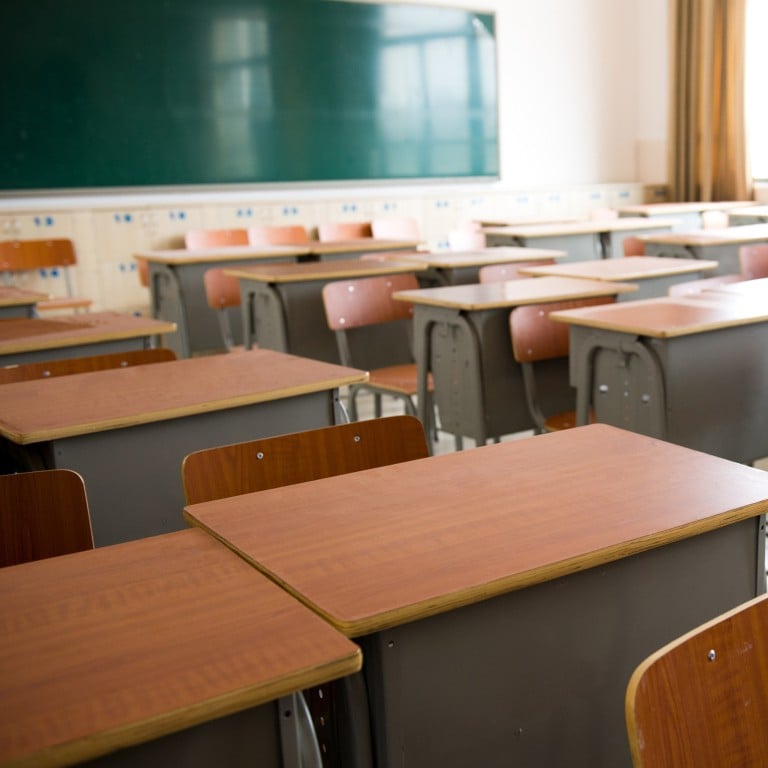 Hong Kong suicide rate for children under 15 hit historical high last year with 11 victims
Change in learning environment was partly to blame because students struggled to adapt to online classes and new routine, education psychologist says
Younger students missed out on forming intimate relationships with peers and teachers, according to expert
The suicide rate of children under the age of 15 hit a historical high in Hong Kong last year with 11 young people taking their lives, an increase that experts partially attributed to learning disruptions caused by class suspensions due to the Covid-19 pandemic.
Based on data from the Coroner's Court, the Hong Kong Jockey Club Centre for Suicide Research and Prevention found the rate of residents under 15 who had taken their own lives in 2021 rose to 1.7 deaths per every 100,000 people, compared with 1.2 deaths in 2020 and 0.9 in 2019.
The suicide rate for residents in the 15 to 24 age bracket also rose from 8.6 in 2020 to 9.3 last year, with cases involving women in this demographic up from 4.4 in 2019 to 6.5 last year.
In the past academic year, four students aged 12 or under and 28 others aged 13 to 18 killed themselves.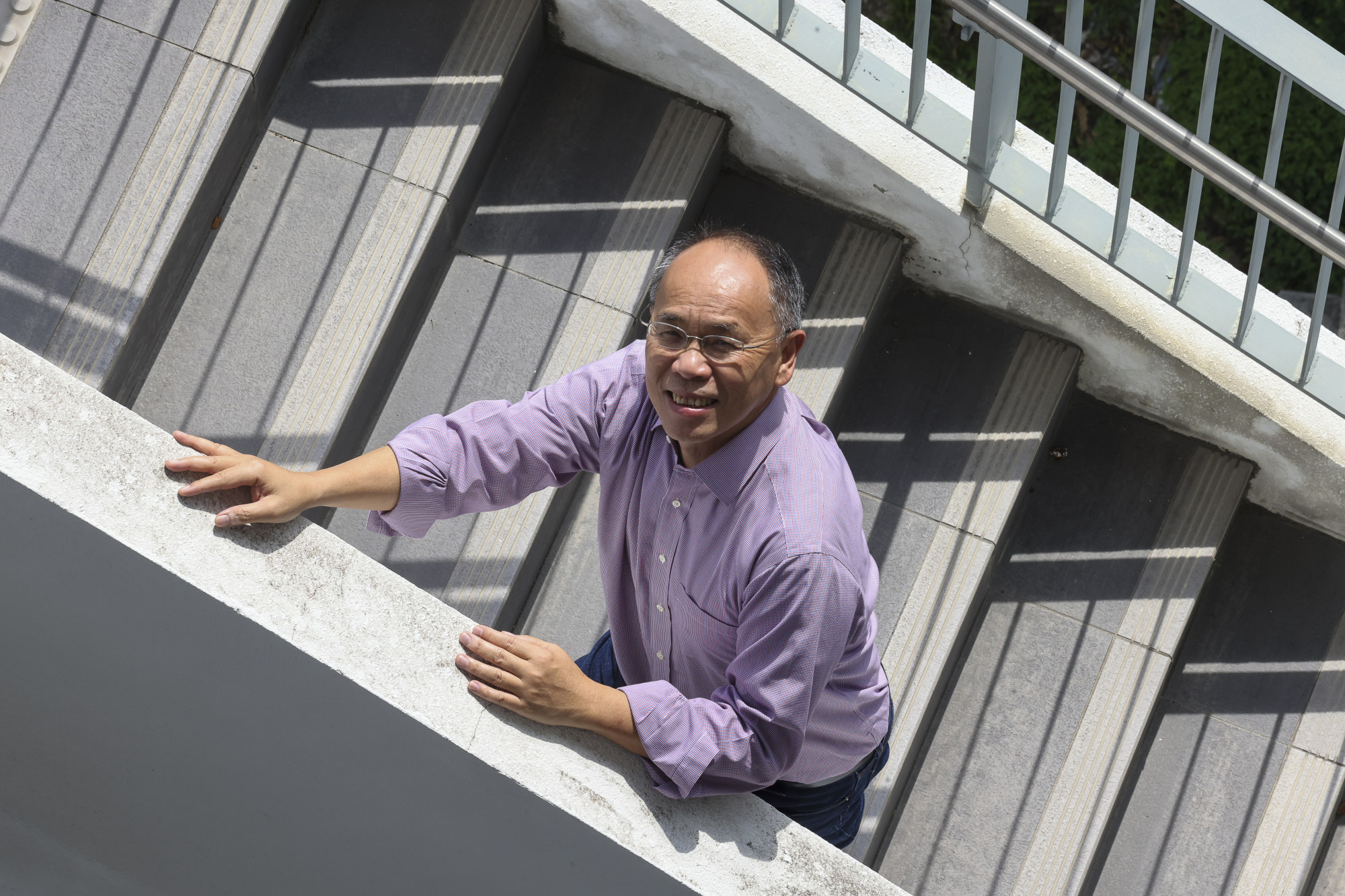 "The number of suicides among youth, especially those who are 15 or below, has become more concerning during the coronavirus pandemic," said Professor Yip Siu-fai, the director of the centre at the University of Hong Kong.
The centre further analysed 36 student suicides that occurred between January last year and this June, using information from police, including notes they left behind.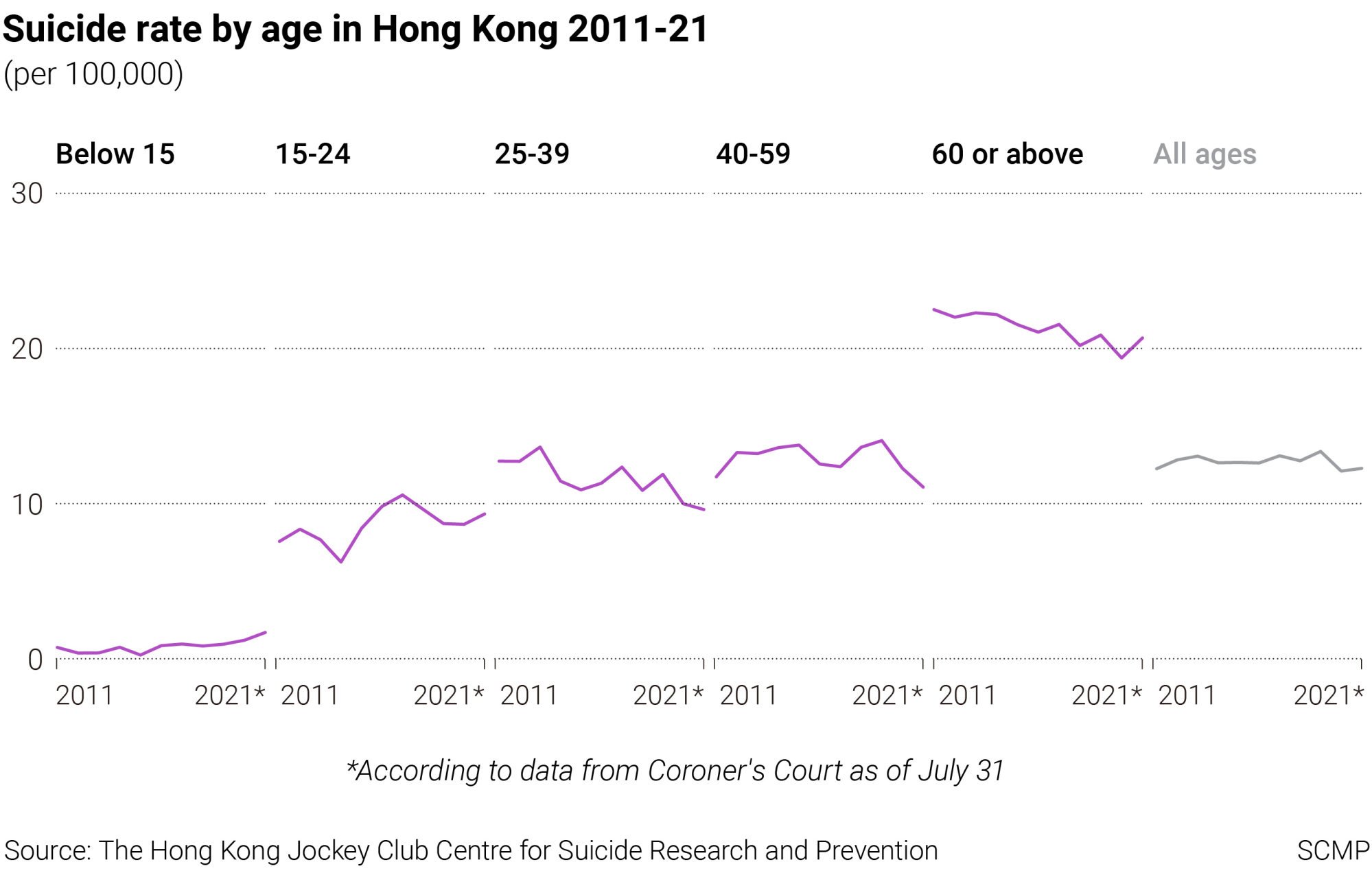 One pupil was in primary school, eight students were at the tertiary level and the rest were in secondary school. More than a quarter of the cases mentioned academic stress in their suicide notes.
Nine of the students committed suicide on campus, comprising one primary school pupil, six secondary school students and two residents studying at university.
Kenus Leung pui-yee, an education psychologist at the centre, said the rise in student suicides was partially related to stress over academic performance, as children needed to adapt to many changes in their learning environment during the pandemic.
Leung argued the transition from face-to-face to online classes had created adjustment challenges for students, while a mixed-learning mode had disrupted the pace of learning and their focus.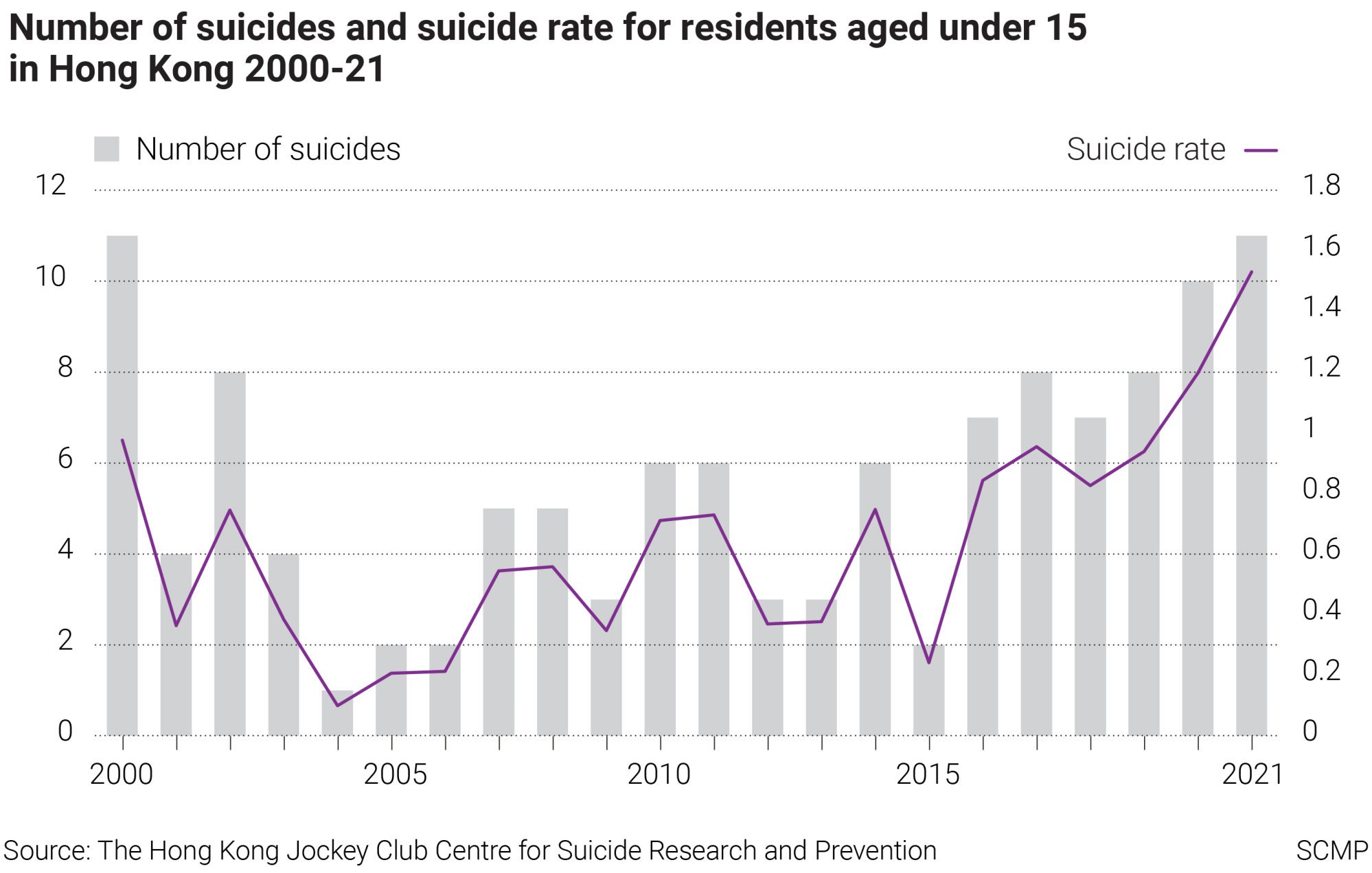 While most schools returned to half-day in-person classes this month, the curriculum was designed for full-day teaching, she said.
"The packed schedule of learning materials needs to be squeezed into the shortened teaching period," she said. "Students might feel even more stressed."
She urged the Education Bureau to review the current curriculum for secondary education and adjust the learning pace for students, leaving time for them to "take a break".
Yip said that for younger students, schools were places to develop social skills and intimate relationships with peers and teachers.
"The coronavirus pandemic has reduced the time for youngsters to form peer-bonding at school," he said.
For many countries, suspending classes was a last measure to control the pandemic, but in Hong Kong, doing so was the first step taken, he noted.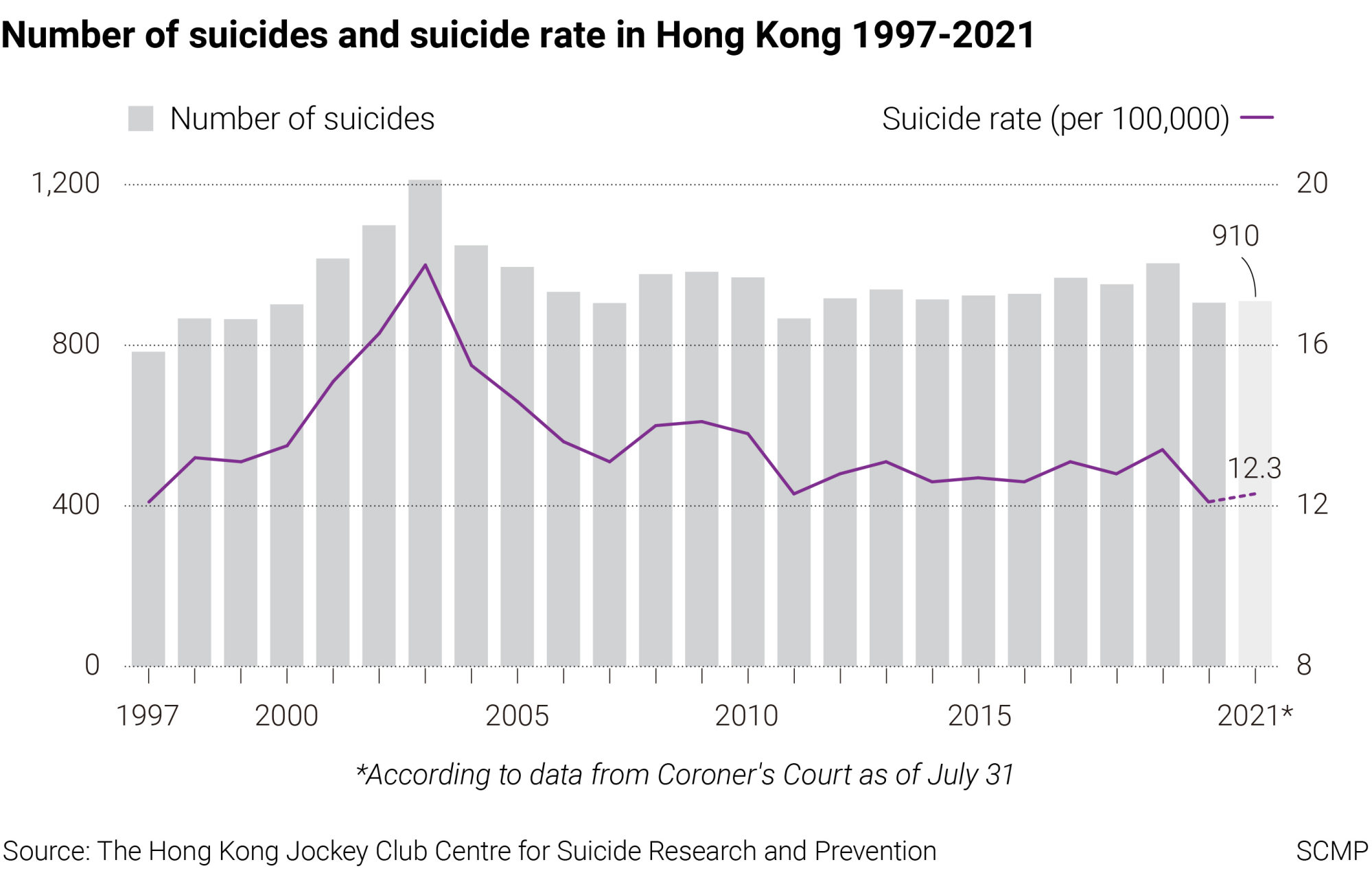 Yip urged parents to get their children fully vaccinated so that they could spend more time at school, "which is better for their mental health".
Florence Cheung Fung-yee, a certified counsellor, said parents also needed to provide positive emotional support for their children, which relied on regularly talking with them.
"Families and schools should cooperate to help younger generations develop better mental health," she said.
Overall, the centre estimated the suicide rate in Hong Kong last year was 12.3, which was higher than the 12.1 recorded in 2020. But after adjusting for the age structure of the world population, the rate fell to nine, the same as the latest available global one.
The centre also noted the suicide rate of older people had always been higher than that of other age groups, with men aged 60 or above showing a significant increase, going from 24.3 in 2020 to 27.3 in 2021. But the rate for elderly women decreased slightly, from 14.9 in 2020 to 14.6 in 2021.
If you are having suicidal thoughts, or you know someone who is, help is available. For Hong Kong, dial +852 2896 0000 for The Samaritans or +852 2382 0000 for Suicide Prevention Services.
In the US, call The National Suicide Prevention Lifeline on +1 800 273 8255. For a list of other nations' helplines,
see this page