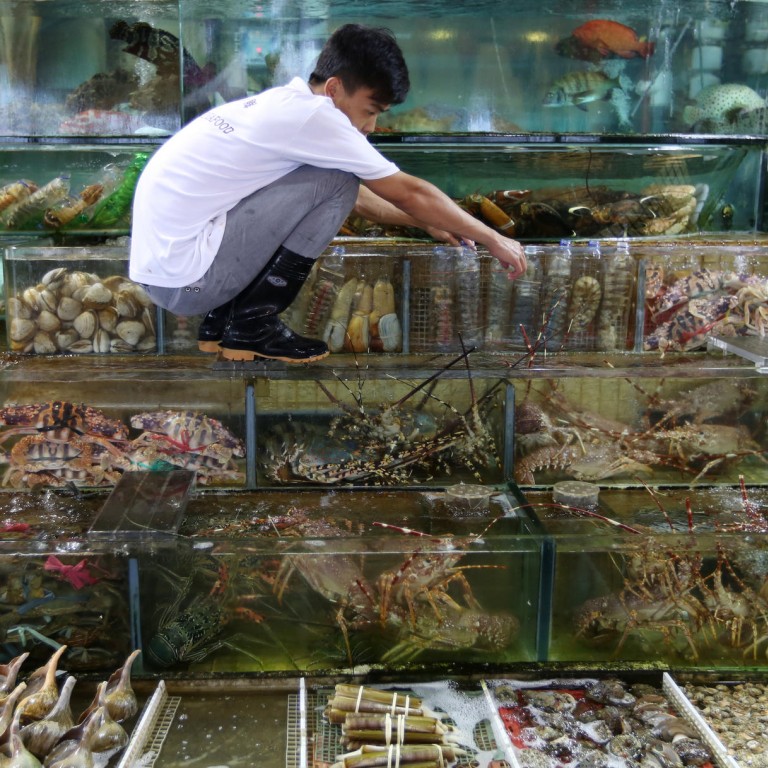 Diners not eating enough sustainable seafood, says WWF-Hong Kong
Only half of the live seafood served in Hong Kong is unsustainable, conservation organisation WWF has revealed following a survey among 57 seafood restaurants in the city.
In 2011, Hongkongers consumed about 71.2kg of seafood per person - more than four times the global average, according to the UN's Food and Agriculture Organisation.
Adam Koo Tze-cheung, CEO of WWF-Hong Kong said people should stick to sustainable seafood. Sustainability is determined by whether particular fish species are being eaten faster than they can grow back, whether or not medicine is used to feed the fish and whether or not the way the fish are caught damages the environment.
"Globally, many fisheries are in decline and Hong Kong has an important role to play in this matter," Koo said. "[We can] change our dining habits and choose sustainable seafood products."
Mark Kwok Chi-yat has been breeding giant grouper - a delicacy in Chinese cuisine - on a sustainable basis in an indoor fish farm in Lau Fau Shan in Yuen Long for around 12 years.
At first, he worked with the Kadoorie Agricultural Research Centre at the University of Hong Kong, which helped develop technologies to make his business sustainable.
Now he's selling fish to hotels like the Shangri-La and Hyatt. However, Kwok said it was not easy to convince Hongkongers to choose sustainable seafood.
"At the beginning, people thought we were crazy, because the fish we supplied was different from what was commonly available," Kwok said.
He said people would ask for the best looking fish, thinking it was fresh, but these fish, such as the Napoleon wrasse or coral trout, probably took a month to get to Hong Kong, and would have been in a tank or injected with chemicals so they didn't get stressed while travelling.
"Of course, the fish will not be exactly happy or looking its Sunday best," he said. "It'll be stressed out, it hasn't eaten. God knows what kinds of chemicals it has been exposed to."
He said Hongkongers weren't worried about this, but they should be.
"I don't think they're paying attention. They assume that the Hong Kong government is checking on these things."
Kwok pointed to recent research showing there had finally been a noticeable drop in organic pollutants and heavy metals found in fish on the mainland. Although a welcome development, he said mainland farmers still gave their fish too many antibiotics and growth hormones.
Kwok's fish are fed by hand, and kept in a large pool with plenty of room for movement.
But there is a catch. His grouper will cost more than what was available in a wet market, though he was uncertain by how much.
However, Kwok stressed sustainability was very important.
"The world's population is about seven billion, the demand for food is insatiable and certainly in this part of the world the demand for fish can never be satisfied. Without more people using sustainable practices, nature just won't be able to deliver," he said.
This article appeared in the South China Morning Post print edition as: Half of city's seafood is unsustainable