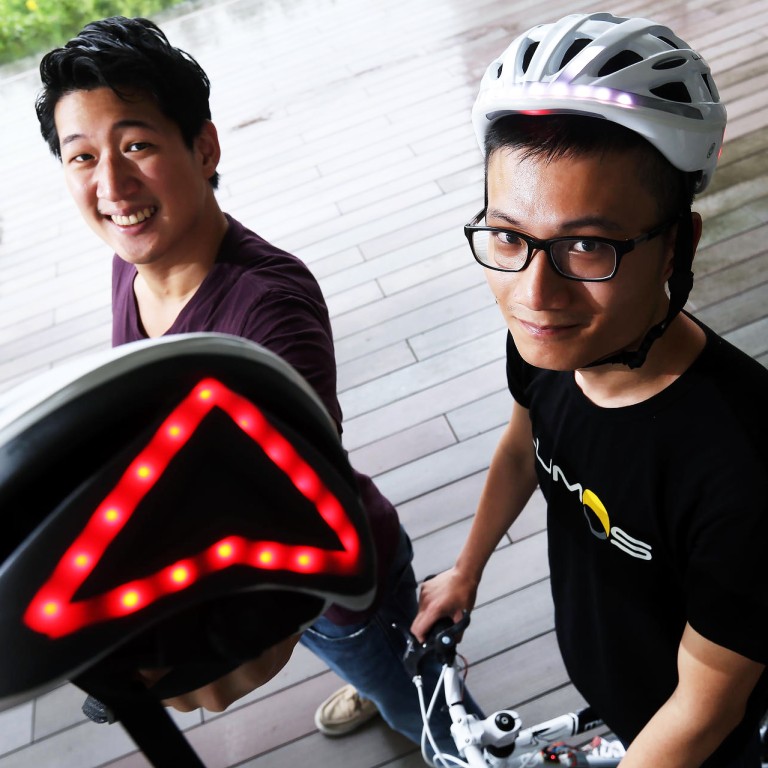 Hong Kong student helps turn bright idea into a safer bicycle helmet
Innovative headgear has LED light indicators and brake lights to improve night visibility
Bicycle helmets with lights that can signal left or right turns like a car may be on Hong Kong streets in the near future, thanks in part to a local student.
Jeff Chen Hao-ren, 23, came up with the smart bicycle helmet, called Lumos, which is designed to improve the safety and visibility of cyclists riding after dark.
Using integrated LED lights on the back of the helmet, a cyclist can indicate left and right turns with a wireless remote control unit on the handlebars. The brake light on the helmet is automatically switched on when the bicycle brakes are applied.
Chen got the idea when he was an exchange student in the US two years ago. "Riding bicycles on the road in Hong Kong is a lot more dangerous. In America, there are more bicycle riders on the road, but in Hong Kong, there isn't a lot, so drivers will be less aware of them," Chen said.
Chen, who studied mechanical engineering and business management at Hong Kong University of Science and Technology developed the helmet with Harvard University student Ding Eu-wen, 30.
When they found they both experienced problems of safety while riding bicycles at night, they began working on a prototype of the helmet.
"As a group of developers and cyclists, we've spent a long time trying to create a solution for the countless number of people, including ourselves, who've felt invisible or vulnerable on the road," Ding said.
Ding later dropped out of his postgraduate degree to set up the Lumos company in the US. Chen graduated from HKUST with a bachelor's degree this year.
The two are currently planning to manufacture more than 100 helmets to distribute to testers and have a target date for online sales in April next year.
"We hope to find problems that we are not aware of now," Chen said. "For example, a lot of users asked for the battery life to be longer … Another problem is the brightness of the light."
Speaking generally of start-ups in Hong Kong, Chen said: "I don't think it is more 'relaxed' in Hong Kong. A lot of my classmates have new practical ideas, but they might not know how to make it into a real product.
"In the US, there is more of a [community for start-up ideas]. You might see your friends already starting their projects and when you have an idea, you will be able to find people who can help you. If you want to do anything new, you need to think independently. Don't just trust everything that others say.
"Some people criticised our product for being too simple. But … we want to develop a brand image that is focused on safety."
Lumos has more than 2,700 backers and over US$350,000 in pledges at the Kickstarter funding platform. The helmet is available to order at US$99 for early birds and will cost US$119 thereafter.
This article appeared in the South China Morning Post print edition as: Students turn bright idea into a safer bicycle helmet